Ex-USAG head arrested for evidence tampering
Former USA Gymnastics president Steve Penny was arrested Wednesday after a Texas grand jury indicted him, alleging he tampered with evidence in the sexual assault investigation of now-imprisoned gymnastics doctor Larry Nassar.


Kawhi nets 24, salutes fans after Raptors' victory
Kawhi Leonard had 24 points and 12 rebounds in his Toronto debut, Kyle Lowry scored 27 points and the Raptors beat the Cleveland Cavaliers 116-104 on Wednesday night in the season opener for both teams.


Source: Machado fined for running into Aguilar
Dodgers shortstop Manny Machado was fined an undisclosed amount by Major League Baseball for the way he ran into Brewers first baseman Jesus Aguilar in Game 4 of the NLCS on Tuesday night, ESPN has confirmed. The Athletic first reported the fine.


Belichick: Mack not in same class as LT
Bill Belichick won his first two Super Bowls as defensive coordinator of the Giants, led by Hall of Fame linebacker Lawrence Taylor, who the Patriots' head coach says has no equals at his position.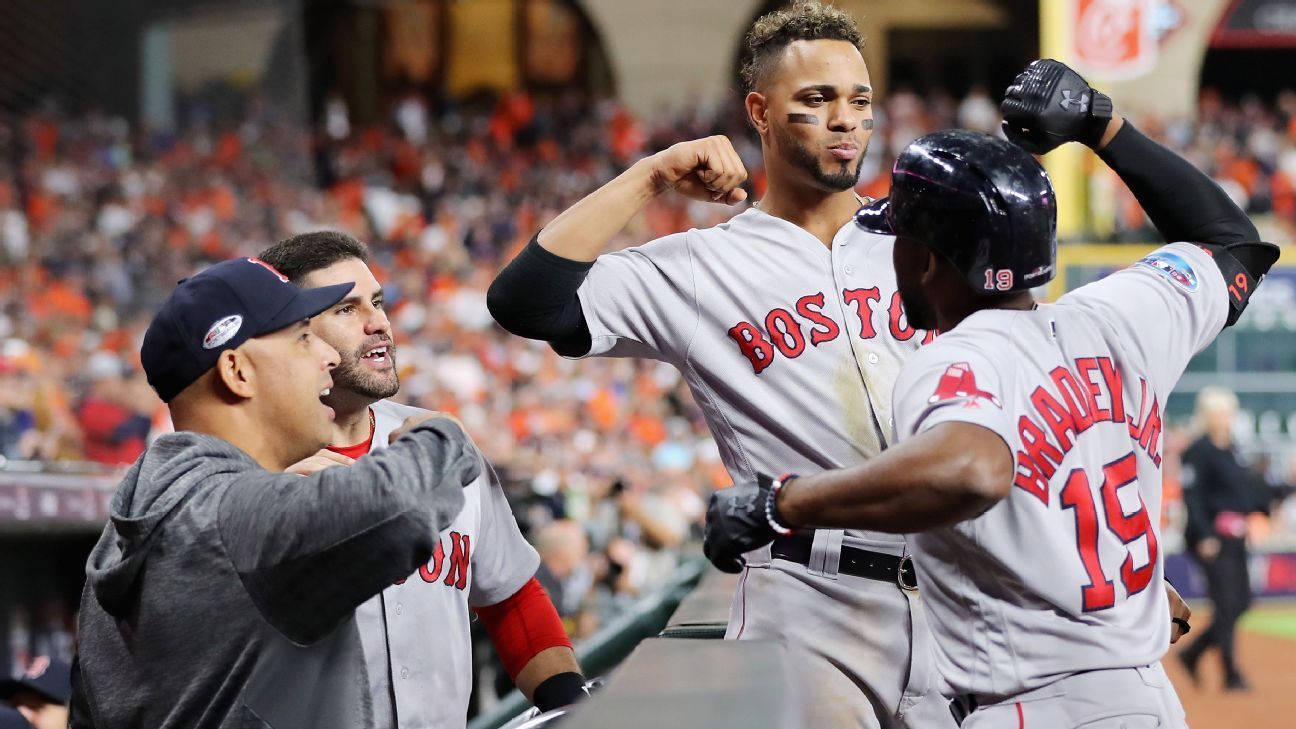 Bradley comes up big with series-swinging slam
After sparking the Red Sox to a Game 2 win, center fielder Jackie Bradley Jr. uncorked an eighth-inning grand slam that broke open Game 3 on Tuesday, propelling Boston to a 2-1 series lead in the ALCS.


MLB scrutinizes Astros for shooting in-game video
Major League Baseball is looking into an incident in which an Astros employee appearing to shoot video was removed from the photographer's pit adjacent to Houston's dugout in Game 1 of the ALCS against the Boston Red Sox.


NFL had concussion 'intervention' with 7 teams
Seven NFL teams with a higher incidence of preseason concussions than the others were targeted for an "intervention" by the league that involved wide-ranging discussions with the staffs of the teams.


If GSP returns to MMA, whom should he face?
Georges St-Pierre said he will only come back only for a fight that cements his legacy as one of the greatest ever. Whom would that be against? Our panel weighs the options.


Brundage letters show desire to curb U.S. protests in '68
Newly revealed correspondence corroborates a belief that Tommie Smith and John Carlos delivered their Black Power salute at the 1968 Olympics under threat of expulsion -- a threat that applied to the entire U.S. delegation in Mexico City.


OSU's Bosa leaving school, looking to draft
Ohio State defensive end Nick Bosa, an All-American in 2017 and the Big Ten's reigning Defensive Lineman of the Year, will withdraw from school and concentrate on rehabbing an injury before the NFL draft.


Dodgers rebuke fans for Grandal boos, dead air
As Yasmani Grandal continued to struggle -- striking out three times, the last one coming with one out and the bases loaded in the ninth inning -- fans took notice. But the Dodgers didn't appreciate the reaction.


Knicks won't extend Porzingis deal before season
The Knicks decided against signing Kristaps Porzingis to a rookie extension prior to Monday's deadline -- a move that will give New York an extra $10 million in cap space next summer and will make Porzingis a restricted free agent in the offseason.


Texts show Kansas coaches knew of Adidas role
Text messages presented by defense attorneys on Monday indicated the Kansas coaches were at least aware of former Adidas consultant T.J. Gassnola's involvement in the Jayhawks' recruitment of current player Silvio De Sousa, a native of Angola.


Don't expect Crawford-Spence next
Moments after Terence Crawford finished off Jose Benavidez Jr. on Saturday night, talk turned to making Crawford vs. Errol Spence Jr. -- but it's unlikely that fight will be next.