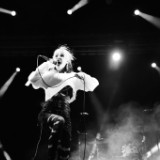 Alice Glass Says Ethan Kath's Defamation Suit Has Been Dismissed
Alice Glass has won a court victory against ex-bandmate Ethan Kath of Crystal Castles, she announced in a tweet. "I won in court today!! the defamation lawsuit against me was dismissed!" Glass wrote. Kath (born Claudio Palmieri) filed suit against Glass (born Margaret Osborn) for defamation in November, after Glass detailed years of alleged abuse by Kath, beginning when she was 15 years old and…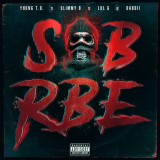 Stream SOB X RBE's New Album GANGIN
Rising Vallejo collective SOB x RBE has released their debut studio album, following up an excellent self-titled mixtape and solo releases from every members of the group last year (Rapper-singer Yhung T.O.'s silky "Slidin," from his Before the Fame album, made our favorite 2017 rap songs list). The quartet also recently scored a prominent placement…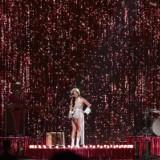 Kacey Musgraves' "Space Cowboy" Is Her Most Clever Turn of Phrase Yet
Kacey Musgraves has made a career of re-examining the bromides that undergird American life, laying a foundation for her songs using imagery and phrases so cliche they couldn't possibly contain any more revelations. Of course, such is the way those songs derive their power: Musgraves not only believes in the power of parables, but in her ability to reposition…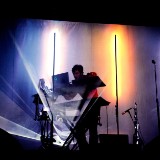 Nicolas Jaar Surprise-Released a New Album as "Against All Logic" Last Week
Nicolas Jaar's latest official release was 2016's Sirens, an ambitious and often song-oriented album that incorporated elements of avant-garde classical music and Suicide-style synth-punk. But the producer and composer has an omnivorous musical appetite, and recently dropped a new collection called 2012-2017, filled with dancier tracks that will feel pleasantly familiar to fans of his early releases on the Wolf…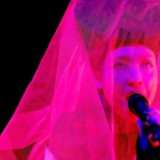 Little Dragon have released the hypnotizing "Sway Daisy" ahead of their upcoming North American tour. The track is the Swedish band's first release since the Raphael Saadiq-produced "Peace of Mind" featuring Faith Evans. The band shared a photo of handwritten lyrics for "Sway Daisy" on social media to announce the track's release. Little Dragon toured extensively last year…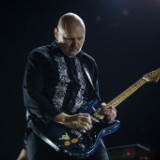 Billy Corgan Wants Fans to Help Pick Smashing Pumpkins' Reunion Tour Set
Just as tickets are going on sale for the Smashing Pumpkins reunion tour, Billy Corgan is trying to sweep all that ugly D'arcy Wretzky mudslinging under the carpet and make some earnest appeals to fans. On Instagram today, he asked ticketholders to help the current iteration of the band--Corgan, James Iha, Jimmy Chamberlain, and Jeff Schroeder--decide on their…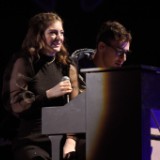 Lorde Says She's Not Dating Jack Antonoff ("Please!")
Jack Antonoff says he's not dating anyone, and now Lorde says she's not dating Jack Antonoff. The singer addressed fans via Instagram Live on Thursday wearing a hotel towel (because "I'm very lazy, that's why"). Much of the chat focused on Lorde's tour plans, favorite crafts, and current reading material: Joan Didion, Mallory Ortberg, a 2000 New Yorker piece on Lucinda Williams.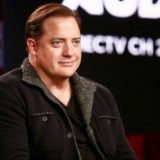 HFPA Investigating Brendan Fraser Sexual Assault Claim Against Former President
The Hollywood Foreign Press Association is investigating Brendan Fraser's claims made against the former president of the organization, Philip Berk, who, the actor alleges, sexually assaulted him. "The HFPA stands firmly against sexual harassment and the type of behavior described in this article," the organization, which presents the Golden Globes, said in a…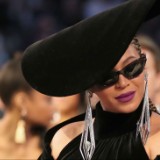 How Did an Unofficial Beyoncé Remix End Up on Her Official Streaming Pages?
Beyonce fans got a surprise Wednesday night when a new remix of the song "Sweet Dreams," originally from her 2008 album I Am... Sasha Fierce, popped up on Tidal, Apple Music, and iTunes seemingly out of the blue. Beyonce isn't promoting new solo music right now, and though this year is the 10th anniversary of Sasha Fierce, the exact date isn't until November. The…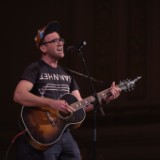 Sufjan Stevens Will Perform at the 2018 Oscars
The Academy of Motion Picture Arts and Sciences announced today that Sufjan Stevens will join the list of performers at the 2018 Oscars. Stevens will be performing "Mystery of Love," one of his original songs for the Luca Guadagnino film Call Me By Your Name, which is a Best Picture nominee. Stevens is also nominated for a Best Original…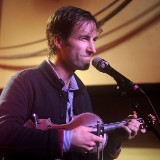 Andrew Bird – "Distant Stations" (Mountain Goats Cover)
Andrew Bird recently contributed a cover to a new compilation celebrating the release of the Mountain Goats' 2002 album All Hail West Texas. For his cover, Bird recorded a new version of the song "Distant Stations," which trades John Darnielle's palm-muted guitar lines for lush string arrangements. The release also includes music from Against Me's…


Zaytoven, Ty Dolla $ign, Jeremih – "What You Think" ft. OJ Da Juiceman
Zaytoven is one of Southern hip-hop's most prolific producers, and over the course of over a decade has gone from helping Gucci Mane cook up his first hits to one of the most in-demand names in the industry. Following a 9-song mixtape he released in December, Trapping Made It Happen, the producer is apparently readying a new, long-rumored…


Meshell Ndegeocello's Cover of TLC's "Waterfalls" Is an Unexpected Revelation
Accomplished singer, bassist, genre-bending songwriter, and neo-soul luminary Meshell Ndegeocello is releasing her first studio album in four years, Ventriloquism, on March 16. On paper, the project might seem like a lower-stakes outing for the typically adventurous Ndegeocello, since the LP is entirely a covers album focusing on the singer's versions of '80s and '90s R&B and soul…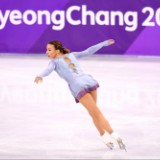 German Figure Skater Using the Schindler's List Score Was Probably a Bad Idea
Believe it or not, John Williams's somber score from Steven Spielberg's 1993 film Schindler's List is a fairly common soundtrack for figure skaters to use in competition. Johnny Weir, Russian figure skaters Yulia Lipnitskaya and Irina Slutskaya, and 1994 German gold medalist Katarina Witt have all used the score in their routines. During last night's…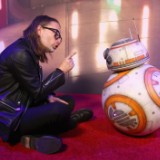 Is This News?: Thom Yorke Is Tweeting Weird Shit
And now, a few words from Thom Yorke: disinformation — Thom Yorke (@thomyorke) February 21, 2018 do you see his smile? — Thom Yorke (@thomyorke) February 22, 2018 putting rocks in our hearts — Thom Yorke (@thomyorke) February 23, 2018 pic.twitter.com/flUsAl5cN6 …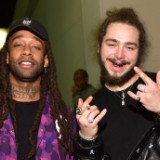 Post Malone – "Psycho" ft. Ty Dolla $ign
Post Malone has just dropped a new track from his upcoming album Beerbongs and Bentleys. Titled "Psycho," the single features Ty Dolla $ign. The song feels like a melodic continuation of his hit "White Iverson," with a slow-moving trap beat that finds Post both singing and rapping over top. The rapper recently announced a tour…


Mozzy – "Nobody Knows" (ft. Jay Rock and DCMBR)
Sacramento rapper Mozzy has just dropped the new song "Nobody Knows." Featuring guest appearances from Jay Rock and DCMBR, the song comes from his upcoming EP Spiritual Conservations EP, which drops March 2 via Empire. The song is a heartfelt, emotional track from the EP that captures the rapper at his most vulnerable, rapping about…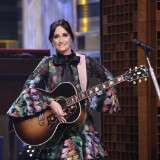 Kacey Musgraves – "Space Cowboy"
Kacey Musgraves has released her new song "Space Cowboy" from her upcoming album Golden Hour. Last year, the songwriter released her holiday album A Very Kacey Christmas, as well as the recent single "Butterflies." Her new album allegedly takes influence from artists like Sade, The Bee Gees, Neil Young, and Sheryl Crow, who helped Musgraves "set the tone" for the album." Listen to its latest single "Space…


Kacey Musgraves has released her new song "Butterflies," the second single from her upcoming album Golden Hour. Following her holiday album A Very Kacey Christmas, as well as her recent single "Space Cowboy," the songwriter's been hard at work on the new album, which allegedly takes influence from artists like Sade, The Bee Gees, and…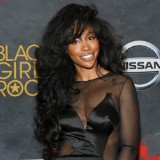 Hear SZA Hop On Towkio's New Song "Morning View"
Chicago rapper Towkio has released a new song with SZA. Titled "Morning View," the track comes his debut album WWW., the followup to his 2015 debut mixtape .Wav Theory. Leading up to the release, the rapper went up 100,000 feet in a helium balloon and played the LP while parachuting. His new album also includes…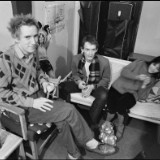 Public Image Ltd. Announce New Anniversary Tour and Box Set
English post-punk veterans Public Image Ltd. have announced a new tour, documentary, and box set to celebrate the band's 40 years together. The act will hit the road in May, touring accross Europe and Japan through the summer and into the fall. Their documentary film, titled The Public Image is Rotten, premiered last year at…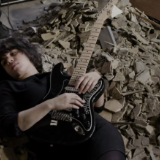 Stream Screaming Females' New Album All At Once
Screaming Females' new album All At Once is now available in full. The release follows singles "Deeply," "Glass House," and "I'll Make You Sorry" and splits the difference between fast-paced punk and the slower, more melodic feel of their newer tracks. Listen below. …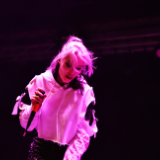 Alice Glass — "Stillbirth (Zola Jesus Remix)"
Alice Glass and Zola Jesus are co-headlining a number of U.S. tour dates this spring, and to celebrate, Glass has released a Zola Jesus remix of her track "Stillbirth." The original, Glass's first solo track following her departure from Crystal Castles, tells the story of an abusive relationship and is all the more powerful in light…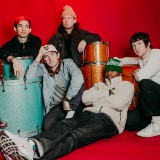 On a chilly weeknight in late January, I meet Turnstile at Studio 4, a recording complex tucked away in the basement of a nondescript bar just outside Philadelphia. "Freaky" Franz Lyons, the band's bassist, supporting vocalist, and biggest social butterfly, goes in for a one-armed hug, clutching a cigarette in his other hand. "Everyone's inside,"…


Janelle Monáe's "Make Me Feel" Is a Confident and Quirky Statement
After teasing fans with an '80s-inspired "emotion picture" trailer for her upcoming album Dirty Computers, Janelle Monae dropped two singles on Thursday, "Django Jane" and "Make Me Feel," both of which were accompanied by full-length videos. In the more upbeat offering, "Make Me Feel," the video for which stars budding actress…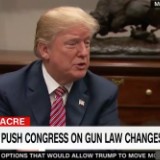 Trump Has Some Wild Theories About Arming Teachers and Movie Violence
President Trump spent the on-camera portion of a meeting about school safety free associating on such topics as providing "a little bit of a bonus" to teachers who want to start packing heat and pontificating on the ways in which violent movies and video games influence school shooting incidents. It was about as enlightening as…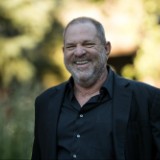 Harvey Weinstein Apologizes to Meryl Streep and Jennifer Lawrence
Harvey Weinstein has issued an apology to Meryl Streep and Jennifer Lawrence after his lawyers used the actresses names in an attempt to dismiss a sexual misconduct lawsuit against him. "Mr. Weinstein acknowledges the valuable input both Meryl Streep and Jennifer Lawrence have contributed to this conversation and apologizes," says his rep in…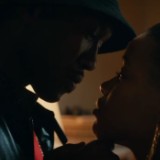 Watch the Trailer for Netflix's Roxanne Shanté Biopic Roxanne Roxanne
In 1984, a 15-year-old Queens rapper named Lolita Shante Gooden took on the rap name Roxanne Shante and released the single "Roxanne's Revenge." The song, an answer to rap group U.T.F.O.'s B-side "Roxanne, Roxanne" was produced by Queens pioneer Marley Marl, and it was about as stark and fearless as early dis records ever were.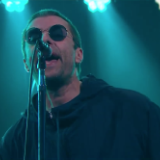 Liam Gallagher Was in Two Places at Once Last Night
Liam Gallagher was all over the place on Wednesday: He was at the BRIT Awards, where he delivered a well-received rendition of "Live Forever" to honor victims of last year's Manchester Arena bombing after illness forced Ariana Grande to bow out of the ceremony last minute. Later he went to an afterparty, where the Daily Mail reported that he "hilariously opted…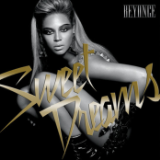 Listen to a Mysterious New Remix of Beyoncé's "Sweet Dreams"
A remix of Beyonce's "Sweet Dreams," which originally appeared on her 2008 album I Am... Sasha Fierce, suddenly appeared on streaming services and iTunes today. This new version slows the song down into a minimalist ballad, with rattling snares giving it a modernist feel. According to Tidal, the remix was produced by someone named "IDS"; it's unclear at the moment…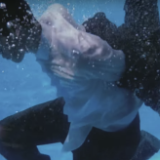 Last month, Aaron Maine released The House, his third full-length for his electro-pop project Porches. Ahead of the album, he released videos for "Country" and "Find Me," and today he's shared another, for the album track "Goodbye." Co-directed by Maine and frequent collaborator Nick Harwood, "Goodbye" highlights the by presenting Maine as a pianist at a modest recital. Just as the drum machine kicks…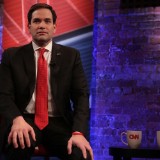 Parkland Survivors Slam Marco Rubio for "Pathetically Weak" Stance on NRA
Following a devastating high school shooting at Parkland, Florida's Stoneman Douglas High School last week--when 17 kids were killed by a student with a AR-15 rifle--CNN gathered local parents, students, and their state representatives for a live broadcasted Town Hall. Congressman Ted Deutch, Sen. Bill Nelson, and Sen. Marco Rubio were questioned directly by the…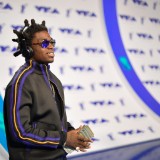 Judge Drops Three Charges in Kodak Black Police Raid Case
In January, Kodak Black was arrested after police raided his Broward County home. Today, his legal team won a victory in court, convincing a judge to drop three of the charges against the rapper, born Dieuson Octave. The charges stem from a police raid of his mansion, which was triggered by a controversial…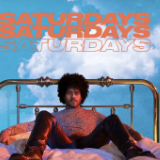 Twin Shadow – "Saturdays" (ft. HAIM) & "Little Woman"
Though he promised Spin a forthcoming acid house record in 2015, Twin Shadow has yet to release a full-length follow-up to that year's excellent synth-pop LP Eclipse. Later that year, George Lewis, Jr. and his band were involved in a serious tour bus accident. Following the crash, Twin Shadow released a mixtape of unreleased songs. Today, Twin Shadow has shared…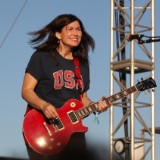 Next week, the Breeders will release their reunion album All Nerve, their first new record in 10 years and their first to feature the same lineup—Kim Deal, Kelley Deal, Josephine Wiggs, and Jim Macpherson—as their iconic 1993 album Last Splash. Today, the band released its third single and opening track, "Nervous Mary," a taut and bass-driven counterpart to advance single "Wait…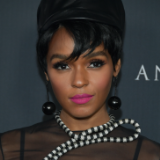 Janelle Monáe Details New Album Dirty Computer, Releases Videos For "Make Me Feel" and "Django Jane"
Today, Janelle Monae formally announced her new "narrative film and accompanying musical album" Dirty Computer, after teasing its impending release last week. The singer's project—her third full-length—is due out on April 28 via her own imprint Wondaland Records. Today, she's premiered two elaborate, choreography-intensive new videos for the album's two new singles, the typically funky "Make Me Feel" and "Django Jane." Last week, Monae…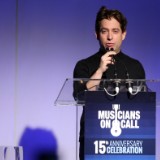 Music Executive Charlie Walk Accused of Sexual Misconduct by Five Women in New Story
Charlie Walk—the record label executive who was recently put on leave at Republic Group, where he is president, and removed from his position as judge on the Fox singing competition The Four after being accused of workplace harassment in a blog post written by a former employee—has had further allegations levied against him by at least five women in…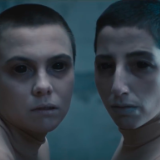 Simian Mobile Disco — "Caught In A Wave"
Electronic duo Simian Mobile Disco just released the frenetic music video for "Caught in a Wave," the lead single off upcoming album Murmurations.  "For 'Caught in a Wave' I wanted to explore the idea of chaos," video director and choreographer Kiani Del Valle said in a statement. "Juxtaposing a mosh pit with a choreographed contemporary dance…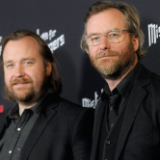 The National's Matt Berninger Is Creating and Starring in a TV Show About Himself
The National's Matt Berninger and his brother Tom are taking the dark-comedic energy that fueled Mistaken for Strangers, the 2013 psuedo-documentary focused on the band, and applying it to a new, "more scripted" television project. The National lead singer confirmed during an AMA on the Australian radio station Double J that he would be starring in…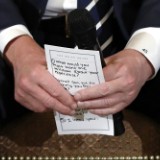 Trump Used a Cheat Sheet to Remind Him to Show Empathy to School Shooting Survivors
On Wednesday President Trump held a listening session at the White House for students and parents affected by school shootings following the recent massacre in Parkland, Florida. While the president listened to grieving parents and students plead with him to make meaningful changes when it comes to student safety, eagle-eyed Associated Press photographer Carolyn Kaster snapped…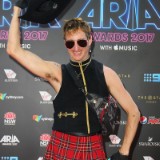 Kirin J. Callinan Pleads Guilty But Avoids Conviction for Red Carpet Flashing
Australian indie musician Kirin J. Callinan has pled guilty to a charge of willful and obscene exposure but will avoid conviction in last year's kilt-lifting incident at the 2017 ARIA Awards, the Sydney Morning Herald reports. Callinan came in for heavy criticism—and eventually a criminal charge—after flashing his dick at red carpet photographers during Australia's national music awards last November. His sentence…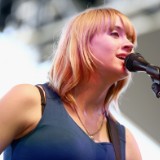 Wye Oak – "It Was Not Natural"
Wye Oak has released "It Was Not Natural," another track off the upcoming album The Louder I Call, the Faster It Runs. The duo has already released the music video for the album's lead single and announced a number of European and North American tour dates. In a statement, Jenn Wasner characterized "It Was Not Natural" as "a story about finding an object of…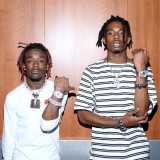 Lil Uzi Vert and Playboi Carti's "Bankroll" Can Survive on Charm Alone
The easy chemistry between Playboi Carti and Lil Uzi Vert is immediately apparent in their latest track, the DP Beats produced "Bankroll." The duo bounce off each other's energy and rap styles as though they've studied each other; their warbles revealing a melancholic track about more serious things--drugs, money, sex--under playful, glossy production. Both Uzi…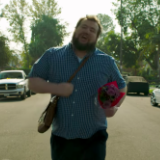 Video: Eels – "Today Is The Day"
Mark Oliver Everett of Eels released "Today Is The Day," the bouncy second single from his forthcoming album The Deconstruction, earlier this month. Now, the track has a charming official video, the ending of which actually made me saw "Aw" out loud the first time I watched. The clip stars actor and comedian Mike Mitchell of the…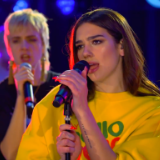 Watch Dua Lipa Perform "IDGAF" With Charli XCX, Zara Larsson, Alma, and MØ
Dua Lipa was all about girl power with her BBC Radio 1's Live Lounge performance of her latest single "IDGAF." The singer enlisted Charli XCX, MØ, Zara Larsson, and Finnish singer Alma to back her on the self-love anthem. "Coming together to scream IDGAF at the top of my lungs with 4 other women I deeply respect felt really…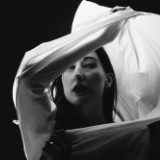 Zola Jesus Announces Tour and B-Sides Collection, Releases "Bound"
Adult Swim's Singles Series is operating on a weekly basis this year, and so far their output does not disappoint: recent additions include songs from Julianna Barwick, D∆WN , Julia Holter, and Jlin. Today, Zola Jesus has released her contribution to the series, "Bound." An atmospheric, industrial goth track, Nika Roza Danilova's booming voice adds an element of humanity…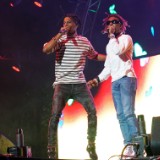 Lil Uzi Vert & Playboi Carti – "Bankroll"
Lil Uzi Vert and Playboi Carti continue to fuel long-festering rumors that a collaborative mixtape is in the pipeline with the release of a new joint track called "Bankroll." The overcast, drumroll-cluttered track--with its chorus imagining a text message Uzi receives reading "what up [sadface emoji]"--comes via the Soundcloud of underrated producer DP Beats, who has previously…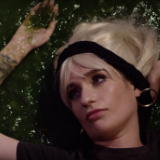 Video: Speedy Ortiz – "Lucky 88″
Although Speedy Ortiz have embarked on solo projects and shared covers and an EP over the past three a full-length since 2015's Foil Deer. Now, the excellent Northampton punk band is back with "Lucky 88," the first single and accompanying video from their upcoming third studio album, Twerp Verse. The song expands on the band's established sound, keeping the shiny riffs and…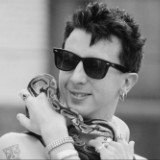 Soft Cell Announce 40th Anniversary Farewell Show
Classic synth-pop duo Soft Cell say they're getting back together one more time before splitting up for good. According to the band's website, the last opportunity to see Marc Almond and Dave Ball perform "Sex Dwarf" will be on September 30 at The O2 in London. This drive by of a reunion is appropriately titled the "Say Hello,…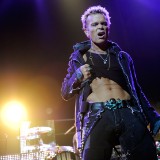 This Festival Is Your Antidote to the Increasingly Homogenous Festival Season
Are you tired of the unending barrage of 2018 festival lineups headlined by every possible combination of Eminem, the Weeknd, Jack White, the Killers, Queens of the Stone Age, the National, and Travis Scott? I suggest booking a ticket to West Palm Beach for the weekend of May 3-6 for the SunFest Festival, which is…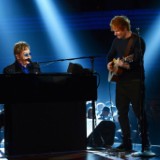 Watch Elton John Call Ed Sheeran "Ed Shirran" at the BRIT Awards
During the BRIT Awards, Sir Elton John took the time to introduce his "dear friend Ed Sheeran." One quirk: the legend has a different way of pronouncing Sheeran's name. It sounds sort of like "Shirran," and as some on social media joked, it makes the "Shape of You" singer sound "like a French wine." Meanwhile, I'm still…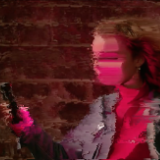 Video: Let's Eat Grandma – "Hot Pink"
"Hot Pink," the new single by U.K. pop duo Let's Eat Grandma and co-produced by SOPHIE and the Horrors' Faris Badwan, just received a video. Directed by Balan Evans, the clip finds best-friend duo Rosa Walton and Jenny Hollingworth scrambling through darkened city streets, searching for an eery high-rise sanctum that glows with hot pink light. "We're trying to navigate…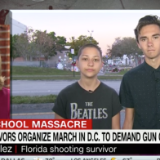 Aide to Florida GOP Rep Fired for Saying Student Gun Activists Are "Actors"
Benjamin Kelly, a now-former aide to Florida Republican state representative Shawn Harrison, recently argued to a reporter that two students from Marjory Stoneman Douglas High who have become prominent gun violence activists in the wake of the recent mass shooting at their school are actually crisis actors, a popular conspiracy theory term. Using a state email, …


Sorority Noise Announce YNAAYT Rework Album, Cover "Chelsea Hotel No. 2″
Last year, Sorority Noise released You're Not as ______ as You Think, a crushing and intimate and darkly funny reflection on surviving your friends' deaths without losing your mind. It's one of Spin's favorite albums of what's often called the emo revival, and Sorority Noise aren't quite ready to put it down either. This past fall, they released two outtakes, "Week 51" and "Fermata," and…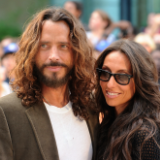 Chris Cornell's Widow Talks About Singer's Relapse in First TV Interview Since His Death
This morning, Vicky Cornell, Chris Cornell's widow, made her first on-screen appearance since her husband's death in May of last year, granting an interview to Good Morning America. In conversation with Robin Roberts, she discussed Cornell's strengths as a father and his decade-plus period of sobriety. She explained that Cornell had relapsed roughly a year before…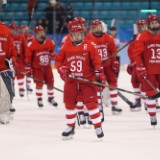 O.A.R. (the Band) Is Pretty Stoked About OAR (the Russian Olympians)
If you went to high school ten to fifteen years ago, chances are you're at least passingly familiar with O.A.R., the vaguely jammy Dave Matthews disciples who captivated the imaginations of lacrosse players and hemp necklace enthusiasts everywhere for a few years in the early and mid 2000s. Sadly for O.A.R., it's equally likely that you…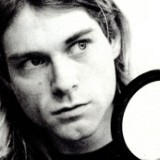 Nirvana: The 2004 Cover Story, 'The Ghost of Saint Kurt'
Romanticized, ripped off, and never quite forgotten, Kurt Cobain still haunts us like no other rock star. But ten years after his controversial suicide, as a new generation begins to experience his music in its own way, what do Cobain, Nirvana, and "grunge" really mean to anyone anymore?  According to Japan's Shinto faith,…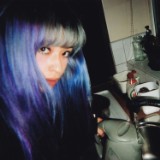 Stream Kero Kero Bonito's New TOTEP EP
Last week, we heard U.K. electro-poppers Kero Kero Bonito try something new on "Only Acting": fuzzy guitars that made them sound like a gliched-out Weezer. It turns out that song is part of a surprise new four-track EP titled TOTEP, which takes their mismatched lo-fi experimentation in still more directions. Opener "The One True Path" flirts with dark disco funk, while "You…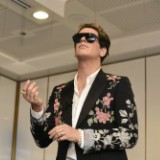 Milo Yiannopoulos Quietly Drops $10 Million Lawsuit Against Simon & Schuster
After a disastrous turn serving as his own legal counsel, alt-right poster boy Milo Yiannopoulos dropped his $10 million lawsuit against Simon & Schuster, The Bookseller reports. The tiresome contrarian initially sued the publishing house for voiding its book contract with Yiannopoulos after comments surfaced where the former Breitbart tech editor seemed to endorse pedophilia.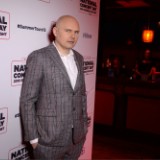 Billy Corgan Reveals Titles of Eight New Smashing Pumpkins Songs
Billy Corgan spent President's Day hyping new music from the mostly reunited classic Smashing Pumpkins lineup. Corgan teased the new music in an Instagram post where he announced that he was joining James Iha, and Jimmy Chamberlin, in Malibu "next week to sing shiny new lyrics and cut final guitar overdubs" after spending…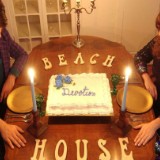 Beach House Announce Devotion 10th Anniversary Vinyl Reissue
To celebrate the tenth anniversary of their sophomore album Devotion, Beach House will release a deluxe vinyl reissue of the record. The reissue will come on a 180-gram "Gold Cloud Burst" vinyl, and was remastered at half-speed to play at 45 RPM. The double LP set also includes a handwritten lyric poster designed by keyboardist and vocalist Victoria Legrand. The…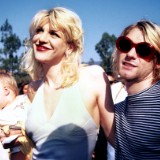 Courtney Love, Frances Bean Remember Kurt Cobain on What Would Have Been His 51st Birthday
Kurt Cobain was born February 20, 1967—meaning that today, February 20, 2018, would have been the Nirvana frontman's 51st birthday. The occasion didn't go unnoticed by Cobain's two most famous family members: Both Courtney Love and daughter Frances Bean Cobain marked the date with remembrances on Instagram. Love kept hers simple and touching, sharing a black-and-white snapshot of herself and Cobain with the…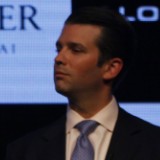 Donald Trump Jr. Praises India's Poor for Smiling
While on a trip to India to hawk luxury apartments, Donald Trump Jr. stopped by the CNBC TV18 studios to promote the new Trump-branded properties in Gurgaon, a suburb of New Delhi. While extolling the virtues of the Indian people, Don Jr. employed his usual grace and self-awareness to discuss why India's poor people are…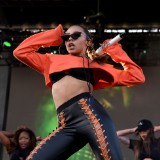 Video: Tinashe – "Faded Love" (Feat. Future)
Last week, Tinashe released a new song — the Future-featuring "Faded Love" — in what will hopefully actually be the rollout to her much-delayed sophomore album, and last night she revealed the video for the track. It's shot vertical iPhone-style and follows Tinashe as she dances alone in what looks like an abandoned warehouse of…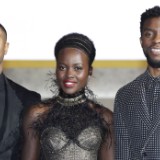 Black Panther Bounds to Record-Shattering $235M-Plus Bow After Strong Opening Weekend
In a defining moment for Hollywood, Disney and Marvel Studios' Black Panther exploded at the Presidents' Day box office, bounding to a record-shattering estimate of $201.8 million for the three-day weekend and a projected $235 million-plus for the four-day holiday frame. Those grosses are substantially ahead of Sunday's estimates of $192 million and $218 million,…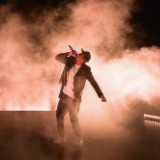 Jay-Z Tipped a Normal Amount on His $80,000 Bar Tab
Jay-Z went out and spent a lot of money on Sunday night, as you may have read in Page Six or seen on social media. For the birthday of his friend and Roc Nation Sports president Juan "OG" Perez, Jay ended up at the uptown Manhattan nightclub Playroom, where he ordered 40  bottles of Ace of Spades…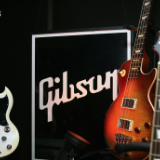 Gibson Guitars Releases Optimistic Statement in Response to Bankruptcy Reports
Reports over the weekend indicated that Gibson, the preeminent instrument manufacturer famous for developing some of the most popular early electric guitar models, might go bankrupt as early as this summer. The issue seemed to be an inability to refinance the company's bonds, which would result in the company being forced to pay an untenable $145…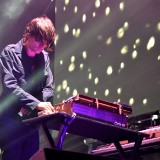 Jonny Greenwood To Release You Were Never Really Here Soundtrack Digitally and on Vinyl
Hot off the release of his soundtrack for the Paul Thomas Anderson film Phantom Thread, Radiohead guitarist Jonny Greenwood has announced that he'll be releasing yet another original score for the new Lynn Ramsay film, You Were Never Really Here. The soundtrack arrives March 9 on digital platforms via Invada Records/Lakeshore Records, and will see…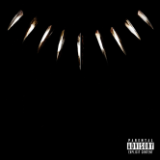 Review: Black Panther: The Album Is a Perfectly Timed Celebration of TDE's Influence
It's easy to understand how and why Black Panther would appeal to Kendrick Lamar. The Marvel comic book movie and its script, by director Ryan Coogler and screenwriter Joe Robert Cole, are dense with what one imagines would be thematic catnip for K.Dot: early 1990s inner-city California, heroism as identity, complex family dynamics, afrocentric historical…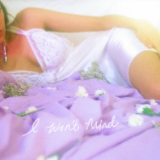 Listen to R&B Singer Raveena's Warm and Gentle Ballad "I Won't Mind"
On her 2017 debut EP, Shanti, New York-based singer Raveena Aurora made bubbly, warm R&B that used nature imagery and dreamy vocals to capture her self-love and healing. Her work has especially centered women of color, with the EP taking its name from the Hindi word for peace, an homage to her Indian-American roots. On…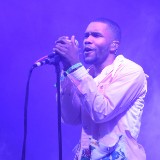 Frank Ocean Sues Collaborator Om'Mas Keith Over Blonde Writing Credits
Frank Ocean has filed a lawsuit in California federal court against his collaborator Om'Mas Keith, who is credited as a producer on Channel Orange and several tracks from Blonde. According to the suit, Keith falsely claimed credit to the American Society of Composers, Authors and Publishers for co-writing eleven Blonde songs. The suit, filed Tuesday in the U.S. district court…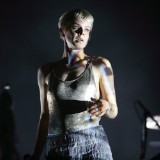 Robyn Hints That Her New Album Will Be Released This Year
It looks like Robyn's much-anticipated new album could be coming soon. When asked by a restless fan on Twitter recently about the album's release, the songwriter hinted that the album would be coming later this year. Last year, Robyn debuted a new song called "Honey" on an episode of the HBO series Girls, though the…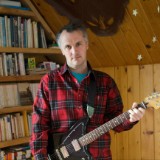 Mount Eerie – "Tintin in Tibet"
Mount Eerie's Phil Elverum recently announced Now Only, the follow-up to last year's heart-wrenching album A Crow Looked at Me and a continuing reflection on grief, memory, and acceptance following the death of wife Geneviève Castree from pancreatic cancer in 2016. We've already heard "Distortion," and today Elverum has released the new collection's opening track, "Tintin in Tibet," a gentle and sorrowful journey through some of Elverum's early…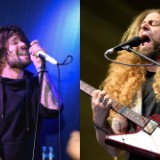 Coheed and Cambria and Taking Back Sunday Announce Tour
Mid-aughts emo fans, rejoice: Coheed and Cambria and Taking Back Sunday have announced a summer co-headlining tour. The tour kicks off on July 6 in Miami and runs through mid-August. California pop-punkers The Story So Far are also providing support on the tour. View the full schedule of dates below. July…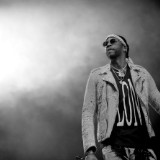 2 Chainz Announces New Album Via Blimp
Atlanta rap star 2 Chainz released Pretty Girls Like Trap Music, his last album, less than a year ago, and he followed it up with the surprise EP The Play Don't Care Who Makes It just a week and a half ago. But he's not slowing down yet, and this past weekend, 2 Chainz announced a new album…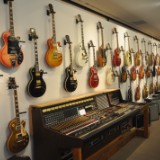 Report: Gibson Guitar Company Facing Imminent Bankruptcy
Iconic guitar company Gibson might be facing bankruptcy. According to reports from the Nashville Post and Dayton Daily News, the guitar-makers recently saw the departure of their chief financial officer, Bill Lawrence after just six months with the company. Now as $375 million in senior secured notes mature with another $145 million in bank loans…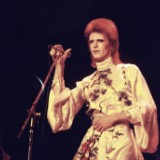 David Bowie's Aladdin Sane To Be Reissued on Silver Vinyl for its 45th Anniversary
To mark the 45th anniversary of David Bowie's Aladdin Sane, English imprint Parlophone will be reissuing the album on silver vinyl this April 20. The album's limited-edition remaster—which comes just five years after the album was reissued for its 40th anniversary in 2013—will only be available in "bricks and mortar" stores, according to a press…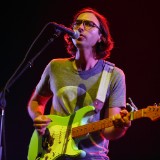 Watch Real Estate Play a New Song in Colorado
Real Estate postponed their fall tour just a week before former band member Matt Mondanile's sexual misconduct allegations surfaced, but the New Jersey group picked back up on the road last night for the first stop of their rescheduled tour at the Fox Theatre in Boulder, Colorado. During their set, they played a brand-new song, the first new material…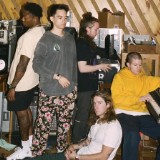 Stream Turnstile's New Album Time & Space
Baltimore's Turnstile have been on the slow ascent from word-of-mouth mainstays to torchbearers for 2010's hardcore for some time now. The last few years have seen the band flirting with a variety of the genre's most defining sounds from acts like Bad Brains and Rage Against the Machine, but on their latest album Time &…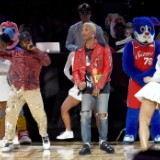 Watch N.E.R.D. and Migos' 2018 NBA All-Star Game Halftime Performance
Over the last few days, the 2018 NBA All-Star Weekend has been taking Los Angeles by storm. On Friday, Quavo, Win Butler, and Justin Bieber took part in this year's All-Star Celebrity Game, Kanye West made a surprise appearance with Kid Cudi, and Win Butler even sang karaoke. Last night, N.E.R.D. performed at the game's…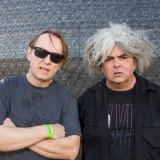 Melvins – "Stop Moving To Florida"
Melvins are back with a new song from their forthcoming album Pinkus Abortion Technician out this spring. Titled "Stop Moving To Florida," the song is a combination of "Stop," a 1969 James Gang single, and "Moving To Florida," an obscure Butthole Surfers song from their 1985 Cream Corn from the Socket of Davis EP. Melvins'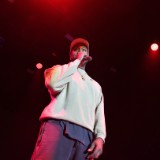 Watch Kanye West Return to the Stage for a Surprise Performance with Kid Cudi
Last night, Kanye West surprised the audience at Adidas' NBA All-Star Weekend event in Los Angeles. West introduced Kid Cudi and the two performed their Life of Pablo single "Father Stretch My Hands Pt. 1." Earlier this week, West came back to Instagram to flood the timeline with pictures of celebrity couples on Valentine's Day…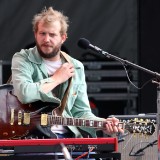 Watch Bon Iver Play Early Unreleased Song "Hayward, MI"
Bon Iver's 2007 album For Emma, Forever Ago technically turned 10 last July, but the album didn't see a proper international release until the band signed to label Jagjaguwar and formally released the album in February 2008. To honor the later release, Justin Vernon and co. held a 10th anniversary performance last night in Milwaukee,…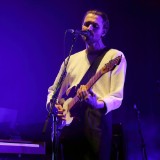 Watch Wild Beasts Play Their Last Show Ever
Last year, Wild Beasts announced that they were breaking up, finally concluding the project with a farewell EP. This week, the band released a final live album called Last Night All My Dreams Came True and also played their last show at London's Eventim Apollo. With a career-spanning 24-song, three encore set, the band triumphantly…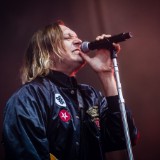 Watch Arcade Fire's Win Butler Sing His Own Song at Karaoke
After leading Team Clippers to victory at the the NBA All-Star Celebrity Game on Friday, Arcade Fire frontman Win Butler surprised fans with an impromptu karaoke performance of the band's 2007 track "Intervention" at a bar in Los Angeles. Few things are as cringe-inducing as performing your own song at karaoke, and Butler seems noticeably uneasy, wandering…