NL Notes: Mets, Braves, Giants, Phillies
The Mets will send left-hander Jason Vargas to the disabled list and recall righty Chris Flexen from Triple-A, Anthony DiComo of MLB.com reports on Twitter. Vargas is dealing with a strained calf, thus continuing a disastrous age-35 season for him. After joining the Mets on a two-year, $16MM deal in free agency, Vargas has gone…


Kemp's grand slam seals win in Kershaw's return
The Dodgers overcame a rusty return from the disabled list by Clayton Kershaw Saturday night, as pinch-hitter Matt Kemp slugged a grand slam and rookie Caleb Ferguson picked up his first Major League victory with four scoreless frames in an 8-3 win over Jacob deGrom and the Mets.


Leake rolls through Sox as Seattle snaps skid
Good pitching and timely hitting, the two ingredients that added up to an excellent start this season for the Mariners, returned in force on Saturday as Seattle topped the Red Sox, 7-2, to snap a five-game losing streak. Mike Leake provided the pitching portion as he threw eight scoreless innings and Mitch Haniger came through with the clutch offense as he doubled twice and drove in three runs to lead a 14-hit attack.


Twins Notes: Lewis, Santana, Deadline Plans
J.P. Hoornstra of the Orange County Register offers an interesting look at the dynamic between top Twins prospect Royce Lewis and special assistant to baseball operations Torii Hunter. It turns out that Hunter knew Lewis's father for years, but had no idea his son was a baseball prodigy until after he was picked first overall by the Twins. In…


Air Force takes 1st at Armed Services Classic
Air Force finished first in the inaugural All-Star Armed Services Classic presented by T-Mobile, which concluded Saturday, and the top two teams will compete in a championship game at Nationals Park on July 13 during MLB All-Star Week.


Greinke dominates Bucs despite pair of delays
An hour and a half worth of rain delays could not cool down the D-backs bats as they beat the Pirates, 7-2, on Saturday afternoon at PNC Park. Paul Goldschmidt homered, as Zack Greinke allowed just two hits and did not walk a batter, while striking out seven over six shutout innings to win his second straight decision.


AL Notes: A's, BoSox, Canha, Royals, Heimlich, Tigers, Jays, Rangers
The banged-up Athletics will turn to veteran Edwin Jackson to fill a spot in their rotation, but they're on the hunt for more starting depth, Susan Slusser of the San Francisco Chronicle reports. The Athletics have had discussions with the Red Sox, who are seeking outfield depth and have "unsuccessfully asked" the A's about Mark…


Bauer K's 11 to help Tribe win sixth straight
Indians starter Trevor Bauer continued his dominance against Detroit by striking out 11 across 6 1/3 innings and allowing just one run during the Tribe's win on Saturday at Progressive Field. Francisco Lindor hit his 18th homer of the season for Cleveland. Detroit scored its lone run in the second on a wild pitch from Bauer.


Pearce's HR fends off Halos in Stroman's return
The Stro Show was back in full effect as Blue Jays right-hander Marcus Stroman made a triumphant return to the mound on Saturday night at Angel Stadium. Stroman tossed five scoreless innings in his first appearance since May 8, while Steve Pearce bailed out the bullpen with a three-run homer in the top of the ninth inning to give the Blue Jays a 4-1 victory over the Angels. Teoscar Hernandez picked up a pair of hits, including his 13th home run of the season, but it was Stroman and Pearce who st


Astros prospect Cesar extends hit streak to 40
Astros prospect Randy Cesar extended his Texas League record hit streak to 40 games on Saturday night. He broke Bobby Trevino's nearly five-decade-old record with a hit in his 38th straight game on Thursday.


Astros tie it in 9th, walk off in 12th vs. KC
Carlos Correa's walk-off single with the based loaded in the 12th inning won it after the Astros rallied in the ninth on Evan Gattis' sacrifice fly that forced extra frames and helped even the series. Hunter Dozier's homer staked the Royals to an early lead, but the bullpen couldn't hang on after Ian Kennedy's strong start.


The Angels announced today that they've claimed righty reliever Hansel Robles off waivers from the Mets. Robles was designated for assignment just yesterday. Rene Rivera was transferred to the 60-day DL in order to make room on the expanded roster. As MLBTR's Jeff Todd noted at that time, Robles put up some solid numbers for…


Athletics To Select Edwin Jackson
The Athletics will select right-hander Edwin Jackson from Triple-A Nashville, Susan Slusser of the San Francisco Chronicle reports. He'll make a start during their upcoming series in Detroit, Slusser adds. Oakland will need to make a corresponding 40-man move to create room for Jackson, as its roster is already at capacity. The club may elect…


Hinds' huge day (2 HRs) leads Brave to TOS gold
Heading into the final game at the Tournament of Stars on Saturday, there had been just one home run over the first seven games combined. The Brave hit three on their own in a 14-8 slugfest victory over the United to earn a gold medal.


Trumbo's slam proves key in O's win vs. Braves
With just two swings of the bat, the Orioles were able to get all the run support they needed for a 7-5 victory in Atlanta, marking their third straight win. Before Braves starter Julio Teheran recorded a single out, Mark Trumbo mashed a grand slam -- Baltimore's third of the year -- then Chris Davis hit a bases-clearing double in the fifth inning. Dylan Bundy continued his streak of good starts, tossing 6 1/3 innings of two-run ball with eight strikeouts. Teheran exited after 4 2/3 innings, cha


Minor MLB Transactions: 6/23/18
This post will serve as a tracker for today's minor moves… The Rays announced yesterday that infielder Rob Refsnyder cleared waivers and was outrighted to Triple-A Durham. The club had acquired the 27-year-old Refsnyder from the Indians at the tail end of spring training in exchange for cash, but designated him for assignment earlier this week after…


Rays blank Yankees behind patchwork pitching
Rays right-hander Wilmer Font made it look easy. He set the tone for a patchwork pitching plan, shutting down baseball's most potent offense. His teammates did the rest, generating enough firepower for Tampa Bay to stymie the suddenly silent Yankees, 4-0, at Tropicana Field.


A's tie MLB mark: HR in 24 straight road games
With Stephen Piscotty's two-run blast in the second inning of Saturday afternoon's 7-6 win over the White Sox, the A's have hit home runs in 24 straight road games to tie a Major League record.


Top 10 performers from the Tournament of Stars
The Tournament of Stars, which serves as the first step for USA Baseball in forming its U18 team, has become must-see for scouts of all 30 teams. The event gives professional evaluators the chance to see the top high school prospects in action on the same field over several days, an opportunity impossible to pass up.


Brewers Option Domingo Santana
The Brewers announced today that they've optioned outfielder Domingo Santana to Triple-A Colorado Springs. In a related move, the club has elected to promote Brad Miller, whom the team acquired from the Rays just under two weeks ago. It's been quite the fall from grace for the soon-to-be 26-year-old Santana, who last season enjoyed a…


Tigers Sign Josh Thole To Minor-League Deal
The Tigers have signed catcher Josh Thole to a minor-league deal and assigned him to Double-A Erie, per the SeaWolves' Twitter account. Thole, 31, is perhaps best known as the personal catcher for Cy Young-winnings knuckleballer R.A. Dickey during some of his best seasons. The relationship between the two was strong enough to facilitate the…


Angels host 250 kids at PLAY Campaign event
Two hundred and fifty boys and girls, ranging from 8-18 years old, took the field at Angel Stadium on Saturday morning as part of the 2018 National PLAY Campaign, an initiative meant to promote the importance of children living a healthy and active lifestyle.


Rangers Make Adrian Beltre, Keone Kela, Jake Diekman Available
With the Rangers sitting at 34-44 and well out of playoff contention, they've made third baseman Adrian Beltre, closer Keone Kela and reliever Jake Diekman available on the trade market, Evan Grant of the Dallas Morning News reports. Even though Beltre is a franchise icon, this isn't the first time the Rangers have put him…


Realmuto's grand slam lifts Marlins at Coors
J.T. Realmuto broke open a pitchers' duel with his second career grand slam to lift the Marlins over the Rockies at Coors Field. Miami starter Trevor Richards stymied Colorado through six innings of one-run ball, striking out eight. Rockies starter Tyler Anderson was also effective, allowing just Derek Dietrich's homer until three straight Rockies singled to open the seventh, leading to Realmuto's homer off reliever Bryan Shaw. Gerardo Parra homered and hit a sac fly for both Rockies runs.


DeSclafani hits grand slam, Reds top Cubs again
Anthony DeSclafani did it all for the Reds on Saturday. He hit his first career grand slam and backed it up with 6 1/3 strong innings to elevate the Reds to an 11-2 win over the Cubs on Saturday at Great American Ball Park. Cincinnati has won six in a row and nine of its last 11 games.


Cards solve Crew behind Yadi's 2 home runs
Yadier Molina homered twice and drove in all three Cardinals runs to beat the Brewers. Molina now has six career multi-homer games -- two this week. Miles Mikolas allowed a pair of runs in the first and that was it over 6 2/3 innings. Jesus Aguilar collected his 50th RBI of the season and Brad Miller drove in a run on the first pitch he saw as a Brewer.


Dodgers Activate Clayton Kershaw
The Dodgers announced today that they've officially activated legendary southpaw Clayton Kershaw from the disabled list, optioning lefty Adam Liberatore to Triple-A Oklahoma City. It was reported yesterday that Kershaw was set to forego a rehab assignment and start tonight's game. The three-time Cy Young Award-winner has only made eight starts to date this season,…


Blue Jays Activate Marcus Stroman, Place Aaron Sanchez, Jaime Garcia On DL
5:57pm: Garcia will join Sanchez on the DL, as Gregor Chisholm of MLB.com tweets that he's dealing with shoulder tenderness. The Jays will recall reliever Tim Mayza from Triple-A Buffalo to take Garcia's roster spot, though it's not yet clear whom they'll tab to fill out their rotation. Garcia, whom Toronto signed to a one-year,…


Crawford's big day paces Giants to win
Brandon Crawford broke out of an 0-for-18 slump in a big way, going 3-for-3 with two doubles, a triple and 3 RBIs in the Giants' 5-3 win over the Padres. San Diego starter Jordan Lyles was scratched due to right forearm tightness, necessitating a bullpen day by the Padres, who started Matt Strahm in Lyles' place. Hunter Renfroe started the scoring with a solo homer in the 4th, and the Padres added two runs on an error in the 9th, but the Giants held on for their fourth win in five games.


Yankees evoking memories of 1998 juggernaut
The modern Yankees team against which you measure all others is the one from 1998 -- which won 114 games plus 11 more in the playoffs -- during a time when the Yankees won four World Series in five seasons. Could the young 2018 Yankees, who seem to be just imagining their own possibilities, produce a regular season like the '98 team did? They might.


Six-run 2nd fuels Rangers to 7th straight win
The Rangers scored six runs in the second inning and needed to wiggle out of a bases-loaded jam in the ninth to beat the Twins, 9-6, on Saturday for their seventh straight win. Adrian Beltre and Robinson Chirinos homered in the win. Twins starter Jake Odorizzi lasted just 1 2/3 innings, giving up six runs. Eddie Rosario hit his 17th homer and drove in four runs and Logan Morrison also homered for the Twins, who lost their third in a row.


Solid alternatives to big-name trade options
The trade market has heated up earlier than usual, with this week's trade of Kelvin Herrera serving as evidence of the active discussions taking place well in advance of the July 31 non-waiver Trade Deadline. The market is deep with star-caliber talent in some places and woefully shallow in others. But as is the case every year, you don't have to be a big name to have a big impact. With that in mind, here are five areas in which lower-profile names might be worthwhile targets for contending team


Segura still sidelined by right forearm infection
Jean Segura missed his third straight game on Saturday as he recovers from an infection in his right forearm, but the Mariners shortstop did some pregame work with the club and hopes he can return as soon as Sunday's series finale against the Red Sox.


2018 Amateur Signings: 6/22/18
Let's round up Friday's draft deals of note. As always, the rankings referenced come courtesy America and ESPN's Keith Law; Fangraphs and MLB.com scouting reports are available to the public free of charge, while the others require subscriptions. The Pirates have a deal with second-rounder Braxton Ashcraft, MLB.com's Jim Callis tweets. Aschcraft's $1,825,000 bonus comes in well over the…


AL East Notes: Red Sox, Jones, Orioles, Sanchez, Blue Jays
It's still early in the season relative to the league's non-waiver trade deadline at the end of July, so with the disclaimer that trade are still subject to change before then, Evan Drellich of NBC Sports Boston reports that the Red Sox "have an eye on" adding a reliever and a right-handed hitter to complement the team.…


MLB Daily Roster Roundup: Cervelli, Garcia, Joyce, Soroka
ROSTER MOVES BY TEAM (June 22nd) NATIONAL LEAGUE ATLANTA BRAVES | Depth Chart Placed on 10-Day DL: SP Mike Soroka (shoulder inflammation) Brandon McCarthy, who was expected to move to the bullpen, will now remain in the rotation. Promoted: OF/INF Danny Santana (contract purchased) Transferred to 60-Day DL: RP Jose Ramirez CHICAGO CUBS | Depth Chart Reinstated from Bereavement List:…


Heaney takes duel as Halos win 3rd straight
Injuries have depleted the Angels' pitching depth over the last two weeks, leaving left-hander Andrew Heaney as one of the few stabilizing forces in the club's rotation. Heaney delivered yet again, tossing seven strong innings to lead the Angels to a 2-1 win over the Blue Jays at Angel Stadium. With the win, the Angels pulled within five games of the Mariners for the second Wild Card spot in the American League.


BREAKING: No. 6 prospect Senzel done for '18
The Reds on Saturday announced that infielder Nick Senzel -- the club's No. 1 prospect according to MLB Pipeline -- will have season-ending surgery to repair a torn tendon in his right index finger on Tuesday.


Hanley Ramirez Denies Knowledge Of Reported Investigation
Long-time major-leaguer Hanley Ramirez is "being eyed" in relation to a broader federal and state drug investigation, Michele McPhee of ABC News and Newsweek reports on Twitter. The precise nature of the Ramirez's involvement is not yet entirely clear; at present, it's not even apparent whether he is viewed as a potential suspect of any kind…


Bieber heads shutout as Tribe routs Tigers
Shane Bieber had the best start of his young Major League career, tossing seven innings of shutout ball with nine strikeouts in a 10-0 win over the Tigers at Progressive Field. The Indians backed him up with three home runs, including a grand slam by Yonder Alonso in the seventh inning. Francisco Lindor and Edwin Encarnacion hit the other two off Mike Fiers, who allowed four runs over five innings.


The Royals have activated first baseman Lucas Duda from the disabled list and optioned outfielder Paulo Orlando to Triple-A, tweets Rustin Dodd of The Athletic. Duda had been sidelined since May 14th due to plantar fasciitis. Although manager Ned Yost had initially given reporters a three-week stint as the high end for a DL stint,…


Phils win thanks to Franco's wild day on bases
Maikel Franco was in the middle of the Phillies' 5-3 win over the Nationals at Nationals Park on Friday. Franco went 4-for-4 at the plate and beat two Adam Eaton throws to home plate. Aaron Nola and Erick Fedde matched up in a battle of first-rounders from the 2014 Draft, with both exiting after six innings and the Phils up by one run.


Benches clear briefly between Cards, Brewers
Tempers flared briefly during the eighth inning of Friday's game between the Cardinals and Brewers at Miller Park, after Yairo Munoz and Eric Sogard traded words following a play at second base.


Odubel homers in 5th straight game for Phillies
Odubel Herrera became the sixth player in Phillies history to homer in five consecutive games when he hit a home run in the third inning of Philadelphia's game against the Nationals at Nationals Park on Friday evening.


Gallo expects to play Sunday after exit
Joey Gallo left the Rangers' game against the Twins on Saturday in the bottom of the third inning with tightness in his left hamstring. Gallo was starting at first base and was replaced by Ronald Guzman.


Machado's homer in 15th lifts O's over Braves
Manny Machado's two-run homer in the 15th inning cemented the Orioles' victory over the National League East-leading Braves. Baltimore erased a two-run deficit with a six-run ninth, but Atlanta responded with four runs of its own to send the game into extras. Chris Davis homered in his return to the lineup after an eight-game hiatus.


History for Crew: No-no, game each end with HRs
Two innings after breaking up a no-hit bid in the 7th with a homer, Jesus Aguilar went deep again to give the Brewers a walk-off victory over the Cardinals. Aguilar's first dinger came after 6 1/3 no-hit innings by Jack Flaherty, who racked up a career-high-tying 13 strikeouts over seven frames, and closer Bud Norris surrendered the game-ending shot.


Reds Prospect Nick Senzel To Have Season-Ending Surgery
The Reds have announced that their top prospect, third baseman Nick Senzel, will undergo season-ending surgery in order to repair a torn tendon in his right index finger. It appears as though Senzel suffered the injury while making a defensive play during the top half of the first inning in a Triple-A matchup against the…


Vizcaino dealing with right shoulder pain
After pitching for the fourth time in five days during last Sunday's win over the Padres, Braves closer Arodys Vizcaino has yet to take the mound, dealing with right shoulder pain.


Breakthrough Series personal for former All-Star
Former Major Leaguer Eric Davis is serving as a coach at MLB's Breakthrough Series hosted at the Compton Urban Youth Academy, where the event took place for the first time 10 years ago. Davis was a part of the Compton academy's inception.


Cruz in All-Star form with 2 HRs, 7 RBIs
Nelson Cruz hit the longest homer by a Mariner this season in the first inning Friday night at Fenway Park. Then for good measure, he hit another clear out of the stadium. But his power could not lift the Mariners to a win.


Stanton robs extra bases with leaping grab
Yankees right fielder Giancarlo Stanton made a fantastic leaping grab up against the wall in Friday's 2-1 loss to the Rays to help CC Sabathia get out of a sticky situation.


NL Notes: Kershaw, Cespedes, Strasburg, Robles, Machado
In a surprise move, the Dodgers announced today that ace Clayton Kershaw will start the club's game tomorrow, as Andy McCullough of the Los Angeles Times was among those to tweet. Kershaw, who is coming back from a lower back strain, had been scheduled for a rehab outing but evidently felt up to the task of jumping…


Bellinger's 2nd career slam lifts Dodgers in NY
Cody Bellinger broke up a scoreless tie with a sixth-inning grand slam to lead the Dodgers over the Mets at Citi Field. New York starter Zack Wheeler blinked first in a pitchers' duel with Alex Wood, ceding Bellinger's second career slam. Jose Bautista tagged Wood for his first Mets homer in the bottom of the sixth. Yasiel Puig also went deep for Los Angeles.


Reds back Castillo, beat Cubs for 5th win in row
Luis Castillo allowed three runs in 5 2/3 innings, and a three-run fifth inning powered the Reds to a 6-3 win over the Cubs on Friday at Great American Ball Park for Cincinnati's fifth consecutive win and its eighth in its last 10 games. Castillo allowed a two-run homer to Ohio native Kyle Schwarber in the fourth. But the Reds reclaimed the lead in the fifth off Cubs starter Jose Quintana, highlighted by Eugenio Suarez's two-run homer, his 16th of the season.


Gray fans 12 as Rockies roll to 4th straight win
Jon Gray struck out 12 and Nolan Arenado homered for the fourth straight game as part of a six-run fourth in the Rockies' 11-3 win over the Marlins on Friday. Gray allowed one run in seven innings as the Rockies returned to .500 for the first time since June 9. Wei-Yin Chen allowed seven runs in four innings for the Marlins, who lost their third in a row.


Rays' bullpen stymies Yankees in opener
The Rays rode six relievers to hold the Yankees' big bats in check en route to a 2-1 win Friday night at Tropicana Field. Willy Adames had two hits and an RBI for Tampa Bay, while Giancarlo Stanton made a fantastic leaping grab at the wall to help snuff out a potentially big inning.


MLB reps volunteer at NYC Youth Pride event
With anticipation building for Major League Baseball's first appearance in the New York City Pride March on Sunday, some of the organization's employees decided to start the celebrations a day early by volunteering at the Youth Pride event Saturday afternoon.


Cards derailed by HRs in Flaherty's 13-K gem
For an even 100 pitches Friday night, rookie right-hander Jack Flaherty made an emphatic march toward history at Miller Park. Then on one errant slider, it ended -- taking the Cardinals' lead along with it


Marte sends D-backs to marathon win in 13th
Ketel Marte's RBI single was the difference in a lengthy affair at PNC Park. The game began as a pitchers' duel between Patrick Corbin and Ivan Nova, who became the first pair of starters ever to go seven-plus scoreless innings with eight-plus K's, no walks, and less than three hits each. Both teams traded unearned runs that scored on throwing errors in the 11th, before Marte lined a Tyler Glasnow pitch up the middle to bring home Jon Jay with the winning run in the 13th.


Red Sox outslug Mariners behind J.D.'s 23rd HR
In a slugfest for the ages on Friday at Fenway, J.D. Martinez went off for 5 RBIs on the Seattle Mariners. Martinez mashed his 23rd homer of the season, tying him with Mike Trout for the MLB lead, and plated the go-ahead run in the 7th inning. The Red Sox set a season high with 20 hits. Nelson Cruz crushed a pair of 3-run homers and came up a triple short of the cycle in a 7-RBI effort.


Pirates Place Francisco Cervelli On 7-Day Concussion DL
The Pirates announced just before today's game that they placed catcher Francisco Cervelli on the 7-day concussion DL. Fellow backstop Jacob Stallings has been recalled to take his place on the active roster. That's unwelcome news for the Bucs, who say that Cervelli alerted the organization to symptoms last night, per MLB.com's Adam Berry (via…


10 players whose trade stock is on the rise
Like the stock market, the trade market seems to fluctuate daily. With every dominant -- or woeful -- performance, every injury and every day that gets crossed off the calendar, the needs of buyers and sellers seem to sway like the flags flying high atop Wrigley Field.


Blue Jays' Osuna suspended for 75 games
Commissioner Robert D. Manfred Jr. announced on Friday that Toronto Blue Jays pitcher Roberto Osuna has accepted a suspension without pay through Aug. 4, 2018, for violating Major League Baseball's Joint Domestic Violence, Sexual Assault and Child Abuse Policy. The unpaid suspension of Osuna is retroactive to May 8, 2018, and covers 75 games.


Odubel homers in 5th straight game for Phillies
Odubel Herrera became the sixth player in Phillies history to homer in five consecutive games when he hit a home run in the third inning of Philadelphia's game against the Nationals at Nationals Park on Friday evening.


Mets Designate Hansel Robles For Assignment
The Mets have designated righty Hansel Robles for assignment, per a club announcement. With a need for roster spots to accommodate a pair of promotions, the team also moved AJ Ramos to the 60-day DL and optioned fellow right-handed relievers Paul Sewald and Chris Flexen. Robles, 27, was a quality pen piece for the Mets…


Cruz homers twice, drives in 7 in 1st 4 innings
Nelson Cruz led the long-ball charge against the Red Sox with a three-run home run projected at 465 feet by Statcast, which makes it the longest homer by a Mariner this season and the fourth-longest hit by any player at Fenway since Statcast began in 2015.


Breakthrough Series revisits Compton origins
In 2008, MLB's Compton-based UYA hosted the first-ever Breakthrough Series. It's a four-day event, blending elements of a showcase and an instructional league. Former MLB players and personnel serve as campers' teachers, with separate clinics held for both baseball and softball players. Ten years later, seventy kids from across the country have traveled to Compton, Calif. to participate in the event.


Why aren't the Cardinals hitting more doubles?
It's a statistical oddity that continues to confound the Cardinals, even as their season nears its halfway point: How can a club on pace to eclipse 200 home runs for just the fifth time in franchise history be having so much trouble tallying extra-base hits on balls that don't clear the wall?


Snitker: Acuna won't be activated before Monday
Ronald Acuna Jr. began his Minor League rehab assignment with Triple-A Gwinnett on Friday night. But Braves manager Brian Snitker said the 20-year-old phenom will not be activated from the disabled list before Monday.


Mayors across US, PR commit to Play Ball
For the first time since Play Ball's 2015 inauguration, more than 300 mayors from all 50 states and Puerto Rico have pledged their support to host youth-focused baseball and softball events in their communities through August.


Carrasco takes step in right arm rehab
Less than a week after being struck above the throwing elbow with a line drive, Indians' starter Carlos Carrasco is working his way back to full health.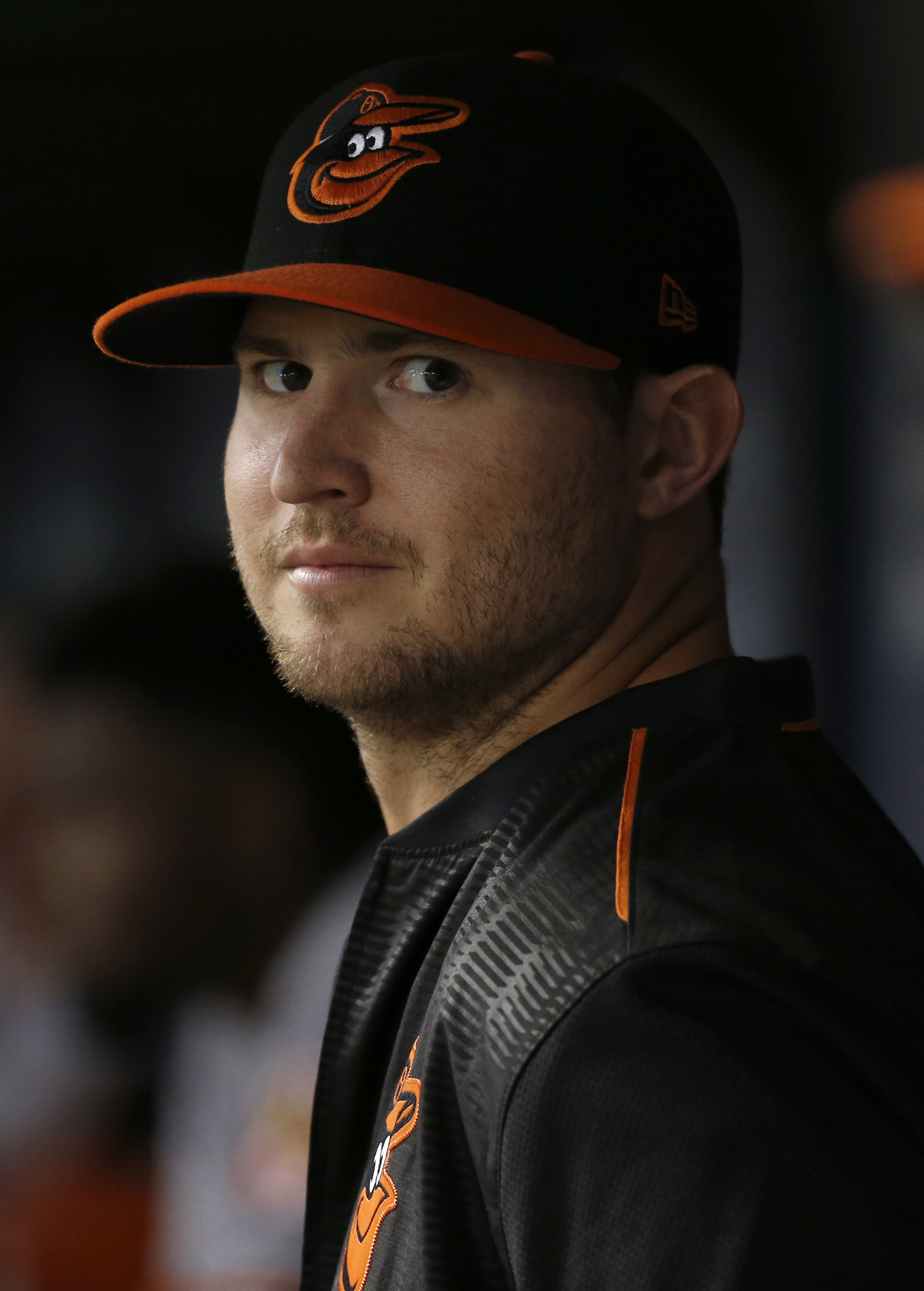 As the non-waiver trade deadline draws nearer, Zach Britton will be among the most oft-speculated and oft-rumored players to be on the move. It's difficult to fathom a scenario in which the Orioles don't trade their longtime closer, given that the alternatives are losing him for nothing or issuing a qualifying offer worth more than $18MM to…


Kershaw back tomorrow vs. deGrom
Clayton Kershaw's rehab plans have taken an abrupt turn north, as the ace left-hander will start against National League Cy Young Award candidate Jacob deGrom and the Mets on Saturday night at Citi Field instead of making a rehab start for Triple-A Oklahoma City in Omaha, Neb., as originally scheduled. Dodgers manager Dave Roberts announced the news to reporters before Friday night's series opener.


MLB Suspends Roberto Osuna For 75 Games
After a long-pending investigation, Major League Baseball has announced a 75-game suspension of Blue Jays pitcher Roberto Osuna under the MLB-MLBPA Joint Domestic Violence, Sexual Assault and Child Abuse Policy. The ban is retroactive to May 8th and will end on August 4th of this year. Osuna will not appeal the decision, the league states. Manfred's statement does not…


Bucs place Cervelli on 7-day concussion DL
Minutes before the start of Friday's game against the D-backs at PNC Park, the Pirates placed catcher Francisco Cervelli on the seven-day concussion disabled list and recalled catcher Jacob Stallings from Triple-A Indianapolis.


Andrelton channeling Gwynn by avoiding Ks
Throughout his career, Andrelton Simmons has worked defensive magic at shortstop.This season, he has become something of a magician at the plate, too. His trick? He has stopped striking out.


Barreto's 2-HR, 6-RBI outburst carries A's in G1
Franklin Barreto cracked a pair of three-run home runs and Sean Manaea tossed one-run ball over seven innings, leading the A's over the White Sox 11-2 in the first game of a doubleheader for their season-high fifth straight win. Yolmer Sanchez hit a ground-rule double for Chicago, which also scored on a double-play groundout.


Minor MLB Transactions: 6/22/18
Here are Friday's minor moves from around the game… The Twins' Triple-A affiliate announced that outfielder Nick Buss has been released. The 31-year-old Buss won a Pacific Coast League batting title in 2017 when he hit .348/.395/.541 with 11 homers for the Padres' top affiliate, but he's struggled to a .239/.309/.340 slash through 178 PAs…


White Sox Activate Avisail Garcia, Designate Trayce Thompson
The White Sox announced Friday that they've activated both Avisail Garcia and Leury Garcia from the disabled list. In order to clear roster space, infielder Jose Rondon has been optioned to Triple-A Charlotte, while outfielder Trayce Thompson has been designated for assignment. Chicago has been without Avisail Garcia since April 23 thanks to a hamstring…


Royals Notes: Moustakas, Herrera, Escobar, Mondesi, Rebuild
Now that the Royals have traded Kelvin Herrera to the Nationals in a surprisingly early deal of significance, the organization's focus is shifting to Mike Moustakas, it seems. Jon Heyman of FanRag Sports writes that Kansas City is now "looking to find takers" for the slugger, who burst out of the gates with a .301/.335/.569 slash…


Phillies Sign Danny Espinosa To Minor League Deal
The Phillies announced that they've signed veteran infielder Danny Espinosa to a minor league contract. The MVP Sports client will give the Phils some additional infield depth following this week's injury to J.P. Crawford, who is expected to miss up to six weeks due to a broken hand. Espinosa, who turned 31 back in April,…


NHL Draft Day At Pro Hockey Rumors
The day has finally arrived, and the 2018 NHL Entry Draft is on tap tonight at the American Airlines Center in Dallas, Texas. The Buffalo Sabres hold the first-overall pick and are widely expected to make Rasmus Dahlin only the second Swedish-born No. 1 selection in history after Mats Sundin in 1989. Dahlin is a…


Harper planning to be in 2018 HR Derby
Nationals outfielder Bryce Harper said he plans to compete in the T-Mobile Home Run Derby in his home confines at Nationals Park on July 16, but on one very specific, and potentially uncertain, condition: He'll only take part if he's named a National League All-Star.


Breakout game shows Betts back in All-Star form
It can't be viewed as mere coincidence that the Red Sox got their offense back on track the same day Mookie Betts went 3-for-6, including a home run, in his best game since returning from the disabled list.


MLB Daily Roster Roundup: Crawford, Morrow, Myers, Wacha
ROSTER MOVES BY TEAM (June 20th-June 21st) NATIONAL LEAGUE ARIZONA DIAMONDBACKS | Depth Chart Promoted: RP Jake Barrett Optioned: SP Matt Koch  CHICAGO CUBS | Depth Chart Placed on 10-Day DL: RP Brandon Morrow (lower back tightness) Pedro Strop, Steve Cishek and Justin Wilson are candidates for save chances. Justin Hancock, who served as the 26th man for Tuesday's…