Braves cut magic number to 2 in comeback win
The Braves took another step toward a National League East title as they claimed a win over the Phillies on Friday night at SunTrust Park. Ozzie Albies fueled a five-run seventh with a home run, and Johan Camargo capped it with a two-run single. The Braves are 7 1/2 games in front of the Phillies, and their magic number stands at two. Wilson Ramos and Jose Bautista drove in runs to put the Phillies ahead, 4-1, in the seventh, but Pat Neshek and Luis Avilan struggled in the bottom of the inning.


Interim skipper wins on Beltre's milestone night
The Rangers are looking to finish the season strong under interim manager Don Wakamatsu, and Adrian Beltre's milestone night against the Mariners helped the club get off to a solid start on Friday night. Beltre's three-run home run in the first inning off Erasmo Ramirez keyed the Rangers' win over the Mariners at Globe Life Park. It was the 476th home run of Beltre's career, moving him past Stan Musial and Willie Stargell for 30th all-time.


Adams' big hit off bench keeps Cards on track
Matt Adams' pinch-hit, two-run double in the eighth inning sent the Cardinals to their fourth win in five games, inching them to 4 1/2 games behind the Cubs in the NL Central while keeping a 1 1/2-game edge for the second NL Wild Card spot. Carlos Martinez pitched around a leadoff double in the ninth for his fourth save, and Kolten Wong, who exited late in the game with cramping, had two RBI hits off Giants ace Madison Bumgarner to set up the late drama at Busch Stadium.


Kennedy bolsters case for 2019 rotation spot
Right-hander Ian Kennedy is making a strong case here in September that he can still be a valuable part of the Royals rotation going forward. Kennedy turned in his third straight quality start since returning from the disabled list (oblique) by throwing seven strong innings in a 4-3 victory over the Tigers at Comerica Park on Friday night.


Palka sets White Sox record with 4th pinch-hit HR
When Daniel Palka launched a pinch-hit home run off Dillon Maples in the sixth inning of a 10-4 White Sox victory over the Cubs Friday at Guaranteed Rate Field, the rookie made no effort to retrieve the baseball.


Fireworks elude Dodgers; lead shrinks to 1 1/2
The Dodgers fell into another momentum-stopping trap on Friday night, following up this week's series sweep of Colorado with a 5-3 loss to the last-place Padres at Dodger Stadium. With Colorado winning, the Dodgers' lead over the Rockies is 1 1/2 games and their magic number to clinch the National League West remained at eight.


10 defining moments of Astros' 2018 season
There were memorable individual performances, dazzling defense plays and plenty of clutch hits. The Astros' magical ride through the 2018 season began with a leadoff homer by George Springer on Opening Day and continued through their playoff-clinching win, raising expectations that another World Series championship could be near.


Yankees to celebrate LGBTQ pride
The Yankees have announced the creation of the Yankees-Stonewall Scholars Initiative, which will commemorate the upcoming 50th anniversary of the Stonewall Inn uprising and celebrate the achievements of New York City Public School graduating seniors. The team also revealed that it will hold other LGBTQ community-themed commemorations during the 2019 season.


Red Sox tie franchise record with 105 wins
They keep pushing forward, these Red Sox. A night after they clinched the American League East, there was rest for several key players, but no letdown from the crew that played. And after another comeback victory it can now be said that no team in franchise history has won more games than the 2018 Red Sox.


Sale ramps up for playoffs with 7 strikeouts
Red Sox ace Chris Sale's ramp-up for the start of the playoffs took another positive step on Friday night, when he got up to 73 pitches against the Indians. Boston wound up winning, 7-5.


Hader sets two MLB K's records vs. Pirates
It was a record-setting kind of night for Milwaukee reliever Josh Hader in the Brewers' 8-3 win over the Pittsburgh Pirates, though it certainly wasn't out of the ordinary.


Rockies rally to cut into Dodgers' division lead
Friday night was like most of the rest of this Rockies road trip -- this time with starting pitcher German Marquez delivering in sterling fashion, with 11 strikeouts -- only with one delightful plot twist. RBI singles by David Dahl and Nolan Arenado and a two-run hit from Ian Desmond lifted the Rockies to a 6-2 victory over the D-backs at Chase Field. Colorado improved to 1 1/2 games behind the West-leading Dodgers and remained 1 1/2 games behind the Cardinals for the second Wild Card.


Bauer pleased with first start since August
After facing seven batters on Friday night, Trevor Bauer walked off the mound Friday night to a chorus of cheers from the Progressive Field faithful. The ovation was less about the pitcher's performance than it was a response to what the outing could mean for October.


Defending champion Astros clinch playoff berth
Yuli Gurriel logged a career-high seven RBIs with a grand slam, a two-run homer and a single in his first three at-bats, while Gerrit Cole racked up 12 strikeouts in a strong start to help the Astros clinch their third postseason berth in four seasons. Angels starter Andrew Heaney gave up the homers to Gurriel and went just three innings, while Mike Trout clubbed his 37th homer for the Halos.


D-backs' hopes dealt setback by Rockies' rally
The D-backs hoped that the energy and good feelings from Wednesday night's win over the Cubs would carry over to Friday night's series opener against the Rockies. And when Arizona struck for two first-inning runs, it looked like it just might. However, the offense went quiet after that and the Rockies chipped away at the lead before putting together a decisive four-run rally in the eighth as they rolled to a 6-2 win at Chase Field.


Astros heading for postseason date with Tribe
Having clinched their third postseason berth in four seasons, the Astros are almost certain to face the Indians in the American League Division Series in two weeks in a matchup between the two previous AL pennant winners.


After 3-HR 6th, Brewers' magic number at 5
Milwaukee's Travis Shaw, Mike Moustakas and Erik Kratz homered in the sixth inning as part of six-run rally off Pirates relievers Edgar Santana and Steven Brault that gave the Brewers a win in the series opener on Friday night at PNC Park. Josh Bell and Corey Dickerson hit home runs for Pittsburgh in the loss. The game was delayed for two hours and 14 minutes by rain in the fifth inning.


CC has O's number, and Yanks' is at 2
CC Sabathia pitched six innings of two-run ball as the Yankees held off the Orioles. Sabathia's 20th career win over Baltimore dropped New York's magic number for a postseason berth. Didi Gregorius and Aaron Hicks homered against former Yankees farmhand Yefry Ramirez, who was chased in the fourth after six runs. Austin Wynns, Renato Nunez and DJ Stewart went deep in an O's rally that fell short.


Dodgers add Billie Jean King, partner to ownership
The baseball franchise that blazed diverse trails with Jackie Robinson, Sandy Koufax, Fernando Valenzuela and Hideo Nomo, among many others, took another bold step into inclusion by bringing tennis legend Billie Jean King and her partner, Ilana Kloss, into Dodgers ownership.


Story doing baseball work, but no date for return
Shortstop Trevor Story has played catch and taken batting practice the last two days, but there isn't a timetable on his return from the elbow injury that kept him out of the Rockies' starting lineup for the third straight game Friday night.


History made as Gurriel Bros. each go deep twice
Yuli and Lourdes Gurriel took the field in two different countries Friday night, roughly 1,500 miles apart. But each of them did what they've done ever since they grew up together in Cuba: Hit with authority.


Phils allow 5 runs in 7th, lose ground to Braves
Pat Neshek grasped the impossible odds long before the Phillies showed up this week at SunTrust Park. He grasps the odds now, too. "It's not good," Neshek said following Friday night's 6-5 loss to the Braves.


Marlins walk off on Reds after Chen's gem
The Marlins walked off on the Reds in a tightly contested pitchers' duel at Marlins Park. Wei-Yin Chen continued his home dominance with seven scoreless frames, striking out eight batters while walking none. Former Marlins prospect Luis Castillo was up to the task for Cincinnati, going 8 1/3 scoreless before leaving with two runners on in the ninth. The Marlins were unable to capitalize there, but Isaac Galloway came up with a game-winning double -- the first walk-off hit of his career -- in the


Cardinals Notes: Ozuna, Gallegos, Norris, Martinez, Hicks
Marcell Ozuna's first season with the Cardinals has had its ups and downs, as Derrick Goold of the St. Louis Post-Dispatch chronicled today, with a particular focus on the shoulder injury that has hampered Ozuna since last offseason. The Cardinals were undeterred by Ozuna's shoulder issues when they traded for him, but increasingly recognized the effects the…


AL West Notes: Fast, Correa, McCullers, Sipp, Simmons, Rangers
Astros director of research and development Mike Fast has left the organization, as MLB.com's Brian McTaggart was among those to cover (via Twitter). The former Baseball Prospectus scribe joined the organization well in advance of its rise to prominence, forming a key part of the front office team assembled by GM Jeff Luhnow. Fast tells…


deGrom adds quality-start record to Cy resume
Jacob deGrom extended his streak of quality starts to 23 in his win over the Nationals, setting a Major League record. His seven innings of one-run ball broke a tie with Chris Carpenter and Bob Gibson for the most consecutive quality starts in a single season. He also struck out eight batters to reach 259 punchouts, the fifth-highest total in Mets history behind only Dwight Gooden and Tom Seaver. Jay Bruce knocked in two runs to back deGrom, and Devin Mesoraco returned from injury to hit a pair


Matchups prompt Dodgers to shuffle rotation
The Dodgers swapped starting pitchers for the first two games of this weekend series against the Padres, having Ross Stripling start Friday night, with Rich Hill slated for Saturday night. Dodgers manager Dave Roberts said the change was partly motivated by matchups that would avoid having Hill pitch against Arizona next week. Hill is 0-2 with a 9.64 ERA against the D-backs this season.


Khrush's walk-off HR cuts A's magic number to 3
It was Mark Canha who delivered a pinch-hit, two-run homer that tied the game in the sixth, and Khris Davis who ended it with his second homer of the night and Major League-leading 45th of the season, a walk-off solo shot off right-hander Matt Magill for a 7-6 series-opening win over the Twins on Friday night. The A's magic number dropped to three with their third straight win, though they remained 1 1/2 games behind the Yankees for the top American League Wild Card spot following New York's win


Meadows leads Rays, who keep WC hopes alive
Austin Meadows helped lead the charge for the Rays during their 11-3 victory over the Blue Jays on Friday night at Rogers Centre. Tampa Bay collected 15 hits as a unit, finishing the night 8-for-21 with runners in scoring position. Blue Jays shortstop Lourdes Gurriel Jr. homered twice for the second multihomer game of his career, coinciding with a two-homer night from his brother, Yuli, who plays for the Astros, which makes the duo the first pair of brothers to hit multiple home runs on the same


The Tigers have selected the contract of infielder Harold Castro, per a club announcement. A roster spot was freed by placing injured starter Michael Fulmer on the 60-day DL. Castro, 24, has not done much at all with the bat in the upper minors. Through 367 plate appearances this year at Double and Triple-A, he…


Cubs can't back Quintana in Windy City opener
Jose Quintana probably felt right at home on Friday at the ballpark he called home for 5 1/2 seasons. The problem is the Cubs didn't give the lefty any run support, which was a recurring theme whenever Quintana pitched for the White Sox. Kevan Smith hit a three-run homer and doubled and scored on Ryan La Marre's double to power the White Sox to a 10-4 victory over the Cubs on Friday at Guaranteed Rate Field.


Larry Fitzgerald played role in Donaldson's rehab
Josh Donaldson was in search of a way to expedite a rehab process that had been frustrating, prolonged and included setbacks. Roughly two weeks before the Indians acquired the third baseman from the Blue Jays, Donaldson flew to Minneapolis in search of another opinion about his left calf issues.


Yelich appreciates Baker Mayfield's gesture
Cleveland Browns starting quarterback Baker Mayfield has a platform to let a lot of people know what he thinks. After leading the Browns to a comeback victory on Thursday, he gave a shoutout to Brewers outfielder Christian Yelich.


Chapman to be used in lower-leverage situations
Aroldis Chapman moved on quickly after serving up a big home run in his return to action on Thursday evening, expressing confidence that he will reclaim his closer's role in time for the Yankees' postseason run.


With Banister gone, what's next for Texas?
The Rangers are about to begin looking for a new manager, but that is not the only change in the organization. Some small changes have already been implemented, general manager Jon Daniels said. Bigger ones could be coming along with a new manager.


Gurriel Jr. homers twice for 3 straight
Lourdes Gurriel Jr. appears to be surging toward the finish line as he homered in each of his first two at-bats during Friday night's game against the Rays.


Mets Notes: Flores, Smith, Wheeler
The Mets announced to reporters yesterday that they've shut down infielder Wilmer Flores for the remainder of the season after he was diagnosed with early onset arthritis in both knees (links via Newsday's Anthony Rieber and MLB.com's Anthony DiComo). It's a curious diagnosis for a player who has yet to celebrate his 28th birthday, though Flores…


Major League Baseball Places Addison Russell On Administrative Leave
12:38pm: MLB announced that Russell has been placed on paid administrative leave. The Cubs offered the following statement: "We take allegations of domestic violence seriously and support the League's decision to place Addison Russell on administrative leave given new details revealed today.  We will continue to cooperate with the League's investigation so the appropriate action…


Gomez still upset over called strike Thursday
Carlos Gomez was still upset Friday, a day after he was ejected from Thursday night's game in Toronto. Gomez was unhappy with a called third strike with the bases loaded in the sixth inning. The pitch was a borderline call that appeared to touch the inside part of the plate, according to Statcast™.


Jeff Banister out as Rangers manager
Rangers manager Jeff Banister was dismissed and bench coach Don Wakamatsu was named interim manager through the remainder of the season on Friday.


Belt undergoes season-ending knee surgery
Giants first baseman Brandon Belt underwent season-ending surgery Friday morning in San Francisco to clean up the meniscus and cartilage in his right knee. Belt had played through the discomfort, but the Giants decided to go through with the procedure.


Eaton seeing limited action with sore knee
Adam Eaton's surgically repaired left knee has been sore for most of the past week, limiting him to just one start in the past four games. He was out of the starting lineup once again Friday night against the Mets, but manager Dave Martinez did not sound concerned about Eaton. He was just exercising caution.


Bauer fires 1 1/3 scoreless frames in return
After facing seven batters on Friday night, Trevor Bauer walked off the mound Friday night to a chorus of cheers from the Progressive Field faithful. The ovation was less about the pitcher's performance than it was a response to what the outing could mean for October.


Abreu willing to play through pain if cleared
Jose Abreu will end up playing the fewest games of his five-year career with the White Sox during the 2018 season. In fact, this will be the first season the hard-working first baseman will play fewer than 140.


This adjustment made all the difference for Acuna
Braves hitting coach Kevin Seitzer could see the tremendous physical potential, and he was well award of the accomplishments that had earned Ronald Acuna Jr. the status of being baseball's top prospect. But Seitzer also knew that the 20-year-old phenom was destined for frequent frustration if he did not make necessary mechanical adjustments.


Newcomb skipped as Braves opt for hot hands
Braves manager Brian Snitker didn't mince words when asked why he decided to skip Sean Newcomb's start during this weekend's series against the Phillies. But he also indicated Newcomb will make another regular-season start and possibly still factor into discussions about the postseason rotation.


Latest On Dan Duquette, Buck Showalter
The Orioles are expected to move on from longtime manager Buck Showalter following the 2018 season, tweets Bob Nightengale of USA Today. That meshes with yesterday's report from Fancred's Jon Heyman, which called Showalter "likely" to be replaced. Nightengale adds that general manager Dan Duquette is expected to receive an extension. It seems ownership was…


V-Mart to play final game on Saturday
The games have been going by quickly for Victor Martinez ever since he confirmed earlier this summer he plans to retire at season's end. The way he wants to go out is to have Saturday's game be his last.


Correa will miss Angels series to rest back
Astros shortstop Carlos Correa, who is still bothered by lower back soreness, won't play during this weekend's series against the Angels at Minute Maid Park. But he is expected to play during next week's road trips to Toronto and Baltimore to conclude the regular season.


Royals Reportedly Set For Payroll Reduction In 2019
The Royals entered the 2018 season with a payroll of roughly $122MM — their fourth straight season with a $100MM-plus payroll — but Fancred's Jon Heyman writes in his latest notes column that the team is expected to pare that figure back by as much as $30-35MM for the 2019 campaign. Scaling back the payroll…


Sox power up for stellar Lopez in win over Cubs
Reynaldo Lopez fanned eight over seven dominant innings while Kevan Smith and Ryan LaMarre led a 19-hit attack as the White Sox took the opener of the Crosstown Cup from the Cubs, 10-4, on Friday at Guaranteed Rate Field.


Mets hit 2 homers off Scherzer, win in 12
Michael Conforto and Jay Bruce hit back-to-back home runs on Thursday, ensuring that Max Scherzer -- the only National League pitcher who still had a chance at reaching 20 wins -- would not reach that mark. His no-decision was long in the books by the time Jose Lobaton hit a 12th-inning sacrifice fly to give the Mets a 5-4 win over Washington at Nationals Park. Scherzer struck out 13 batters and set a career and club high of 290. His previous high was 284 set in 2016.


Stanton breaks out of slump with grand slam
While the Yankees rolled against David Price and the Red Sox on Wednesday evening, littering the scoreboard with crooked numbers from the second inning on, one of their biggest sluggers was left out of the fun.


Stewart hits 1st 2 HRs in 1st 2 innings of win
Christin Stewart hit the first two home runs of his career to power the Tigers to an 11-8 win over the Royals on Thursday night at Comerica Park. Stewart hit a two-run homer in the first inning, which was followed by a Nicholas Castellanos home run on the next pitch. Stewart homered again in the second, later becoming the first Tigers rookie since 2007 to collect six RBIs in a game. Jorge Bonifacio, Brian Goodwin, Hunter Dozier and Adalberto Mondesi all homered for Kansas City.


Silver Linings: National League East
In our Silver Linings series, we're checking in on the most promising developments for non-contending teams during an otherwise disappointing 2018 season. Today, we'll hop over to the National League East. [Previous "Silver Linings" Posts: AL Central, NL Central] While the Phillies are all but eliminated and sit just 1.5 games ahead of the Nats,…


Yanks miss chance to sweep rivals, delay party
Giancarlo Stanton raised his arms into the air and floated around the basepaths, celebrating a grand slam that the slumping slugger sorely needed. And yet it was not enough for the Yankees, who had no choice but to plug their ears and ignore the celebration being prepared in the visiting clubhouse of their building.


Rays stunned by 7-run 9th, lose ground in WC
A six-run lead entering the ninth inning wasn't enough for the Rays, who allowed the Blue Jays to come all the way back before Justin Smoak's walk-off home run dealt Tampa Bay a 9-8 loss on Thursday night at Rogers Centre.


Blue Jays stun Rays with 3 homers in 7-run 9th
The Blue Jays rallied from six runs down in the bottom of the ninth inning to pull off a stunning victory over the Rays at Rogers Centre. Rowdy Tellez hit an RBI double and Danny Jansen hit a three-run shot before Lourdes Gurriel Jr. and Justin Smoak hit back-to-back homers off Sergio Romo to end the game. Tellez hit a two-run homer in the second to break the seal, but it was all Rays until the ninth, as Tommy Pham raked three hits and Tampa Bay stole four bases. The loss dropped the Rays 6 1/2


Here's why deGrom is NL's Most Valuable Player
Jacob deGrom is almost certainly going to win the National League Cy Young Award, but why stop there? He's got a seriously strong case to be considered the NL's Most Valuable Player, too. Even though it isn't likely to happen, we'll make his case.


Cody Reed gets help from Gennett to earn 1st win
Cincinnati's Cody Reed got some help from Scooter Gennett to earn his first win this season on Friday. Reed tossed six scoreless frames, striking out six and walking no one in his best start of the season. Jeff Brigham countered with five innings of two-run ball, but walks shortened his outing. Two of those walks set up Gennett in the third inning for a two-run double, and the second baseman added a long two-run homer in the seventh, going 2-for-3 as he chases the National League batting title.


Padres prospect Reed discusses breakout season
On this week's Pipeline Podcast, Jim Callis, Jonathan Mayo and Tim McMaster are joined by Padres prospect Buddy Reed, who played eight sports growing up. MLB.com national reporter Jesse Sanchez also joins the podcast and talks about Cuban standout Victor Victor Mesa, who was recently declared a free agent.


Tribe experiments with Cimber in loss to Sox
With the American League Central crown already wrapped up, there are goals that the Indians want to accomplish down the stretch. One mentioned by manager Terry Francona this week was finding spots to get sidearmer Adam Cimber to face multiple batters.


Braves' magic number at 4 after win over Phils
Taking advantage of the chance to move closer to a knockout blow, the Braves padded their National League East lead with Thursday night's 8-3 win over the Phillies at SunTrust Park. Kevin Gausman set the tone with a strong start, and Lucas Duda's seventh-inning RBI double proved decisive for the Braves, who now sit 6 1/2 games ahead of the second-place Phillies with nine games to play. The magic number to clinch their first division title since 2013 has been reduced to four.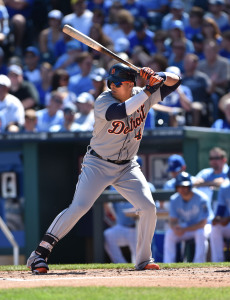 Victor Martinez Will Conclude Playing Career This Weekend
Victor Martinez will take the final at-bat of his career this Saturday, per Chris McCosky of The Detroit News. Friday and Saturday against Kansas City will be the final two games of Martinez's career. It seems, then, that Martinez has put aside any remaining doubt as to his intentions. He said recently, in reference to…


'Pride and joy' in Milwaukee youth field makeover
Baran Park was one of five parks across the country selected to an overhaul under a partnership between Major League Baseball and Scott's Lawn Care. With help from the Brewers Community Foundation, Journey House was selected from more than 350 organizations seeking refurbishments for their fields.


Davidson's RBI knock in 11th bails out bullpen
Matt Davidson's two-out RBI single helped the White Sox beat the American League Central champion Indians after a game-tying, two-run rally in the eighth. Yoan Moncada collected three hits and drove in two for Chicago, which got six strong innings from James Shields. Francisco Lindor and Michael Brantley hit back-to-back homers for Cleveland.


Cards, Jose Martinez team up to aid Venezuela
The Cardinals announced Friday that they're teaming up with Jose Martinez and the four-star Charity Navigator organization to sell special-priced $10 tickets for the upcoming series with the Brewers from Monday through Wednesday, with 75 percent of the proceeds to be donated to Martinez's relief efforts in Venezuela.


Jeff Banister Out As Rangers' Manager
The Rangers will not bring manager Jeff Banister back for a fifth season in 2019, reports Evan Grant of the Dallas Morning News. Banister is under contract for next season, but he'll earn his reported $950K salary while someone else takes the helm for the Rangers, it seems. Grant notes that Banister will not finish…


Harper ejected for 1st time in 2018
Less than a week ago, Bryce Harper reflected on how he was happy he had not been thrown out of game this season. It had been a conscious effort on his part not to lose his cool and control his temperament for his team.


Phils' playoff chances dealt a blow by Braves
Is it over? Not mathematically. Not yet. But the Phillies' faint postseason hopes took another hit Thursday night in an 8-3 loss to the Braves at SunTrust Park. They took a hit in part because their season-long defensive issues showed up again as they fell 6 1/2 games behind Atlanta with 10 games to play. Even if the Phillies win nine of their remaining 10 games, they would need the Braves to finish no better than 2-7 to force a tie.


Red Sox clinch 3rd straight AL East title
A thrilling Red Sox season, one that is all but certain to end with the most wins in club history, reached a celebratory point at the end of a wild Thursday night at Yankee Stadium. On the cusp of clinching the American League East when they arrived in the Bronx on Tuesday, the third attempt proved to be the charm for the team that is now division champs for a third straight year.


Betts busts out in Bronx to reassert MVP case
A full 24 hours before Mookie Betts helped the Red Sox clinch the AL East in the most fitting of ways -- by notching an 11-6 win over the Yankees behind a signature performance from their most dynamic player -- Alex Cora sat his superstar down.


This weekend will help set stage for October
It's the penultimate weekend of the regular season, and there's so much more to celebrate than just an awesome word like "penultimate." Here are five topics to track this weekend in MLB.


AL Central Notes: Fulmer, Twins, Mondesi, O'Hearn
Anthony Fenech of the Detroit Free Press examines the aftermath of a brutal season for Tigers right-hander Michael Fulmer. The results are hard to deny. As Fenech puts it, Fulmer has gone "from being the most important trade piece of the Tigers' rebuild … to a missed opportunity." Of course, there were reasons that the team elected not…


Austin Maddox Undergoes Rotator Cuff Surgery
Red Sox righty Austin Maddox has undergone surgery to his right rotator cuff, the club announced today. He's expected to be sidelined for about twelve months, putting his 2019 season in jeopardy. Maddox, 27, missed most of the 2018 season with a right shoulder strain, so this news strikes a cruel blow to a once-promising…


A's amaze with 21-run eruption in rout of Angels
The A's brought out the heavy lumber on Thursday vs. the Angels, as eight starters crossed the plate at least twice in a 21-3 thumping at the Coliseum as Oakland moved closer to clinching a postseason berth.


Michael Fulmer Undergoes Knee Surgery
As had largely been expected by this point, the Tigers announced today that righty Michael Fulmer has undergone surgery on his right knee. (Via MLB.com's Jason Beck, on Twitter.) The repair work to his meniscus is not expected to prevent Fulmer from participating fully in Spring Training next year. Fulmer, 25, went mostly backwards this…


Managerial Notes: Showalter, Riggleman, Mattingly
Earlier this afternoon it was reported that the Rangers are considering moving on from skipper Jeff Banister following the season. In the wake of that report, here's some more chatter regarding managers whose futures have had some uncertainty surrounding them… Fancred's Jon Heyman reports in this week's notes column that Orioles manager Buck Showalter is…


Angels' Arcia 1st to catch, pitch, HR in 1 game
Angels catcher Francisco Arcia made history in Thursday afternoon's 21-3 loss to the A's, becoming the first Major League player on record to catch, pitch and hit a home run in the same game.


Trea Turner eyeing goal of playing in 162 games
It did not start the season as an intentional goal, but now that appearing in all 162 games this season is within reach, Trea Turner wants to complete the task. Turner started at shortstop Thursday night against the Mets, continuing his streak of playing in each of the Nationals' 153 games this season.


Boone confident Stanton will break out of slump
While the Yankees rolled against David Price and the Red Sox on Wednesday evening, littering the scoreboard with crooked numbers from the second inning on, one of their biggest sluggers was left out of the fun.


Rangers Consider Replacing Jeff Banister
The Texas Rangers are considering moving on from their manager Jeff Banister, according to a report from Jeff Wilson of the Fort Worth Star-Telegram.  Banister, the 2015 AL Manager of the year, is currently under contract through the 2019 season after the club exercised his option immediately following the 2017 season. Banister, 54, was brought on…