5 best relievers you don't know who may get dealt
Everyone expects relievers to be the most valuable currency at the non-waiver Trade Deadline, but not all of those relievers pile up wins or saves. Some of the most interesting names don't stand out by the traditional measures, so let's help explain who they are.


Most consecutive games with a home run
In the history of Major League Baseball, only 28 players (a total of 31 times) have homered in six straight games, the most recent of whom was Giancarlo Stanton in 2017. How difficult is it to go deep in six straight? There have been many more 30-game hitting streaks, four-strikeout innings and six-hit games. There have even been more perfect games.


Pitching key to Yanks reaching ultimate goal
This was a Subway Series Saturday afternoon at Yankee Stadium between the Yankees and the Mets, what would be a really good afternoon for the Yankees until it wasn't in the top of the ninth -- when Aroldis Chapman would lose the strike zone and nearly lose the game -- until it finally was when Chasen Shreve had to close for the Yankee closer and their team finally won, 7-6.


Trade Rumors: Hamels, Phillies, Rangers, Tigers, J. Iglesias, M's, D-backs
Rangers left-hander Cole Hamels has made it known he'd welcome a return to Philadelphia, where he pitched from 2008-15, but a reunion appears "unlikely," Todd Zolecki of MLB.com writes. The Phillies are trying to stay away from the starting pitching market in general, according to general manager Matt Klentak, who said Friday that the team's…


Lopez cruises, helps Marlins win fourth straight
Pablo Lopez delivered the best start of his young career and helped the Marlins top the Rays on Saturday. Lopez allowed just three hits and one earned run, a solo shot to Joey Wendle. Cameron Maybin added an insurance homer in the seventh for Miami, giving Kyle Barraclough enough breathing room to close out the game despite giving up a moon shoot to Ji-Man Choi in the ninth.


Carpenter nails HR feat done by just 27 others
On the heels of one of the best individual performances in franchise history, Matt Carpenter didn't let up, homering in both games of the Cardinals' doubleheader on Saturday vs. the Cubs to make it six games in a row with a home run.


Potential Tigers trade chip Fiers stifles Red Sox
Jose Iglesias drove in four and Mike Fiers tossed 6 1/3 scoreless innings to lead Detroit to a win over the Red Sox on Saturday evening at Comerica Park. Starter Brian Johnson allowed two unearned runs in his five innings for Boston, which has scored just once in the past 18 innings.


Carrasco cruises, Tribe scores 16 to rout Rangers
The Indians offense gave up starter Carlos Carrasco a surplus of support, scoring 16 runs on 21 hits in a 16-3 victory over the Rangers on Saturday night at Globe Life Park. Yonder Alonso delivered his first multi-home run game of the season, while Carrasco won his 12th game and struck out eight in 6 2/3 innings of work.


Saturday's top prospect performers
When the Phillies were still in the running for Manny Machado, Adonis Medina's name was floated as the type of prospect who might be enough to land the superstar shortstop. On Saturday night, Medina showed why he's on that level.


A's win in 11th before record Coliseum crowd
The A's capped an eventful day with their first post-break win, getting a game-ending single from Jonathan Lucroy in front of the largest baseball crowd in Coliseum history (56,310) to pull within three games of the second American League Wild Card spot amid a 22-7 stretch.


Dickerson drubs Reds in Bucs' 8th straight win
Corey Dickerson belted a pair of solo home runs, and Nick Kingham backed it up with 6 2/3 strong innings to lift the Pirates, 6-2, over the Reds on Saturday night at Great American Ball Park. Pittsburgh has won eight in a row and is over .500 for the first time since June 6.


Dodgers injury updates: Turner, Puig, Urias
After acquiring Manny Machado and opening the second half with a win over the past four days, Dodgers manager Dave Roberts kept the good news coming with a series of positive injury updates before Saturday night's game at Miller Park.


Verlander K's 11, Springer hits slam as Astros roll
Justin Verlander picked up his first win in more than a month by striking out 11 batters in six innings, and George Springer cranked his first grand slam of the season to lead the Astros to a 7-0 win over the Angels on Saturday at Angel Stadium.


A's honor 1989 WS team with belated parade
Almost 30 years have passed since the A's swept the Giants in the World Series in 1989, a series that was interrupted by the Loma Prieta earthquake and turned the Bay Area's attention away from baseball. There was no parade at the time, and understandably so. But on Saturday, in front of a sold-out crowd at the Coliseum, players from the 1989 team gathered to be honored in an on-field ceremony, receiving a belated parade ceremony for their championship.


Salvy's homer powers Royals to series win
Salvador Perez clubbed a go-ahead two run homer -- his 14th dinger of the season -- and Jakob Junis was solid in his return from the disabled list as the Royals secured their first series victory since May 30 -- also against the Twins. Joe Mauer set a club record for doubles with his 415th in the first and he scored on Eddie Rosario's single, but starter Lance Lynn labored for the Twins.


Estrada to make rehab start Monday
Marco Estrada will not return as expected from the disabled list on Monday, and instead the veteran right-hander will make a rehab start for Double-A New Hampshire.


White Sox get gem, HR robbery in shutout of M's
White Sox starter Dylan Covey carried a no-hitter into the sixth until Mariners second baseman Dee Gordon singled to center with one out on Saturday night at Safeco Field. He finished with two hits allowed over 8 1/3 shutout innings, winning for the first time since June 13. The 5-0 shutout was preserved by Leury Garcia's leaping catch with one out in the ninth, taking away a potential two-run homer from Mitch Haniger off of Joakim Soria.


Undermanned Rays lack firepower vs. Marlins
Playing with a short roster, the Rays took a 3-2 loss to the Marlins on Saturday night at Tropicana Field. Tampa Bay -- which entered the All-Star break on a 14-1 run at Tropicana Field -- has lost two games at home since returning, and its third straight loss overall.


Choo has on-base streak halted at 52 games
Shin-Soo Choo's on-base streak has come to a halt. The Rangers' designated hitter went 0-for-4 and struck out twice in Saturday's 16-3 loss against the Indians, ending his on-base streak at 52 games.


Royals acquire outfielder Goodwin from Nats
The Royals announced Sunday that they have acquired outfielder Brian Goodwin from the Washington Nationals in exchange for Minor League pitcher Jacob Condra-Bogan. Goodwin will be added to the Major League roster when he reports to the club.


A's land Familia from Mets for two prospects
One of the best bullpens in the game just got better. The surging A's, suddenly meddling in the American League Wild Card race, fortified an already formidable bullpen with the addition of Mets closer Jeurys Familia on Saturday.


Quick Hits: Cano, Mets, Familia, D-backs, S. Miller, White Sox
Mariners second baseman Robinson Cano has been out since mid-May on account of both an 80-game suspension and a fractured right hand. In his absence, the Mariners have deployed Dee Gordon at second, and they're not going to waver from that upon Cano's return. "We are looking at Dee as our second baseman," general manager…


Another pinch-hit HR lifts Rox to 7th straight win
Tom Murphy hit a tiebreaking solo homer with two outs in the eighth inning Saturday night to lift the Rockies past the D-backs, 6-5, for their seventh straight win. Steven Souza had three hits, and Ketel Marte added two hits for the D-backs, who have lost 12 of 18 and are now third in the NL West race.


Brewers get to Kershaw, snap 7-game skid
Christian Yelich and Keon Broxton powered a three-run sixth inning against Clayton Kershaw, leading the Brewers to a victory that snapped a seven-game losing streak. Yelich led off the inning with a home run, and Broxton capped it with an RBI triple to drive in Manny Pina. Kershaw allowed four runs, but only one was earned due to three Dodgers errors, two of which were committed by Max Muncy. Chris Taylor put Los Angeles on the board with a two-run single in the first inning against Chase Anders


Paxton on track to return for M's early next week
James Paxton hadn't thrown off of a mound since a back issue forced a first-inning exit in Anaheim on July 12, but the Mariners' ace got through his normal bullpen session Saturday. He's preparing for his return from the DL, which is expected to be Tuesday against the Giants.


Cards rally in nightcap after Carp's record HR
Paul DeJong delivered a go-ahead double in the ninth inning, atoning for an error that led to two unearned runs, and Matt Carpenter provided a historic spark off the bench as the Cardinals rallied to split a doubleheader. Carpenter, who entered the nightcap off the bench, became the 28th big leaguer with a HR in six consecutive games and the first player to homer six times in a series at Wrigley Field.


Tebow hits DL with right hand discomfort
Outfielder Tim Tebow was placed on the 7-day disabled list on Saturday by Binghamton, the Mets' Double-A affiliate, with discomfort in his right hand. It marks the first trip to the disabled list for the 30-year-old outfielder during his season-plus in professional baseball.


Top prospect Lewis promoted to Double-A
Kyle Lewis, who represented the Mariners in Sunday's Futures Game in Washington, D.C., has been promoted from Advanced-A Modesto to Double-A Arkansas to take the place of injured outfielder Braden Bishop, general manager Jerry Dipoto said Saturday.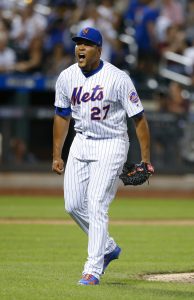 Athletics Acquire Jeurys Familia
In a trade that has been widely expected since last night, the Athletics have officially acquired right-hander Jeurys Familia from the Mets. In exchange, the Athletics have sent a pair of minor leaguers back to New York: third baseman William Toffey and right-hander Bobby Wahl. The Mets will also receive $1MM in international bonus money, while the…


Mauer sets career doubles mark for Twins
First baseman Joe Mauer set a franchise milestone on Saturday night, becoming the Twins' all-time leader in doubles with No. 415 against the Royals at Kauffman Stadium, surpassing Hall of Famer Kirby Puckett's total of 414.


The Royals have designated lefty reliever Enny Romero for assignment, Maria Torres of the Kansas City Star reports. The move was made in order to recall right-handed starter Jakob Junis for tonight's game. As Torres notes in her above tweet, the Royals are the third team that the 27-year-old Romero has pitched for this season.…


Injury Notes: Reds, Cespedes, Angels, Rangers
Reds infielder Alex Blandino suffered a torn ACL in his right knee on Friday, John Fay of the Cincinnati Enquirer writes. Blandino will miss the rest of the season, though the length of the recovery period (five to six months, Fay writes) suggests his 2019 isn't in jeopardy. A first-round pick (No. 29 overall) of…


Friars-Phils rained out Saturday; twin bill Sunday
Tonight's game between the Phillies and San Diego Padres has been rescheduled due to rain. It will be played tomorrow, July 22, as part of a split-admission doubleheader, with the makeup game (game 49 on ticket) scheduled for a 6:05 p.m. first pitch. Sunday's regularly scheduled game (game 50 on ticket) will be moved from 1:35 p.m. to 12:05 p.m. Gates will open at 11:05 a.m. for the first game, and for the second game will open approximately one hour prior to first pitch.


The Rays have promoted outfielder Justin Williams to the major league club for the first time, Marc Topkin of the Tampa Bay Times reports. To make room for him on the active roster, they've optioned lefty reliever Hoby Milner to Triple-A. Williams, who'll turn 23 next month, was the Diamondbacks' second round pick in the…


Saturday's postponement delays Nats' climb
The game between the Braves and Nationals on Saturday night has been postponed due to inclement weather. Information regarding the date and time of the rescheduled game will be released at a later time.


Stroman starts 2nd half on right foot with 7 K's
Marcus Stroman limited Baltimore to one run on five hits and two walks over seven strong innings to lead the Blue Jays to a 4-1 victory at Rogers Centre. The innings matched a season high, and seven strikeouts were his highest total since Stroman made his season debut against the Yankees on April 1. The Orioles went 1-for-4 with runners in scoring position and they left five men on base behind right-hander Alex Cobb, who allowed one earned run through five innings.


Trade News & Rumors: Trade Value Rankings, Dozier, Andujar, Britton
Fangraphs recently released its annual rankings of the top 50 most valuable contracts in baseball, or the players who would have the highest value in a trade. High atop the list sits a pair of Indians infielders (Jose Ramirez and Francisco Lindor), while Aaron Judge, Mike Trout and Carlos Correa round out the top five.…


The Cubs have made a host of roster moves today (first announced by Patrick Mooney of The Athletic), chiefly among them the placement of right-hander Anthony Bass on the 10-day disabled list due to a back muscle issue. The move creates room for the recently acquired Jesse Chavez to be activated. The club also promoted…


Cespedes sits; Mets monitor lingering heel issue
A day after Yoenis Cespedes returned to the Mets following a nine-and-a-half-week absence, homered, then revealed that he is battling heel issues that may require major surgery to fix, Cespedes was out of the Mets' lineup Saturday against the Yankees. Manager Mickey Callaway, who said he was unaware of Cespedes' comments regarding his heels, painted the issue as one of general soreness.


Braun back off disabled list, batting cleanup
The Brewers on Saturday activated Ryan Braun from the disabled list and optioned catcher Jacob Nottingham to Triple-A Colorado Springs. Braun was in the cleanup spot against the Dodgers, playing first base.


Chatwood gets key DP, allows 1 hit in G1 win
All-Star Javier Baez drove in two runs to raise his National League-leading total to 74 and back Tyler Chatwood, who initiated a well-timed double play that seemed to spark the Cubs to a 7-2 victory over the Cardinals on Saturday in the first game of a day-night doubleheader at Wrigley Field. Chatwood allowed one hit -- Matt Carpenter's 24th home run -- over 5 1/3 innings. It was Carpenter's fifth straight game with a homer. Cardinals starter Luke Weaver gave up three straight singles on four pi


Activated From DL: Felix, Avisail, Delmonico
A few notable players were activated from the disabled list today… The Mariners have activated right-hander Felix Hernandez; he'd been on the DL with lower back tightness, though it's possible the DL stint had more to do with roster management than with the injury itself. The 2010 AL Cy Young Award-winner has continued to trend downwards this…


Judge homers as Yanks stave off Mets' rally
It had been a while since Sonny Gray walked off the field to cheers in the Bronx, but on Saturday afternoon the 47,102 fans in attendance handed the Yankees' starter a loud ovation as he made his way from the rubber to the dugout after striking out Asdrubal Cabrera with two runners on to end the fifth inning.


Mookie pulls back homer with remarkable grab
Red Sox right fielder Mookie Betts added to his season-long string of highlights with a spectacular homer-robbing catch against the Tigers at Comerica Park on Saturday night. Leonys Martin led off the bottom of the third with a deep drive to right, where Betts perfectly timed his leap at the wall to pull back what would've been Martin's 10th homer. Detroit led at the time, 2-0.


Antonio Bastardo Receives 140-Game Suspension
Free-agent lefty Antonio Bastardo has received a 140-game suspension, per a league announcement. He tested positive for the banned performance-enhancing drug stanozolol. Stanozolol (better known by its popular name, Winstrol) is one of very few anabolic steroids that's actually been deemed safe for consumption by the FDA; Stanozolol possesses the rare quality of being able…


Cubs, Astros Among Teams Pursuing Zach Britton
8:14pm: The Orioles are seeking a return equal to or better than the one the Royals received for reliever Kelvin Herrera in a trade last month, Buster Olney of ESPN reports. Washington acquired Herrera for three prospects, though none ranked among the Nationals' absolute best farmhands at the time. 7:39pm: Both the Cubs and the…


Dodgers injury updates: Turner, Puig, Urias
After acquiring Manny Machado and opening the second half with a win over the past four days, Dodgers manager Dave Roberts kept the good news coming with a series of positive injury updates before Saturday night's game at Miller Park.


Yankees Promote Domingo Acevedo
After optioning Domingo German to Triple-A following last night's ugly performance in the Subway Series, the Yankees are set to promote a replacement Domingo. Robert M. Pimpsner of Pinstriped Prospects reported early this morning that the club was expected to promote 6'7″ righty Domingo Acevedo to the big league club; Robert Murray of The Athletic later confirmed the news.…


Devers returns from DL stint for Red Sox
The Red Sox activated third baseman Rafael Devers from the 10-day disabled list on Saturday. To make room on the 25-man roster, the club optioned left-handed pitcher Bobby Poyner to Triple-A Pawtucket following Friday night's game.


CC Sabathia Hopes To Pitch In 2019
Yankees left-hander C.C. Sabathia indicated earlier this season that this could be the last year of his career, but now he seems likely to return in 2019. Sabathia recently told Jon Paul Morosi of MLB.com that he aims to play next year, health permitting. "I'm [going] start to start," Sabathia said. "I go out one…


Carpenter stays hot with homer in 5th straight
On the heels of one of the best individual performances in franchise history, Matt Carpenter connected for another home run at Wrigley Field in the Cardinals' 7-2 loss on Saturday. With it, Carpenter became the first Cardinals player in a decade to homer in five consecutive games.


Red Sox, Others "Evaluating" Mike Fiers
Tigers right-hander Mike Fiers started against the Red Sox on Saturday, but he may find himself on Boston's roster soon. With the July 31 non-waiver trade deadline nearing, the Red Sox are one of several clubs "evaluating" Fiers, Buster Olney of ESPN tweets. Although Boston possesses the majors' best record (69-30) and a five-game lead…


Minor MLB Transactions: 7/21/18
Here's a roundup of some recent minor moves… The Red Sox have signed reliever Mark Montgomery to a minor league contract, Emily Waldon of The Athletic reports. The deal runs through 2019, per Chris Cotillo of MassLive.com. The 27-year-old Montgomery got off to a strong start this season with the Tigers' Triple-A affiliate, pitching to…


Mets Notes: Cespedes, Asdrubal, Rivera, Syndergaard
As we wait to hear about the consummation of a prospective deal that would send closer Jeurys Familia out west, the Mets have served up plenty of other noteworthy news. Here are the other topics of conversation in New York: High-priced outfielder Yoenis Cespedes homered in his return from a lengthy DL stint, but dropped…


Reds place Blandino on DL with torn ACL
The Reds placed infielder Alex Blandino on 10-day DL with torn ACL in his right knee. In a corresponding move, Cincinnati recalled outfielder Brandon Dixon from Triple-A Louisville.


Cardinals Place Carlos Martinez On DL With Right Oblique Strain
Jennifer Langosch of MLB.com reports that Cardinals right-hander Carlos Martinez is going back on the disabled list, this time due to a right oblique strain. The Cardinals have also recalled John Brebbia, reinstated Miles Mikolas from the paternity list, optioned Matt Bowman, and added Luke Weaver to the roster as the 26th man for today's…


Stras exits in 5th, has words with Max
Manager Dave Martinez called Stephen Strasburg and Max Scherzer into his office following the Nationals' 8-5 loss to the Braves on Friday night, after the two got into a heated argument in the dugout when Strasburg was removed in the fifth inning of his first start since being activated off the disabled list.


Keuchel loses no-no in 7th, earns 4th straight W
No left-hander in Astros history has ever thrown a no-hitter. Dallas Keuchel made a serious bid to end that drought Friday night. Keuchel won his fourth consecutive start by holding the Angels to one run and two hits in 7 2/3 innings in the Astros' 3-1 victory, losing a no-hitter with two outs in the seventh inning when Justin Upton's line drive glanced off the glove of shortstop Marwin Gonzalez and was ruled a hit. Keuchel (8-8) retired 20 of the first 21 batters he faced, allowing a leadoff wa


Fernando Tatis Jr. May Miss Remainder Of Season
Much-hyped Padres prospect Fernando Tatis Jr. — son of the former major-leaguer of the same name — is expected to be sidelined for the remainder of the season, Jeff Sanders and Kevin Acee of the San Diego Union-Tribune report. Tatis may well require surgery on his left thumb after injuring it last night, though that…


MLB Daily Roster Roundup: Cespedes, Fulmer, Machado, Mazara, Strasburg
ROSTER MOVES BY TEAM (July 16th-July 20th) NATIONAL LEAGUE ATLANTA BRAVES | Depth Chart Promoted: OF Michael Reed Designated for assignment: OF/INF Danny Santana CHICAGO CUBS | Depth Chart Reinstated from Family Medical Emergency List: OF Albert Almora Jr. Placed on 10-Day DL: RP Brandon Morrow (biceps inflammation) Activated from 10-Day DL: RP Anthony Bass Reinstated from Paternity List:…


J-Ram 1st to 30 HRs; Tribe downs Texas in 11
Jose Ramirez was in the middle of everything on Friday night. He ignited a comeback with an impressive home run. The All-Star third baseman made a clutch defensive play to help halt a Rangers rally. And he finally crossed the plate to push Cleveland to the win column in Friday's 9-8 extra-innings victory at Globe Life Park.


LeBlanc K's 10 as M's open 2nd half with victory
For a Mariners team looking to get back on track starting the second half, Wade LeBlanc proved to be just what the doctor ordered on Friday night, as the lefty tied a career high with 10 strikeouts in 7 1/3 innings in a 3-1 victory over the White Sox at Safeco Field. LeBlanc outdueled White Sox right-hander James Shields as Seattle snapped a four-game losing streak and got back to 20 games over .500 at 59-39. The savvy southpaw allowed just four hits and one walk.


Mets, Athletics Attempting To Finalize Deal Involving Jeurys Familia
10:36pm: The A's are indeed the team trying to wrap up an agreement, Martino tweets. "Barring [a] snag," Familia will head to Oakland, he says. Olney hears similarly. (Twitter link.) 10:26pm: The structure of a deal is in place but it is not yet final, Olney tweets. Meanwhile, the Mets have informed reporters that nothing will…


Arenado blasts 2 HRs, pulls into tie for NL lead
The first ball that Rockies third baseman Nolan Arenado put in play after the All-Star break went a long way, sailing over the left-field wall at Chase Field for his 24th home run to give Colorado a 2-0 lead over the D-backs on Friday.


Angels encouraged as Ohtani begins throwing
Shohei Ohtani was cleared to begin a throwing progression on Thursday, stoking optimism among the Angels that the Japanese rookie could return to pitch this season and recover his unique identity as a two-way player.


Tapia's slam, Arenado's 2 HRs keep Rox rolling
Raimel Tapia hit a grand slam to cap a six-run seventh inning as the Rockies held off the D-backs, 11-10, on Friday in the series opener. Nolan Arenado hit two homers for the Rockies, who won their sixth in a row. Ketel Marte had four RBIs and A.J. Pollock had five hits for the D-backs.


Jones, Panda power Giants to win against A's
Rediscovering the long ball Friday night, the Giants received home runs from Ryder Jones and Pablo Sandoval to support another resolute pitching performance by Dereck Rodriguez in a 5-1 Interleague victory over the Oakland A's. It marked the first time the Giants homered twice in a game since June 19, 25 games ago.


Bradley Zimmer Undergoes Shoulder Surgery
Indians outfielder Bradley Zimmer has undergone surgery on his right shoulder, the club announced and Cleveland.com's Joe Noga reports. Zimmer had been on the minor-league disabled list. It is not known precisely what repair work was done, so the outlook is largely unclear at this point. Per the report, though, it is generally expected that…


Source: Mets working to trade Familia
The A's are working toward finalizing a trade with the Mets that would further strengthen their sturdy bullpen. Sources indicated to MLB.com on Friday evening that right-hander Jeurys Familia could soon be Oakland-bound.


Holt day-to-day with right knee contusion
Red Sox second baseman Brock Holt left Friday's game against the Tigers after he was spiked on the right knee by Jeimer Candelario during a close play at second base.


Machado's Dodgers debut a win for LA
And now Manny Machado can just play a baseball game. After rumors circled and a media circus ensued around Machado and his potential suitors at the All-Star Game presented by MasterCard, the four-time All-Star shortstop was officially introduced as a member of the Dodgers at Miller Park before Friday night's second-half opener versus the Brewers.


Gallo homers twice in 11-inning loss to Tribe
Joey Gallo's two home runs led a stirring comeback for the Rangers on Friday night. But the Rangers missed a golden opportunity to finish it off in the bottom of the 10th and it cost them in a 9-8 loss to the Indians in 11 innings at Globe Life Park.


Rockies Place DJ LeMahieu On DL, Promote Garrett Hampson, Designate Daniel Castro
In an unfortunate development for the surging, playoff-contending Rockies, second baseman DJ LeMahieu is headed to the 10-day disabled list because of a left oblique strain. The Rockies will replace him with infield prospect Garrett Hampson, whose contract they selected from Triple-A Albuquerque. To make room for Hampson, Colorado designated infielder Daniel Castro for assignment.…


Marlins' 5-run 7th secures wild one at The Trop
Tropicana Field was treated to a pitchers' duel early, as Dan Straily and Nathan Eovaldi matched efforts in a tie game through six innings. But Derek Dietrich's second homer of the night propelled a five-run seventh inning for Miami. Mallex Smith's three-run triple in the ninth made things interesting until Daniel Robertson struck out with two runners on to end the game.


Gaviglio impresses on hill; Jays walk off
With two outs in the 10th, Aledmys Diaz, who opened the scoring with a homer in the third and led off the ninth with a double, bounced a single between short and third to score Russell Martin.


Yo returns with HR; Thor exits with 'dead arm'
Yoenis Cespedes homered in his second at-bat after missing nearly 10 weeks on the DL, and the Mets held on to secure a win for Noah Syndergaard, who worked five innings before exiting with arm fatigue. Seth Lugo and Robert Gsellman each worked two frames to hold off the Yankees as trade rumors swirled around closer Jeurys Familia. After the game, the Yanks optioned starter Domingo German to Triple-A following the rookie's outing of just 3 2/3 innings.


LeMahieu to DL with oblique strain; Hampson up
Rockies leadoff man and second baseman DJ LeMahieu was officially placed on the 10-day disabled list on Saturday, a day after sustaining an oblique injury in an 11-10 win over the D-backs. In corresponding moves, Colorado recalled infielder Garrett Hampson -- its No. 6 prospect, according to MLB Pipeline -- and designated infielder Daniel Castro for assignment.


Moved to leadoff spot, Acuna leads Braves to win
Ronald Acuna Jr. was a triple shy of the cycle as the Braves took the second-half opener against the Nationals. Charlie Culberson also homered for Atlanta, which removed Ozzie Albies for precautionary reasons after hamstring tightness. Stephen Strasburg allowed six runs in his return from the disabled list, while Matt Adams and Trea Turner homered for Washington.


Price spins gem to quiet Tigers in series opener
David Price threw 6 1/3 shutout innings and an RBI double from Steve Pearce provided Boston the only offense it needed during a victory over the Tigers on Friday night at Comerica Park. Price scattered just four hits, struck out five and walked one in the win. Detroit starter Matthew Boyd allowed just one run on three hits over his five innings, and struck out six.


Yanks call up No. 7 prospect Acevedo
The Yankees on Saturday recalled right-hander Domingo Acevedo from Double-A Trenton ahead of their matinee against the Mets in the Bronx. Acevedo is the club's No. 7 prospect, per MLB Pipeline.


Red Sox Activate Rafael Devers, Option Bobby Poyner
The Red Sox activated young third baseman Rafael Devers from the 10-day disabled list, who had been sidelined with left shoulder inflammation. He'll return to the lineup and the field after missing just the minimum ten days. To make room for him on the active roster, the club has elected to ship lefty Bobby Poyner…


The Mariners announced today that they have outrighted reliever Mike Morin. That move helped clear the way for two promotions, with first baseman Dan Vogelbach and outfielder John Andreoli joining the active roster. This is the second time Morin has been bumped from the Seattle 40-man roster this season. The 27-year-old righty has recorded six…


Bailey due back Tuesday; what will rotation be?
Assuming there are no setbacks, the Reds plan to activate Homer Bailey from the disabled list for Tuesday's game vs. the Cardinals. What remains to be seen, however, is whether Bailey will be part of a five-man or six-man rotation.


Nationals Reinstate Stephen Strasburg, Ryan Zimmerman
The Nationals have reinstated right-hander Stephen Strasburg from the 10-day disabled list and brought back first baseman Ryan Zimmerman from the 60-day DL, the team announced. To make room for those two, Washington optioned righties Wander Suero and Trevor Gott to Triple-A. Strasburg's back after missing upward of a month with shoulder inflammation, and his…


The Rays have designated outfielder Johnny Field for assignment, Marc Topkin of the Tampa Bay Times reports (Twitter links). That opens 40-man space for the team to select the contract of catcher Adam Moore. Field, 26, debuted this year and posted a .213/.253/.373 slash line with six home runs in 179 MLB plate appearances. Clearly,…


Machado singles in first at-bat with Dodgers
And now Manny Machado can just play a baseball game. After rumors circled and a media circus ensued around Machado and his potential suitors at the All-Star Game presented by MasterCard, the four-time All-Star shortstop was officially introduced as a member of the Dodgers at Miller Park before Friday night's second-half opener versus the Brewers.


Zimmerman back as Nationals return to health
Injuries have been a large factor in a disappointing first half for the Nationals, who return from the All-Star break at 48-48, but they are getting close to full strength and in position -- they believe -- to make a charge toward a third straight division title.


Athletics, Cubs Among Teams Showing Interest In Mets Closer Jeurys Familia
8:00pm: The Cubs are also showing interest in Familia, Jon Heyman of Fancred tweets. 7:37pm: The Athletics are "among the teams hoping to land" righty Jeurys Familia from the Mets, according to a report from Susan Slusser of the San Francisco Chronicle. It seems the Oakland organization is hardly alone, as MLB.com's Anthony DiComo reports that…