AL East Notes: Sale, Swihart, Yankees, Chang, Blue Jays
Some items from around the AL East… Chris Sale is only under contract through the 2019 season, and his potential future in Boston "could be the key to the entire offseason" for the Red Sox, Jason Mastrodonato of the Boston Herald writes.  The Sox are sure to discuss an extension with Sale this winter, though…


International Transactions: 11/18/18
Here's the roundup of some familiar North American names heading to play ball overseas… The KT Wiz of the Korean Baseball Organization has announced the signing of right-hander Raul Alcantara, according to San Kang of Sports Dong-A (hat tip to MyKBO.net's Dan Kurtz).  The contract will pay Alcantara $650K for the coming KBO season.  The…


Here's the last week's worth of original content from the MLB Trade Rumors writing team… A 10-9 win-loss record didn't prevent Jacob deGrom from winning the NL Cy Young Award, though that record could impact what the Mets ace will earn in arbitration this winter.  Matt Swartz, creator of MLBTR's arbitration model, profiles deGrom's unique…


Baseball Blogs Weigh In: FAs, Yanks' SP Pursuit, Giants, D-backs, Mets
This week in baseball blogs… The Fro Zone ranks the top 50 free agents and predicts landing spots for each of those players. The 3rd Man In proposes a Yankees-Indians trade centering on Corey Kluber; The Runner Sports regards James Paxton as a more realistic target than Kluber for New York; and Pinstriped Prospects ponders…


Quick Hits: Astros, Red Sox, Robertson, Girardi, Reds, Snell
The Astros are more focused on the trade market than free agency in their search for starting pitching, per Jon Morosi of MLB.com. Houston's "inquiring on nearly every available starter via trade," Morosi hears. The Astros are already known to have interest in Mariners left-hander James Paxton, who's one of several front-end starters who could…


Poll: Bryce Harper, Manny Machado And The Phillies
On several occasions over the past decade, the Phillies have shown a willingness to spend among the league's elite. However, because the Phillies were recently amid a full-fledged rebuild, the big-market club took major steps backward in the spending department. Last year, with Philadelphia aiming to make a sizable leap in the standings, the team…


Jeff Wilpon On deGrom, Syndergaard, Payroll, Front Office
The Mets aren't yet prioritizing a contract extension for National League Cy Young Award-winning right-hander Jacob deGrom, COO Jeff Wilpon informed Kristie Ackert of the New York Daily News and other reporters Friday. However, the two sides could could begin discussions on a new deal next month. "We'll talk with the new agent here at…


Rosenthal's Latest: Mets, Syndergaard, Rangers, Minor, Orioles
Star right-hander Noah Syndergaard has drawn trade interest this offseason, but if the Mets do deal him, it's not going to be for a package of prospects, Ken Rosenthal of The Athletic reports (subscription required). Rather, because the Mets aim to contend in 2019, they'd need to make a trade that improves their roster both…


Nathan Eovaldi Drawing Widespread Interest
Free-agent starter Nathan Eovaldi has drawn considerable interest on the open market, according to the Boston Globe's Nick Cafardo, who writes that the Brewers, Phillies, Braves, Angels, White Sox, Blue Jays and Giants join the previously reported Red Sox and Padres as early suitors for the right-hander. More teams may join the fray, Cafardo adds.…


How Marwin became the FA every team needs
Marwin Gonzalez appears to be a hot commodity in this free-agent market, and the people who have watched him play or called him a teammate these last seven seasons with the Astros couldn't be happier about that. They're not happy that he may have played his last game for Houston, but they're thrilled for Gonzalez, who has made himself a terrific player with hard work and smarts and a relentless will to succeed.


NL Notes: Braves, Kimbrel, Dodgers, Jansen, Reds
A few items from the National League… Atlanta's a speculative landing spot for closer Craig Kimbrel, who starred with the Braves from 2010-14 and is now the most proven reliever available in free agency. However, barring a drop in Kimbrel's asking price, it's "highly unlikely" he'll rejoin the Braves this offseason, Mark Bowman of MLB.com…


Yankees Notes: Gray, A's, Machado, Relievers, Extensions
Although the Athletics contacted the Yankees about right-hander Sonny Gray at least a week ago, "there is no present momentum in talks" between the teams, Jon Morosi of MLB.com tweets. A return to Oakland would represent a homecoming of sorts for Gray, a 2011 first-round pick of the A's who mostly thrived with the club…


Heyman's Latest: Mets, Machado, Red Sox, Dodgers, Marlins
After the Mets hired Brodie Van Wagenen as their new general manager last month, he declared the team expected to be "in on every free agent" this offseason. Van Wagenen's comment led some to wonder whether the Mets, who could stand to upgrade the left side of their infield, would pursue Manny Machado. However, considering…


Poll: Which Team Will Sign Patrick Corbin?
Free agent lefty Patrick Corbin is arguably the top hurler on the market this offseason.  The former Diamondback timed his ascension to dominance perfectly last season, posting career bests in strikeout rate (11.07 K/9), HR/9 (0.68), FIP (2.47), xFIP (2.61), ERA (3.15), fWAR (6.3) and games started (33) in a pivotal walk year for the…


Where will Keuchel pitch in 2019? Here are 5 good fits
Dallas Keuchel matured through Houston's lean years and then helped anchor their rotation through three postseason runs and a World Series title. Now, it's time for Keuchel to cash in, but which teams would be a fit for him this winter?


Which players could reunite with former clubs?
Sometimes baseball's Hot Stove season provides a reuniting of players with clubs they've played for previously. Here are 11 such reunions (not straight-up re-signings) that could conceivably happen this offseason.


Walk-off home run, injury end AFL title game
The Peoria Javelinas captured this year's Arizona Fall League title with a thrilling extra-innings, walk-off victory over the Salt River Rafters on Saturday at Scottsdale Stadium.


Sources: Reds adding House to coaching staff
The Reds have added another member to new manager David Bell's coaching staff. Sources told MLB.com that J.R. House was hired to be Cincinnati's new third-base coach and catching coach.


Quick Hits: Stroman, Goldschmidt, Orioles, Mariners
The Toronto Blue Jays have not had any serious trade discussions regarding staff ace Marcus Stroman, per the MLB Network's Jon Morosi (via Twitter). That does not mean, however, that teams haven't asked. The Reds, in particular, are one team with noted interest in the Jays' right-hander. This shouldn't surprise anyone, as the Reds have…


Blue Jays Trade Aledmys Diaz To Astros For Trent Thornton
The Houston Astros acquired infielder Aledmys Diaz from the Toronto Blue Jays today. In return, they have sent Triple-A right-hander Trent Thornton to Toronto, per Chandler Rome of the Houston Chronicle (via Twitter). After spending parts of two seasons with the St. Louis Cardinals, the Blue Jays acquired Diaz for minor-league outfielder J.B. Woodman prior to 2018. He…


Indians have options to improve outfield
Cleveland's outfield was an issue in 2018, and it looks to be even more of one in 2019 now that Michael Brantley and others may leave as free agents. Fear not, Tribe fans. We have ideas.


Coaching Notes: Rangers, Twins, Rockies, Jays, Phillies
Many teams are putting the finishing touches on their coaching staffs, though there are still some openings. Here are the latest moves: The Rangers announced that they have hired Julio Rangel as their new pitching coach. He'll come over from the Giants organization, where he had served as the minor-league pitching coordinator. The 43-year-old Rangel also…


Offseason Outlook: San Diego Padres
MLBTR is publishing Offseason Outlooks for all 30 teams.  Click here to read the other entries in this series. The Padres' were in full rebuild mode by mid-2016, having dealt away any veteran players with value by that year's trade deadline. Immediate help was not on the way. In fact, it was nowhere close if it…


Phillies Anticipate Major Spending, Says Owner John Middleton
The Phillies entered the winter widely tabbed as the most obvious aggressor on the free-agent market. It has been known for years, after all, that the organization was stripping its payroll and building its prospect base in hopes of launching back into a powerhouse. Perhaps, then, it shouldn't be too surprising that Philadelphia owner John…


Astros acquire infielder Diaz from Blue Jays
The Astros appear to have found a replacement for free-agent infielder Marwin Gonzalez by completing a trade on Saturday to acquire infielder Aledmys Diaz from the Blue Jays in exchange for Minor League right-hander Trent Thornton.


The Angels have struck a deal to bring outfielder Peter Bourjos back to the organization, MLBTR's Steve Adams reports on Twitter. It'll be a minor-league pact for the 31-year-old, who is a client of the Dishman Sports Group. Bourjos has seen action in each of the past nine MLB campaigns, the first four of those…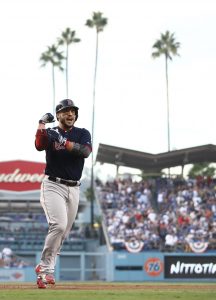 The Red Sox have announced a deal to keep sluggeer Steve Pearce in Boston, as Jeff Passan of Yahoo Sports reported (via Twitter). It's said to be a one-year, $6.25MM pact for the Excel Sports Management client. Pearce, 35, was picked up in a relatively unheralded late-June swap with the Blue Jays. He more or less…


Offseason Outlook: New York Yankees
It's rare that a 100-win season can feel like a let-down, but when one's chief division rival wins 108 games and captures a World Series title, the sentiment is more understandable. That's the situation in which the Yankees find themselves, and they'll likely act aggressively in an effort to close that gap this winter. Guaranteed…


Mets mum on 2019 payroll, Thor trade talk
Speaking Friday at a "Metsgiving" charity event in Queens, Mets chief operating owner Jeff Wilpon said he didn't want to discuss whether his payroll would increase or decrease with new general manager Brodie Van Wagenen making decisions.


Mariners Select Contract Of Braden Bishop
The Mariners announced that they've selected the contract of outfield prospect Braden Bishop, meaning he's now been added to the 40-man roster and protected from December's Rule 5 Draft. Major League teams have until Tuesday of next week to add players to the 40-man in advance of the Rule 5. Bishop, 25, certainly would've been…


Pitching Market Rumors: Gray, Corbin, Anibal, Keuchel, Parker
The Yankees have received multiple offers for right-hander Sonny Gray and are currently in the process of evaluating them, per SNY's Andy Martino. GM Brian Cashman has been unusually candid about his plan to move the obvious change-of-scenery candidate, and interest in buying low on the talented righty has reportedly been robust. Gray, projected by…


Twins Agree To Minor League Deal With Preston Guilmet
The Twins have made their first batch of minor league signings this winter, Rhett Bollinger of MLB.com reports (on Twitter), with right-hander Preston Guilmet the most experienced among them. Minnesota also added righty Zack Weiss and infielder Randy Cesar on a minor league pacts and re-signed right-hander Ryne Harper and catcher Wynston Sawyer. Guilmet, 31,…


Source: Angels, Bourjos reunite on Minors deal
The Angels are bringing back outfielder Peter Bourjos on a Minor League deal, MLB.com's Maria Guardado confirmed. The deal was first reported by the Orange County Register. Boujos will be in the mix to fill a bench role as the club's fourth outfielder next season.


CSA continues quest to decrease city's violence
The Chicago Sports Alliance brought together five Chicago professional sports teams in support of solutions to decrease violence in the city. On Friday, the CSA held a luncheon and panel discussion concerning issues related to the organization.


Latest On Trade Interest In Marlins' J.T. Realmuto
12:36pm: ESPN's Buster Olney writes that the Marlins' asking price on Realmuto is viewed by other clubs as "staggering." Though Realmuto has less control remaining than he did last offseason, he's coming off a better year and the asking price on him has actually risen from last winter, per Olney. 9:54am: There are as many…


30 ROY candidates for 2019 -- 1 for each team
In 2018, Shohei Ohtani and Ronald Acuna Jr. entered the season as Rookie of the Year contenders, if not front-runners, in each league. But sometimes Rookies of the Year come on unexpectedly. With that in mind, here is a potential ROY candidate from each organization.


Jansen set for heart surgery, eyes spring return
Dodgers closer Kenley Jansen said he will undergo heart surgery on Nov. 26 to correct an irregular heartbeat. The best-case scenario is a two-week recovery, but it might take as long as eight weeks. Either way, Jansen is expected to be ready for the beginning of Spring Training.


Padres Showing Interest In Noah Syndergaard
After a failed pursuit of Noah Syndergaard this past July, the Padres remain interested in acquiring the right-hander from the Mets, Ken Rosenthal of The Athletic reports (subscription link). SNY's Andy Martino writes that Friars "are expected" to be more aggressive in their pursuit this time around. To be clear, there's not yet any indication…


Hall of Famers' most random teams
Any trip to the Baseball Hall of Fame involves a stop in the plaque room, where you browse the accomplishments of every Hall of Famer. On each plaque, the logo on each player's cap represents the club they are most associated with.


Top MVP candidates to collide in AFL championship
The Peoria Javelinas and Salt River Rafters feature the Arizona Fall League's two most talented rosters, two best offenses and two leading candidates for the circuit's Joe Black MVP Award. On Saturday, they'll settle who has the better team.


Minor MLB Transactions: 11/16/18
Here are today's minor moves from around the league… The Mets announced yesterday that they've signed left-handed reliever Ryan O'Rourke to a minor league contract and invited him to Major League Spring Training. The 30-year-old spent parts of the 2015-16 seasons with the Twins, pitching to a combined 4.98 ERA with 48 strikeouts and 25…


Phillies 'expecting to spend' this offseason
Phillies managing partner John Middleton confirmed his organization's intentions to spend big money this offseason at the Owners Meetings this week in Atlanta, telling USA Today Sports that "we're going into this expecting to spend money. And maybe even be a little bit stupid about it."


Orioles name Elias new general manager
The Orioles, amid a rebuild, have spent their time studying organizations that have built sustainability, used advanced analytics and grown a contender from within. It's to little surprise, then, that the Orioles landed on Astros assistant general manager Mike Elias as their choice to head the front office.


Cashman: Yanks may be 'big-game hunters'
A year ago, Brian Cashman was still elbow-deep into conducting an extensive managerial search, which delayed the Yanks' entry into what proved to be a slow-moving offseason market. There is no such distraction now, which is fortunate, because the Yankees general manager says that he has lots to do.


7 incredible ways Trout is making MVP history
At age 27, Mike Trout is compiling a resume the baseball world has truly never seen before, and one of the best ways to measure his dominance over the game -- besides his yearly wins above replacement totals -- is to scan his MVP placements over the first seven full seasons of his career.


Sources: Astros eye trade markets for C, SP
Houston is targeting multiple areas this offseason, catcher and starting pitching chief among them. The Astros could make upgrades in free agency, but they actually might be turning their attention toward the trade front.


Decision time: Which prospects get 40-man spots?
By Tuesday, all teams will have decided who deserves a spot on their 40-man rosters. Those Minor Leaguers who are eligible but not put on the roster will be exposed to be taken by the other 29 teams in the Rule 5 Draft, which will take place at the Winter Meetings in Las Vegas, on Thursday. Dec. 13.


5 players whose free agency could linger
As we've seen over the last couple of offseasons, the Hot Stove calendar has evolved. While there once was a time when all top free agents would be signed before the New Year, recent offseasons have seen players wait until well into Spring Training in search of the best possible deal.


Market Chatter: Greinke, Suzuki, Eovaldi, Reds, Nats, Phils
The Diamondbacks are "aggressively shopping" righty Zack Greinke, according to Bob Nightengale of USA Today (via Twitter). With $95.5MM of salary still due over the next three years, he's an expensive option. But the deal is at least cabined in length, and the Snakes have a good shot at getting out from under most of it.…


Arbitration Breakdown: Jacob deGrom
Over the next couple weeks, I will be discussing some of the higher profile upcoming arbitration cases. I rely partly on my arbitration model developed exclusively for MLB Trade Rumors, but will also break out some interesting comparables and determine where the model might be wrong. 2019 projections are available right here. The most interesting arbitration…


The Rangers have agreed to a contract (pending physical) with free agent catcher Jeff Mathis, according to Ken Rosenthal of The Athletic (via Twitter). It's said to be a two-year deal for the veteran receiver, with financial details not yet known. Let's get the obvious out of the way up front: Mathis is already 35…


East teams driving starting-pitcher market
The East divisions are the center of the starting-pitching market this offseason. The Yankees and Nationals are two large-market teams known to be looking for rotation help, and their neighbors are interested, too.


Arenado finishes third in NL MVP voting
Rockies third baseman Nolan Arenado finished in third place on the Baseball Writers' Association of America National League Most Valuable Player ballot, as announced Thursday on MLB Network. He finished behind the winner, Christian Yelich of the Brewers, and runner-up, Javier Baez of the Cubs.


Christian Yelich, Mookie Betts Win MVP Awards
The Baseball Writers' Association of America announced tonight that Brewers outfielder Christian Yelich was voted the Most Valuable Player of the National League. Meanwhile, fellow outfielder Mookie Betts took the prize in the American League. Yelich nearly pulled off a unanimous win after helping lead the Brew Crew to a stirring NL Central title. Only…


Twins To Name Wes Johnson Pitching Coach
The Twins will dip into the college ranks to find their next pitching coach, as Dan Hayes of The Athletic reports (subscription link) that Minnesota is set to hire University of Arkansas pitching coach Wes Johnson to hold that same role in Minneapolis. Additionally, the club will name Jeremy Hefner as its bullpen coach, Derek Wetmore of…


The Mariners announced today that they have inked a MLB pact with right-handed hurler Ruben Alaniz. He'll take the 33rd spot on the club's 40-man roster, leaving plenty of room still to work with. Alaniz, 27, has not yet received a shot at the majors. The nine-year minor-league veteran has mostly toiled without fanfare. Originally…


Betts, Yelich win first career MVP Awards
Red Sox outfielder Mookie Betts was named the 2018 American League Most Valuable Player on Thursday, adding an appropriate finishing touch to a magical year for a team that won a franchise-record 108 regular-season games and its fourth World Series in 15 seasons, and Brewers outfielder Christian Yelich earned the NL MVP honors after leading Milwaukee to an NL-best 96 wins and a return to the playoffs for the first time since 2011.


Bucs to continue exploring options at SS, RF
The Pirates added to their infield mix on Wednesday by acquiring utility man Erik Gonzalez in a five-player trade with the Indians, but they're not done looking for a shortstop or a short-term solution in right field.


Yelich crowned MVP in first year with Crew
Brewers right fielder Christian Yelich was a near-unanimous choice for the 2018 National League MVP Award, getting 29 of 30 first-place votes from the Baseball Writers' Association of America to win in a landslide over runner-up Javier Baez of the Cubs and third-place finisher Nolan Arenado of the Rockies.


Jacob deGrom To Remain With CAA
As recently as last night, Mets ace Jacob deGrom told reporters that he'd yet to settle on who his new agent will be in the wake of Brodie Van Wagenen's appointment as the Mets' general manager. That decision now looks to have been made, as SNY's Andy Martino reports that deGrom will remain with CAA…


Torre's charity event salutes 1998 Yankees
Members of the '98 champions, Mets closer John Franco and Hall of Famer Tony La Russa were on hand to support Safe at Home, which helps children impacted by violence and trauma in their homes, schools and communities.


5 amazing facts about your 2018 MVPs
Outfielders Mookie Betts of the Red Sox and Christian Yelich of the Brewers enjoyed sensational 2018 seasons, showing off well-rounded skill sets that helped lift their clubs to the postseason and earn them Most Valuable Player Awards.


As part of his explosive breakout 2018 season, Javier Baez didn't just give the Cubs elite hitting numbers and indispensable versatility around the infield -- he also added an element of thrill to everything he did, whether in his free-swinging approach, aggressive baserunning or daring tags in the field. The career year from one of the most exciting players in baseball culminated in a runner-up finish in the National League Most Valuable Player Award voting on Thursday.


Betts caps honors season with AL MVP Award
A batting title, a World Series championship, a Gold Glove, a Silver Slugger and a baby daughter had already made 2018 the most gratifying year in the life of Mookie Betts. And then there was a sweet capper on Thursday, when the superstar right fielder of the Red Sox was named the American League's Most Valuable Player, winning the award in a romp.


Trout finishes second in AL MVP voting
Mike Trout enjoyed his best overall season to date in 2018, but it wasn't enough to earn him his third career American League Most Valuable Player Award.


Hazen faces multilayered paths for 2019
The best way to envision what D-backs general manager Mike Hazen and his staff are facing this offseason is to picture a room filled with different sets of domino chains.


Ramirez finishes 3rd in AL MVP Award race
Indians slugger Jose Ramirez finished third in voting for the American Leagu Most Valuable Player Award behind Mookie Betts of the Red Sox and runner-up Mike Trout of the Angels. It marked the second straight year in which Ramirez -- a dynamic switch-hitting infielder -- placed third in voting for the AL's top accolade.


Betts, Yelich win first career MVP Awards
Red Sox outfielder Mookie Betts was named the 2018 American League Most Valuable Player on Thursday, adding an appropriate finishing touch to a magical year for a team that won a franchise-record 108 regular-season games and its fourth World Series in 15 seasons, and Brewers outfielder Christian Yelich earned the NL MVP honors after leading Milwaukee to an NL-best 96 wins and a return to the playoffs for the first time in 2011.


Which Draft Picks Each Team Would Lose By Signing A Qualified Free Agent
Bryce Harper, Patrick Corbin, Dallas Keuchel, Craig Kimbrel, Yasmani Grandal, and A.J. Pollock were the six free agents this year to receive and turn down a one-year, $17.9MM qualifying offer from their teams this month.  If those players sign elsewhere, here's a look at the draft picks the signing team would lose. Competitive Balance Tax Payors:…


MLB, Fox Sports Reach Reported $5.1 Billion Rights Agreement
Major League Baseball announced today that it has reached a new seven-year, multiplatform agreement with FOX Sports spanning the 2022-28 seasons. Eric Fisher of Sports Business Journal reports (via Twitter) that the contract's rough value is a staggering $5.1 billion — a near-50 percent increase over the total value of the existing agreement between MLB…


Robertson enjoying free-agent talks as own rep
Free-agent reliever David Robertson is representing himself after parting ways with his longtime agent, Scott Leventhal. Robertson, who will be pitching in his age-34 season in 2019, has fielded calls and texts from more than a half-dozen general managers since he hit the market.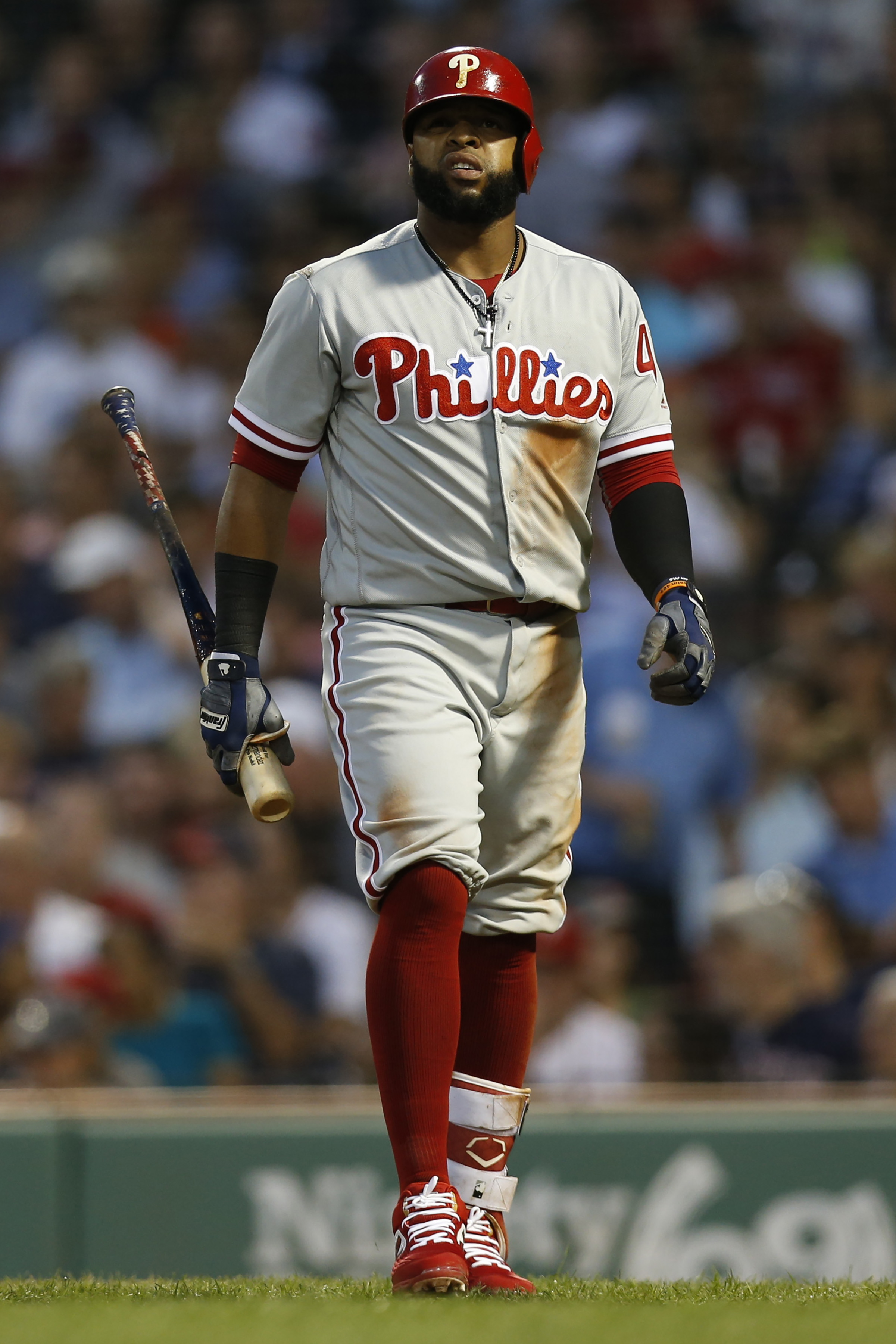 Looking For A Match In A Carlos Santana Trade
Earlier this week, Ken Rosenthal of The Athletic reported via a rival executive that the Phillies are "shopping the hell" out of first baseman Carlos Santana.  The Rhys Hoskins left field experiment went poorly this year, so it's logical for GM Matt Klentak to attempt to trade the veteran Santana to allow Hoskins to move…


MLB to permit more colorful cleats in 2019
MLB and the MLBPA announced Thursday that amendments have been made to the collective bargaining agreement's rules governing the appearance of cleats worn by players. The goal was increased wiggle room with regard to the colors and designs deemed appropriate for the field of play.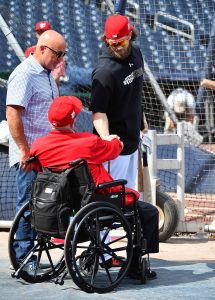 Offseason Outlook: Washington Nationals
The Nationals will again look to bounce back from a bitterly disappointing season, but they'll again do so with significant resources and reason for optimism. Guaranteed Contracts Max Scherzer, SP: $105MM through 2021 (with assorted deferments) Stephen Strasburg, SP: $135MM through 2023 (with assorted deferments; includes opt-outs after 2019, 2020) Ryan Zimmerman, 1B: $20MM through…


MLB, DAZN agree to 3-year live digital rights deal
Major League Baseball and global sports streaming platform DAZN have agreed to a three-year live digital rights partnership in the United States, set to begin with the 2019 MLB regular season, it was announced today by Baseball Commissioner Robert D. Manfred Jr., and DAZN Group Executive Chairman John Skipper.


Rangers win Selig Award for philanthropy
The Rangers were named the recipient of the 2018 Allan H. Selig Award for Philanthropic Excellence by Major League Baseball on Thursday at the quarterly Owners Meetings in Atlanta.


Free age-nts: Older players with market value
Here's a look at seven free agents in their late 30s and 40s who have plenty left to give. They might not be the young turks anymore, but they're not riding off into the sunset, either.


Rangers win Selig Award for philanthropy
The Texas Rangers organization has been named recipient of the 2018 Allan H. Selig Award for Philanthropic Excellence, Major League Baseball announced earlier today at the quarterly Owners Meetings.


MLB, FOX complete multiyear agreement
FOX Sports and Major League Baseball have reached a new multiyear, multiplatform rights agreement expanding the network's television, digital and Spanish-language rights and cementing FOX Sports as the home to baseball's marquee events for the next decade.


With Cy win, deGrom joins elite Mets club
There were two other right-handers for the Mets who were the kind of pitching stars that Jacob deGrom was for New York this season. There was Tom Seaver, the greatest figure in the history of the Mets' franchise. And there was young Dwight Gooden, who could throw fastballs past the world and turn every start into a must-see event -- fans were afraid to miss 20 strikeouts in a game or a no-hitter.


Should M's trade Diaz? Here are 5 good fits
The Mariners are stuck between contending and rebuilding this winter, so they may need to entertain unexpected ideas. Let's start with the thought of trading closer Edwin Diaz, one of baseball's best relievers.