Matt Carpenter credits homemade salsa for home run binge
St. Louis Cardinals slugger Matt Carpenter has been on fire during the team's current road trip, and now that appears to be taking on a literal sense as well. During Saturday's doubleheader against the Chicago Cubs, Carpenter clubbed home runs in each of the two games to mark his fifth and sixth dingers in his last four contests. The homers also brought his RBI total to ten over that span. After the game, Carpenter credited some homemade salsa that he brought on the road trip for th


Jake Cave Among Top Waiver Adds | Carlos Rodon Ready to Surge
Your Fantasy Baseball Planner, with recommended streamers and waiver adds Back to work, kids. Regain your focus and let's grind as the July 31 trade deadline looms among us. Pitching For Two, Please (Recommended two-start pitchers) Julio Teheran, Braves (at Marlins, Monday; vs. Dodgers, Sunday): His 4.00 ERA is courtesy of his penchant for giving up the long ball (18 in 105 innings pitched), but when the ball stays in the yard, Teheran is a downright tough nut to crack. Opponents have hit .185...


Tigers' Fiers clowns 'scared' JD Martinez for sitting out game
JD Martinez's day off Saturday against his old team did not sit well with some. The Boston Red Sox All-Star outfielder was out of the lineup for their game against the Detroit Tigers, marking just his seventh missed contest of the year. After the game (a 5-0 victory for Detroit), Tigers starter Mike Fiers, who fired 6.1 shutout innings to earn the win, seemed to rip Martinez. He said that Martinez was scared to face him and accused the AL RBIs leader of asking for a day off against him, a


Markelle Fultz expected to be Philadelphia's sixth man next season
Markelle Fultz is ready to put the 6 in Philadelphia 76ers. In an appearance this week on 97.3 ESPN's "The Sports Bash," Keith Smith of Real GM spoke on Fultz and his expected role for the Sixers in 2018-19. "He's probably likely to be the sixth man coming off the bench," Smith said of the 20-year-old. "And in a lot of ways that's a great role for him because on the days that he's got it going, you ride him. On the days where he doesn't, he...


Hader warmly received by Brewers fans in return
In his first appearance in a game since the emergence of his controversial tweets, Josh Hader was received warmly, with cheers and applause, by Brewers fans. "It means a lot," he said after Milwaukee's 4-2 win.


Cards' Carpenter homers in sixth straight game
Cardinals first baseman Matt Carpenter hit a pinch-hit home run in Game 2 of a doubleheader against the Cubs on Saturday, breaking Mark McGwire's franchise record with his sixth straight game with a home run.


Report: White Sox likely to keep Jose Abreu through trade deadline
It does not appear that Jose Abreu will be the latest casualty of the Chicago White Sox's roster teardown. Bob Nightengale of USA TODAY Sports reported on Saturday that the White Sox are now "strongly inclined" to keep the Cuban first baseman through the Jul. 31 deadline instead of trading him away. Abreu, 31, is one of Chicago's most attractive trade chips and just made his second career All-Star team after hitting 13 home runs and 52 RBIs in the first half. The White S


Isaiah Thomas questions why Jamal Crawford has not been signed yet
Isaiah Thomas is going to bat for his fellow Washington native. In a post to Twitter on Saturday, the Denver Nuggets guard questioned why Jamal Crawford had not been signed yet, saying that it made "no sense." How is @JCrossover still a free agent? Makes no sense! — Isaiah Thomas (@isaiahthomas) July 21, 2018 Crawford, who is close friends with Thomas and often links up with him at Seattle Pro-Am events, has this to say in response to the tweet. -this " new" Nba I guess lol


Watch: Indiana's Justin Smith sets record with 48-inch vertical
Indiana forward Justin Smith is proving that gravity is for losers. The 6-foot-7 sophomore broke an all-time school record with an unreal 48-inch max vertical this week. Smith's jump easily shattered Victor Oladipo's old record of 42 inches and tied the NBA Combine record as well. Have a look: Move aside @VicOladipo! We have a new ALL-TIME IU record!@justinsmith3_ recorded a inch Max Vertical today! That also ties the @NBA Combine record! pic.twitter.com/LFMtK1DiBD — Indiana


Aroldis Chapman dismisses knee concerns after rough outing
Aroldis Chapman dismissed concerns about his knee after a rough outing on Saturday. Chapman entered the New York Yankees' game against the New York Mets looking to close things out with a 7-3 lead. Unfortunately he failed to record an out as he put on five straight, walking three, hitting a batter and allowing a hit. He was charged with three runs in the appearance. After the game, Chapman was asked whether his knee had anything to do with his issues Saturday. Both Chapman and manager Aa


Yoenis Cespedes to see foot specialist, get MRI
The excitement over Yoenis Cespedes' return to the New York Mets' lineup has already passed. Cespedes returned for the Mets and homered on Friday in his first action in over two months. But Cespedes promptly was held out of Saturday's game due to continued lower body problems. New York Daily News reporter Kristie Ackert reported on Saturday that Cespedes will see a foot specialist and undergo an MRI. Cespedes will be checked out by a specialist "early in the week." He wi...


JD Martinez expected to play on Sunday despite soreness
JD Martinez is expected to play on Sunday despite not being in the lineup for Saturday's game due to soreness. The Boston Globe's Pete Abraham reported on Saturday that Martinez has soreness after smacking into a wall on Friday while making a catch against his former team. Here's the play: JD MARTINEZ WITH THE GLOVE THIS TIME #DirtyWater pic.twitter.com/n1dPbDwUpX — LIGHT IT (@FyahWill) July 21, 2018 Abraham says that Martinez is expected to be OK to play on Sunday ag


Mets, A's finalize trade for closer Jeurys Familia
Entering a Saturday game against the New York Yankees, closer Jeurys Familia remained unavailable for the New York Mets as trade winds continued to swirl. The Mets and Oakland A's were knee-deep in trade discussions for Familia and had begun to review medical records of all players involved in the proposed trade as of Friday night. And shortly after the conclusion of a 7-6 loss to the Yankees on Saturday, the Mets and A's finalized the deal for Familia. In exchange for Familia, the


CB Bashaud Breeland visiting with Raiders, Chiefs
Free agent cornerback Bashaud Breeland looks like he is getting closer to finding a home for the 2018 season. Breeland is set to visit the Oakland Raiders on Sunday and Monday and then the Kansas City Chiefs on Tuesday, according to ESPN reporter Rob Demovsky. Cornerback Bashaud Breeland is visiting the Raiders on Sunday and Monday then headed to the Chiefs on Tuesday, a source said. He's the one who signed a three-year, $24 million deal with the Panthers that was voided after he failed a p...


DeMar DeRozan thanks Toronto, fans in emotional goodbye
DeMar DeRozan was not a happy camper after learning that he had been traded from the Toronto Raptors to the San Antonio Spurs, expressing frustration and disappointment on his now-deleted Instagram story. With several days to let the upheaval settle and the reality of his new life set in, DeRozan took to Instagram to share an extremely emotional thank you and goodbye to Canada, Toronto and his fans. Words could never express what you've meant to me. I was just a 19 year old kid from Com...


A's will set Oakland Coliseum attendance record on Saturday night
The Oakland A's will make history on Saturday night when hosting nearly 57,000 fans, which will be the largest crowd to ever amasse at the Oakland Coliseum. It will also be the largest single-game crowd for any MLB contest this season, besting the 53,904 fans who showed up for a June 26 game between the Los Angeles Dodgers and Chicago Cubs at Dodgers Stadium. In order to reach the near-57,000 mark, the A's will open up Mount Davis for the first time in 13 years, allowing for an addit


Johnny Manziel continues to ride the pine in Canada
The Hamilton Tiger-Cats suffered a 31-20 loss to the Saskatchewan Roughriders in Week 6, and for the sixth consecutive week, quarterback Johnny Manziel didn't take a single snap. Part of the reason Manziel has struggled to reach the field has been the play of fellow quarterback Jeremiah Masoli, who had tied a CFL record with nine straight 300-yard games. However, in the Week 6 loss coming off the bye, he managed just 184 yards with no touchdowns and one interception. Despite Masoli'


Giants' Steve Tisch rips President Trump, won't punish players who protest
New York Giants co-owner Steve Tisch ripped President Donald Trump earlier this week, telling The Hollywood Reporter that the president "has no understanding" of why players kneel or protest during the national anthem, and that none of his players will be punished if they decide to protest in 2018. "Hopefully he'll have much more going on that he's going have to deal with and should deal with and must deal with than worrying about what NFL players do," Tisch


Two Mexican Baseball League umps suspended for horrific call (Video)
Two Mexican Baseball League umpires have been suspended after the duo collaborated on one of the worst calls in the history of the sport. And no, that is not an exaggeration. Thoughts of terrible calls undoubtedly plague the mind of most baseball fans, but for those cheering on the Diablos Rojos del Mexico, they can now stake claim to being victims of the most ludicrous call of all-time. With Algodoneros de Union Laguna's Jonathan Jones in the hole 0-1, he adjusted his approach and in an


Spectacular few hours.


Jon Gruden says Khalil Mack decision is his 'toughest'
The honeymoon period for Jon Gruden in his return to the Raiders has ended abruptly thanks to the holdout of one of the team's best players. Defensive star Khalil Mack did not participate in OTAs and officially held out of the team's minicamp as he seeks a new contract. Mack is in the final year of his rookie contract and set to make just over $13 million, but he's a former Defensive Player of the Year and deserving of a long-term deal. Speaking at a Raiders fan rally at Ricky&


Yoenis Cespedes considering surgery that would keep him out 8-10 months
Yoenis Cespedes returned to action on Friday night for the New York Mets after missing more than two months with hip and quad issues. But those aren't his only problems. Cespedes says the root of his problems is a calcification issue in both of his heels. These issues have bothered him for years. There is a surgery that could fix it, but the problem is the operation would knock him out 8-10 months. Cespedes says that the cause of his medical issues is calcification in both heels. He says


Birdie barrage not enough as Lincicome cut
Despite a second round that included five birdies and an eagle, Brittany Lincicome missed the cut at the Barbasol Championship, failing in her bid to become the first female golfer since 1945 to make the cut in a PGA Tour event.


Woods shoots 5-under 66 in Open third round
It was vintage Tiger Woods during the third round of The Open at Carnoustie as he fired a 5-under 66. This is the first major he's started with three straight rounds of par or better since the 2012 Open at Royal Lytham.


Watch: Max Scherzer, Stephen Strasburg have heated moment in dugout
Stephen Strasburg's return from the disabled list did not go well at all. Strasburg was charged with six runs on eight hits over 4.2 innings in an 8-5 loss to the Atlanta Braves on Friday. It was Strasburg's first start since June 8 and the most runs he's allowed all season. After entering the dugout following his start, Strasburg mostly ignored his teammates, and that didn't sit well with Max Scherzer. Scherzer said something to Strasburg and the two got heated. Strasbu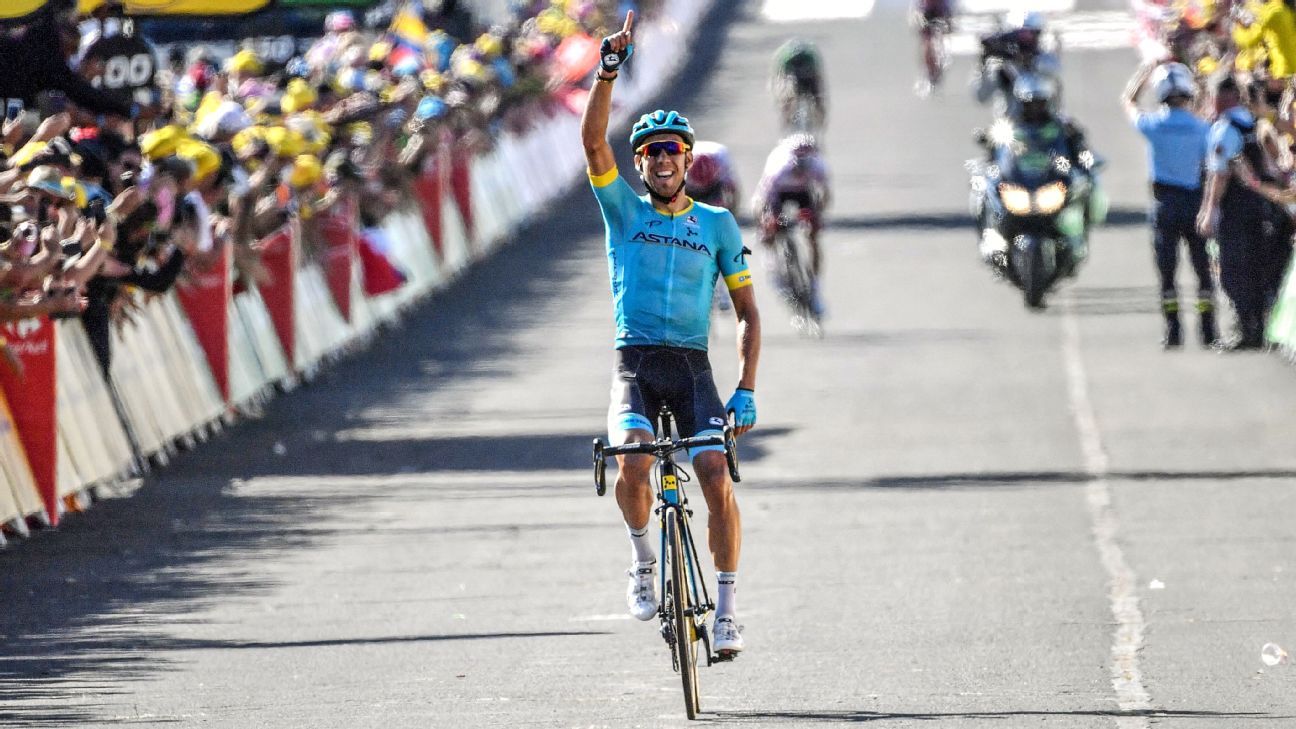 Spain's Omar Fraile powered to victory with a late burst in the last climb.


DFS NASCAR: New Hampshire Cup Picks and Xfinity Preview
There are only seven races before the Monster Energy NASCAR Cup Series playoffs begin. This week, drivers can lock themselves into the playoffs with a victory in the Foxwoods Resort Casino 301 at New Hampshire Motor Speedway. This is the first season in NASCAR history when the Cup Series will only visit the track once per year. CUP SERIES PREVIEW FOR FOXWOODS RESORT CASINO 301 TOP-PRICED PICKS Kyle Busch ($11,600 on DraftKings, $12,500 on FanDuel) is the most recent winner at New Hampshire. In ...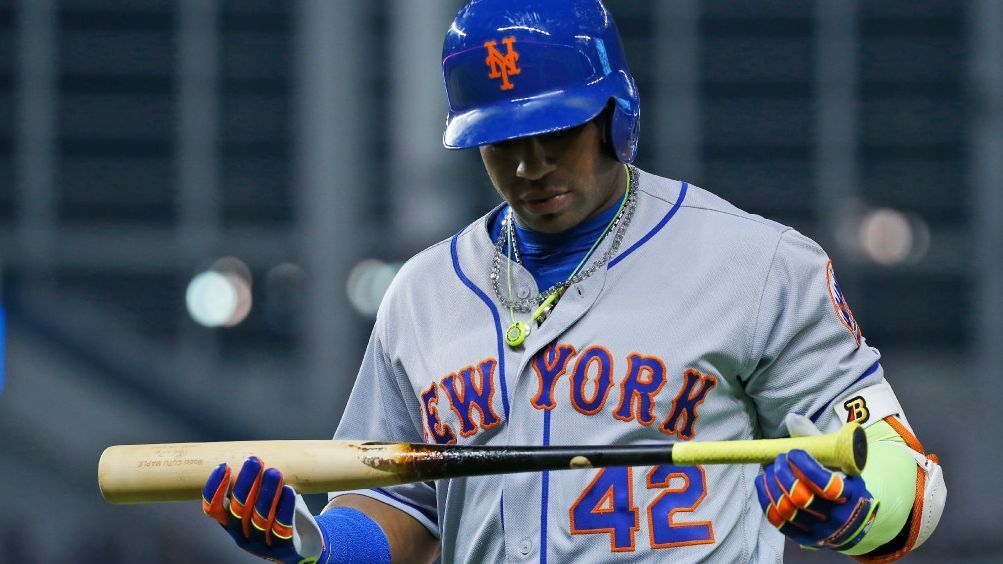 Mets skipper unaware of Cespedes surgery talk
Mets manager Mickey Callaway said he was unaware of comments made Friday by injury-plagued slugger Yoenis Cespedes, who revealed that he may need surgery on both heels that would sideline him for eight to 10 months.


Diamondbacks have funny exchange with ex-pitcher Dan Haren
Ex-pitcher Dan Haren had a funny exchange with the Arizona Diamondbacks on Twitter Friday. The D-backs announced their 20th anniversary team on Friday. Haren, who pitched 2.5 seasons for the team, making the All-Star team twice, was not included. He tweeted at Arizona asking for a "recount". Can we get a recount? — dan haren (@ithrow88) July 20, 2018 In response, the person running the account trash-talked Haren, saying he's gone from hanging breaking balls to hanging


Trump criticizes NFL anthem policy on Twitter
One day after the NFL said it is halting its enforcement of anthem rules, President Donald Trump tweeted out criticism of the NFL and called for action from commissioner Roger Goodell.


Strasburg, Scherzer get testy in Nats' dugout
After exiting in the fifth inning following a less than stellar return to the mound, Stephen Strasburg argued with fellow pitcher Max Scherzer in the Nationals' dugout, with the pair ending up having a talk with manager Davey Martinez.


Hader apologizes to teammates before game
Before the Brewers' first game since the All-Star break, reliever Josh Hader apologized to teammates for offensive tweets that were unearthed during the All-Star Game on Tuesday. He will undergo sensitivity training.


Orioles' Jonathan Schoop left a vacation to say goodbye to Machado
Jonathan Schoop showed just how tight of a bond teammates can have. The Baltimore Orioles infielder said on Friday that he left a vacation early so he could drive to Manny Machado's house for an in-person goodbye after the shortstop was traded to the Los Angeles Dodgers. MASN's Steve Melewski shared the comments of Schoop, who says he started to cry when saying goodbye to Machado. Jonathan Schoop left a lake vacaction to drive to Manny's house for an in person goodbye – "


James Harden: Carmelo would be 'great acquisition' for Rockets
James Harden does not sounds too worried about potentially having to share the ball with Carmelo Anthony in Houston. Addressing the media on Friday, the reigning MVP was asked about the possible addition of Anthony, who is expected to sign with the Rockets. "He'd be a great acquisition for us," said Harden, per Matt Young of the Houston Chronicle. "Melo's a proven vet. He just wants to win at this point." While the 10-time All-Star forward is definitely tight


Report: Josh Hader issued tearful apology in Brewers clubhouse
Josh Hader continues to make amends for some ugly tweets of his that resurfaced earlier this week. Stephen Watson of WISN 12 News in Milwaukee reported on Friday that the Brewers reliever issued an emotional apology inside the team's clubhouse before their first game of the second half. Watson also added that everybody seemed to accept his apology and that they were hoping to move forward. This was echoed by Bob Nightengale of USA TODAY Sports, who said that Hader cried during his apology


Michael Beasley, Lakers reportedly agree to one-year deal
The Los Angeles Lakers' wild and crazy summer continues. ESPN's Chris Haynes reported Friday that free agent forward Michael Beasley has agreed to a deal with the Lakers. The deal is for one year and $3.5 million. Sources: It's a one-year, $3.5 million deal. — Chris Haynes (@ChrisBHaynes) July 20, 2018 Beasley, 29, averaged a solid 13.2 points in 22.3 minutes per game for the New York Knicks last season. He previously played with LeBron James on the...


15 NFL players with something to prove in 2018
The NFL can be notoriously fickle. The risk of injury, the lack of guaranteed money, and the ever-changing game can alter the trajectory of a career very quickly. For some players, it leaves them in a position where they have to prove themselves again in order to re-establish themselves as top-tier stars. Here are 15 players who are looking to do just that in 2018. They may have had off-field issues, a lot of injuries, are entering a contract year, or any combination thereof. Either way, all ey


Report: Yogi Ferrell to join Kings after backing out on Mavs
The Dallas Mavericks have officially lost their man. Shams Charania of Yahoo! Sports reports Friday that guard Yogi Ferrell has agreed to a deal with the Sacramento Kings after backing out of his original Mavs deal. Ferrell's new contract is said to be for two years and $6.2 million. Yogi Ferrell's new Kings contract will be for two years and $6.2M, league sources said. — Shams Charania (@ShamsCharania) July 20, 2018 The 25-year-old Ferrell, who averaged ...


Miami Dolphins owner backs off NFL anthem discipline policy
Miami Dolphins owner Stephen Ross backtracked in a statement on Friday about the team's national anthem discipline policy. On Thursday, word emerged that the Dolphins included anthem protests among the many actions that could lead to a personal conduct suspension from the team, which would be up to a four-game suspension. The Dolphins are backing off now. "We were asked to submit a form to the NFL on our overall discipline policy prior to the start of the rookie report date,"


Rangers calling up top prospect Willie Calhoun
Willie Calhoun is finally set to make his long-awaited 2018 debut. TR Sullivan of MLB.com reports that the Texas Rangers will be calling up the top outfield prospect for Friday's game against the Cleveland Indians. Willie Calhoun being called up to the big leagues tonight…. waiting to hear what other roster moves will be made after Jesse Chavez sent to the Cubs…. Alex Claudio due off the DL on Saturday — TR Sullivan (@Sullivan_Ranger) July 20, 2018 Calhoun, 23, was the


Jaguars DE Dante Fowler suspended one game for 2017 arrest
Jacksonville Jaguars defensive end Dante Fowler has been suspended the first game of the 2018 NFL season for a violation of the league's personal conduct policy, according to a report. NFL Media's Ian Rapoport reported the news on Friday and said the suspension was for a 2017 arrest. #Jaguars pass-rusher Dante Fowler is suspended without pay for the first game of the 2018 regular season for violating the NFL's Personal Conduct Policy. … This is from an arrest in 2017. &mdas...


Colts GM: Andrew Luck ready for training camp
The Indianapolis Colts are revealing a major development on the Andrew Luck front. Speaking with the media on Friday, Colts GM Chris Ballard said that Luck was "good to go" for training camp, according to Ian Rapoport of NFL Network. While Ballard did say that Luck will have no limitations while out there, he added that Luck will not throw for seven days straight. The three-time Pro Bowl quarterback has long been rehabbing his surgically-repaired right shoulder and missed the entire


Magic Johnson threw shade at LaVar Ball during interview
Magic Johnson may not be getting free Big Baller Brand merch any time soon. The Lakers president of basketball operations was a guest on ABC's "Jimmy Kimmel Live" earlier this week. During the appearance, Johnson was asked by Kimmel if he consulted with LaVar Ball before taking a meeting with LeBron James. Johnson replied by laughing hysterically at the mention of Ball's name and quipping to Kimmel, "I would've called you before I called LaVar Ball." M


Report: Braves among teams interested in Zach Britton
Zach Britton has looked sharp in his last several outings with the Baltimore Orioles, and teams are showing an increasing interest in the left-hander heading into the trade deadline. The Atlanta Braves are reportedly one of those teams. According to ESPN's Jerry Crasnick, the Braves are searching for bullpen help and have expressed interest in Britton. The #Braves have talked to the #Orioles about Zach Britton, so you can add them to the list of teams in the mix. Atlanta needs bullpen he


Mavericks dealing with yet another bizarre free agency situation
The Dallas Mavericks seem to have issues in free agency that most other teams either don't have to deal with or are able to keep under wraps, and it sounds like it is happening again. The Mavs seemed to be making progress all week toward a new contract with point guard Yogi Ferrell, and multiple NBA reporters said Thursday that the two sides had agreed to a two-year deal worth somewhere around $5 million. Shams Charania of Yahoo Sports noted that Ferrell had been promised a backup shootin


Lance McCullers calls out MLB for failing to market star players
Major League Baseball has been trying to find ways to offset declining attendance and television ratings for quite some time, and one star pitcher thinks he knows what the league's biggest issue is. In his weekly appearance on Sports 610 Radio Thursday, Houston Astros starter Lance McCullers was highly critical of MLB for being the "worst marketed league" of the major sports in America. "We have the worst marketed league, in my opinion…of the three major sports, in


Mitchell Trubisky makes LeBron reference when talking social media hiatus
Mitchell Trubisky has already grown tired of listening to critics on social media after just one NFL season, so he has decided to take a page out of the LeBron James handbook to eliminate that negativity from his life. While speaking with reporters on Thursday, Trubisky indicated that he is frustrated with all the naysayers doubting the Chicago Bears. "I'm tired of it all, all the doubts, all the comparisons," he said, per ESPN's Emily Kaplan. "I'm ready for


Ex-UFC fighter War Machine reportedly engaged to prison pen pal
War Machine has been sentenced to life in prison with no chance for being released until he is 71, but that is apparently not going to stop the former UFC fighter from getting married to a woman he met while behind bars. War Machine, whose real name is Jonathan Paul Koppenhaver, was sentenced to life in prison last year for attacking his ex-girlfriend Christy Mack and a man she was with at the time back in 2014. His charges included assault, kidnapping, strangulation, coercion and trying to dis


Report: Julian Edelman will not pursue any further suspension appeal
Julian Edelman had the appeal of his four-game suspension denied earlier this month, and the New England Patriots receiver is reportedly not planning to pursue other avenues in which he can have the ban overturned. According to Tom Pelissero of NFL Network, Edelman has no plans to take his case to federal court the way Tom Brady did with his four-game suspension in the Deflategate scandal. Instead, the 33-year-old is focusing all his time and energy on being ready for Week 5. #Patriots WR Juli


LiAngelo, LaMelo Ball each scored 48 points in JBA game
If you want to see the Ball brothers score a ton of points by taking an absurd amount of shots, the Junior Basketball Association is the league you have been waiting for. Thursday night's game between Los Angeles and Atlanta featured almost as much scoring as an NBA All-Star Game, and LiAngelo and LaMelo Ball combined for almost 100 points on 89 shots. They dropped 48 each, with LiAngelo converting 19-of-54 shots including 5-of-24 from three-point range. Final Los Angeles 170Atlanta 123


The personal side of Special Olympics for Tim Shriver
As the Special Olympics turns 50 years old today, Tim Shriver -- chairman of the organization and son of founder Eunice Kennedy Shriver -- reflects on the beginning of the movement and where he sees it in another 50 years.