Astros Select Jake Meyers, Designate Nivaldo Rodriguez For Assignment
The Astros announced a number of roster moves today. Phil Maton — acquired yesterday from the Indians — was added to the active roster, while Jake Meyers had his contract selected. To make room on the active roster, Bryan Abreu was optioned to the taxi squad and Brandon Bielak was optioned to Triple-A. To create…


Yankees Designate Sal Romano For Assignment
The Yankees announced that right-hander Sal Romano has been designated for assignment.  The move creates a roster spot for left-hander Andrew Heaney, acquired yesterday in a trade with the Angels. Signed to a minor league deal in May, Romano had his contract selected last week and he tossed 2 1/3 scoreless innings over two appearances…


Padres Place Fernando Tatis Jr, Chris Paddack On 10-Day IL
The Padres have placed shortstop Fernando Tatis Jr. and right-hander Chris Paddack on the 10-day injured list.  Tatis is on the IL with left shoulder inflammation, after leaving last night's game with a shoulder problem following a slide into third base.  Paddack has been sidelined with a left oblique strain, and his placement is retroactive…


The latest on coronavirus situations from around baseball… Marlins manager Don Mattingly has tested positive for COVID-19, the team announced (MLB.com's Christina De Nicola was among those to report the news).  Mattingly is experiencing some mild symptoms but has been vaccinated against the coronavirus.  Bench coach James Rowson will serve as acting manager while Mattingly…


Angels Notes: Deadline Trades, Minasian, Cobb, Ward
The Angels acted as sellers rather than buyers at yesterday's trade deadline, moving Andrew Heaney to the Yankees and Tony Watson to the Giants in a pair of deals.  However, these were the only moves made, as "we were not focused on tearing down this team by any stretch," GM Perry Minasian told The Los…


Marlins Reinstate Trevor Rogers From 10-Day IL, Designate Preston Guilmet
The Marlins announced four roster moves prior to their game with the Yankees, most notably the activation of tonight's scheduled starting pitcher.  Trevor Rogers has been reinstated from the 10-day injured list, and newly-acquired catcher Alex Jackson has also officially been added to the roster.  In corresponding moves, right-hander Preston Guilmet was designated for assignment…


Braves Option Orlando Arcia, Sean Newcomb
Deadline acquisitions Richard Rodriguez and Jorge Soler are in Atlanta and active or tonight's ballgame, per the team. To make room for their arrival, Orlando Arcia and Sean Newcomb have been optioned to Triple-A. Arcia came over from the Brewers midseason and had mostly played left field for the Braves — his first outfield appearances…


Taylor Rogers' Season In Jeopardy Due To Finger Injury
Taylor Rogers is hoping to avoid a season-ending surgery in the wake of his recent finger injury, Twins manager Rocco Baldelli told The Minneapolis Star Tribune's Phil Miller and other reporters.  Baldelli initially thought that Rogers' injury would indeed keep the left-hander out of action for the remainder of the 2021 season, though Rogers received…


Deadline Notes: Rockies, Story, Mets, Bryant, Gibson, Nationals, Dodgers
The Rockies reportedly received offers for All-Star shortstop Trevor Story from the Yankees, Brewers, White Sox, and Rays prior to Friday's trade deadline, per Jon Heyman of the MLB Network (via Twitter). The Rockies have been criticized for their failure to move Story, given that they are all but assured to lose him as a free…


Dodgers Place Tony Gonsolin On 10-Day Injured List
The Dodgers have placed right-hander Tony Gonsolin on the 10-day injured list due to right shoulder inflammation, and also sent right-hander Brusdar Graterol and outfielder Luke Raley to Triple-A.  The trio of moves clears the way for Max Scherzer to be activated onto the Dodgers' roster, while righty Edwin Uceta and southpaw Garrett Cleavinger were…


Tyler Glasnow Expected To Undergo Tommy John Surgery
Rays right-hander Tyler Glasnow is expected to undergo Tommy John surgery next week, per ESPN's Jeff Passan (via Twitter). That not only officially marks an end to his 2021 season, but perhaps his 2022 season as well. Passan adds that he may not return until 2023, though there remains a "small chance" that they'll find…


Injury Updates: Brito, Marte, Kershaw, Sale
Phillies Triple-A prospect Daniel Brito collapsed in the first inning of today's game, and had to be taken off the field via ambulance.  According to a statement released by the team, Brito is currently undergoing surgery at a local hospital, but no other details were provided.  (Sal Maiorana of The Rochester Democrat and Chronicle has…


July Headlines: National League
This year's trade season did not disappoint. After a wild couple of days, we're gonna do our best to recap the action from one of the busiest trade deadline in recent memory. Let's start with the headlines coming out of the Senior Circuit this month… The Champ Are Still The Champs: This phrase, in many ways,…


Fernando Tatis Leaves Game With Apparent Shoulder Injury
Padres shortstop Fernando Tatis Jr. left tonight's game after sliding into third base and seemingly re-injuring his left shoulder, according to Dennis Lin of The Athletic. There isn't any word yet on the severity of the injury. But this is an issue that has been bothering Tatis on-and-off for the entire season. It first flared…


Nationals Expected To Activate Josiah Gray, Mason Thompson
In trading away much of their current roster before yesterday's trade deadline, the Nationals prioritized talent that was close to Major League ready. The hope and expectation was that many of the players acquired over the past few days will soon join Juan Soto, Victor Robles, and company in DC to begin shaping the next…


Diamondbacks Sign First-Rounder Jordan Lawlar
4:19PM: The D'Backs have officially announced their agreement with Lawlar. 3:45PM: As originally reported yesterday by John Gambadoro of 98.7FM Phoenix, the Diamondbacks reached an agreement with sixth overall pick Jordan Lawlar.  The high school shortstop signed for a hefty $6,713,300 bonus, according to MLB Pipeline's Jim Callis (Twitter links).  This is both well over…


Diamondbacks Reinstate Carson Kelly, Place Five On COVID-IL,
The Diamondbacks appear to be dealing with a COVID outbreak, according to Bob Nightengale of USA Today. He lists Stuart Fairchild, Joe Mantiply, Noe Ramirez, Riley Smith and Pavin Smith as those going on the IL. Manager Torey Lovullo told Zach Buchanan of The Athletic that Ramirez and Fairchild actually tested positive. Because of those…


Mets Designate Anthony Banda, Outright Akeem Bostick
The Mets announced that left-hander Anthony Banda has been designated for assignment, while right-hander Akeem Bostick has been outrighted to Triple-A.  (Bostick was DFA'ed yesterday as part of the Mets' roster shuffles on deadline day.)  The moves open up some 40-man roster space for the two particulars of yesterday's big trade with the Cubs —…


Trevor Story "Confused" By Lack Of Trade
Rockies' shortstop Trevor Story is "confused" after not being traded before today's deadline, according to Patrick Saunders of The Denver Post. "I don't have really anything good to say about the situation and how it unfolded," Story says. Story has been often mentioned as a logical trade candidate, given the fact that he's a pending…


Nationals Sign First-Rounder Brady House
As reported yesterday, the Nationals signed first-round pick Brady House. His deal is worth $5MM, per Jon Heyman of the MLB Network (via Twitter). The slot value for the 11th overall selection is $4.55MM. House's signing represents a bit of good news for Nats fans amid their sell-off yesterday. The high school shortstop was long…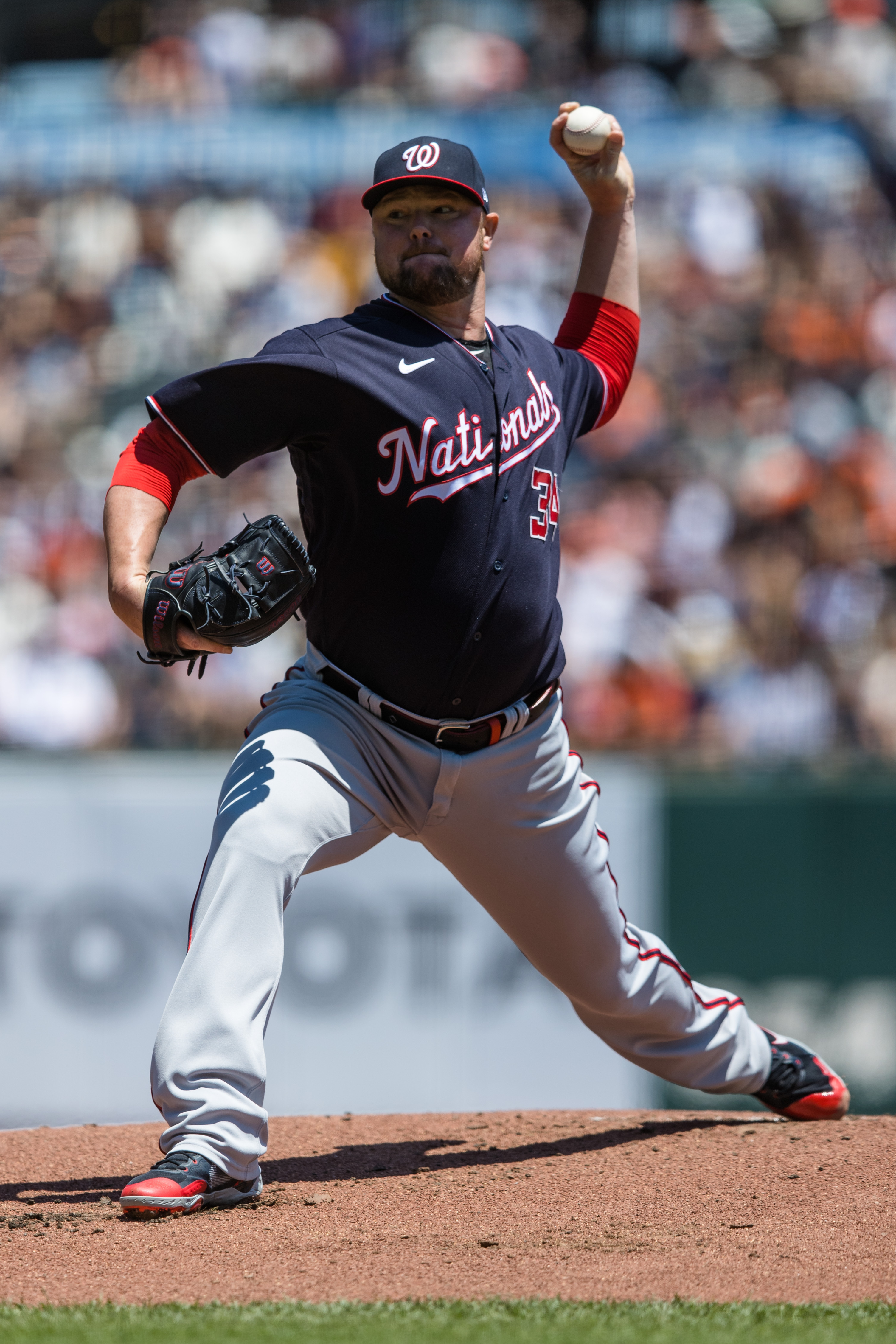 Nationals, Cardinals Swap Jon Lester For Lane Thomas
The Cardinals added a second veteran lefty just prior to the trade deadline, agreeing to acquire longtime division rival Jon Lester from the Nationals in exchange for outfielder Lane Thomas. Both teams announced the swap. Lester joins fellow graybeard J.A. Happ as a new addition to a Cardinals rotation that has been decimated by injury.…


Twins Exploring Buxton, Donaldson Trades
1:36PM: Both Buxton and Josh Donaldson are being shopped by the Twins, MLB.com's Mark Feinsand tweets. 12:56PM: The Twins have already traded Nelson Cruz and Jose Berrios, and they're surely not done for the day, with several other players to shop to contending clubs. Center fielder Byron Buxton's market has picked up steam since last…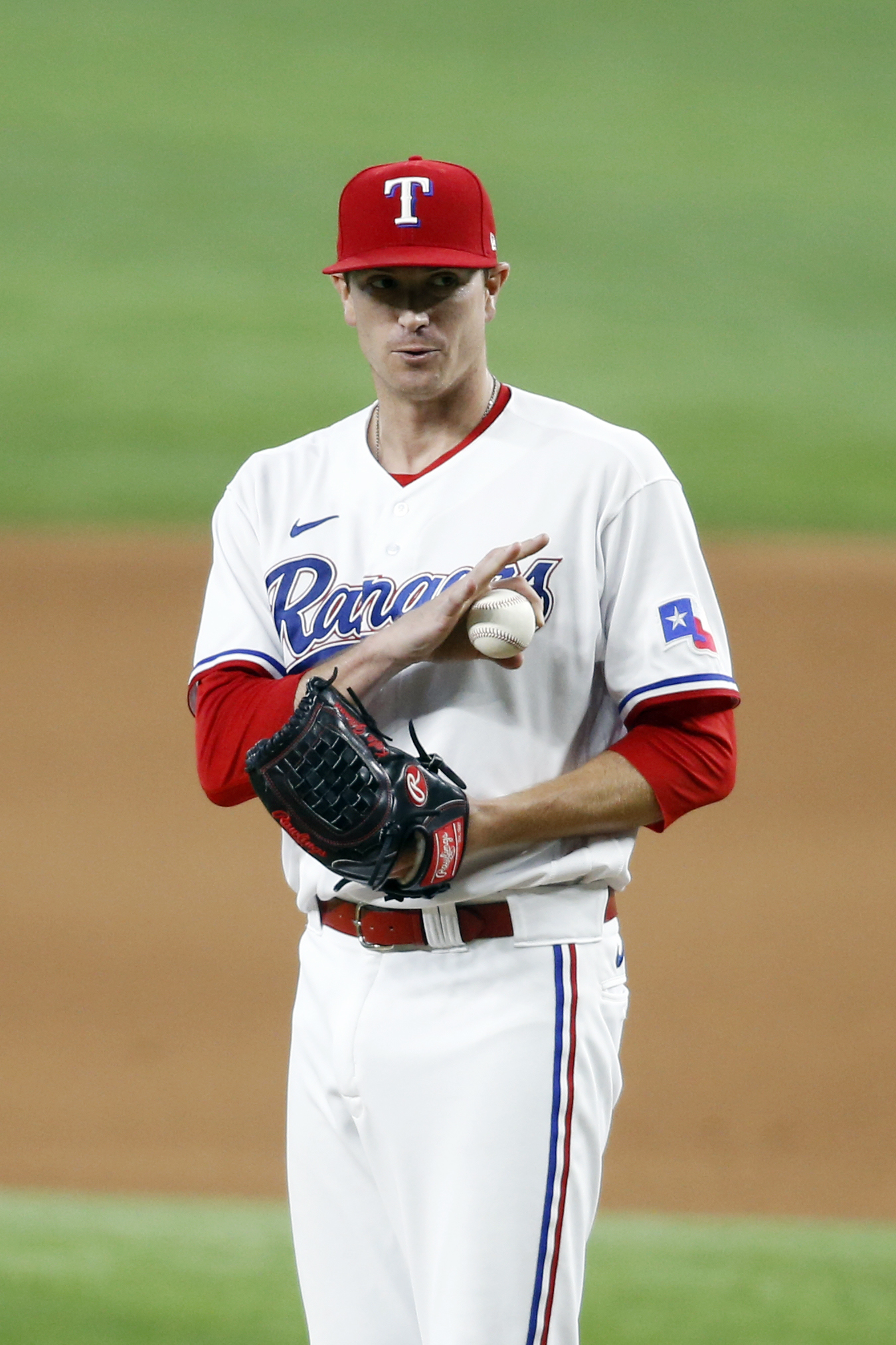 Phillies Acquire Kyle Gibson, Ian Kennedy For Package Including Spencer Howard
The Phillies struck a deadline deal to add a pair of quality arms — one each for the rotation and the bullpen. Philadelphia acquired starter Kyle Gibson and reliever Ian Kennedy from the Rangers, along with pitching prospect Hans Crouse. In return, the Phils are sending three players, including young righty Spencer Howard. Texas also added pitching prospects Kevin Gowdy and Josh…


Kyle Gibson Rumors: Deadline Day
Rangers right-hander Kyle Gibson is enjoying a career year, reaching his first All-Star Game and posting a 2.87 ERA and 50.8% grounder rate over 113 innings.  There are some red flags (a 4.46 SIERA and a below-average 20.4% strikeout rate), but for a veteran arm controlled through 2022 on an $8MM salary, Gibson has been…


Tigers Reportedly Discussing Michael Fulmer In Trades
The Tigers have been discussed reliever Michael Fulmer with other teams this afternoon, reports Jon Morosi of MLB.com (Twitter link). Detroit needn't move Fulmer, who's controllable through next season via arbitration, unless particulaly impressed by an offer. Fulmer has tossed 42 innings of 3.86 ERA/3.44 SIERA ball this season, his first as a bullpen option. He's…


Dodgers Reinstate Corey Seager From Injured List
The Dodgers announced they're activating star shortstop Corey Seager from the 60-day injured list prior to this evening's game against the Diamondbacks. He's in tonight's starting lineup, hitting cleanup and playing shortstop. The star shortstop has been out since being hit on the hand with a pitch from Ross Detwiler in mid-May. X-rays revealed a fractured…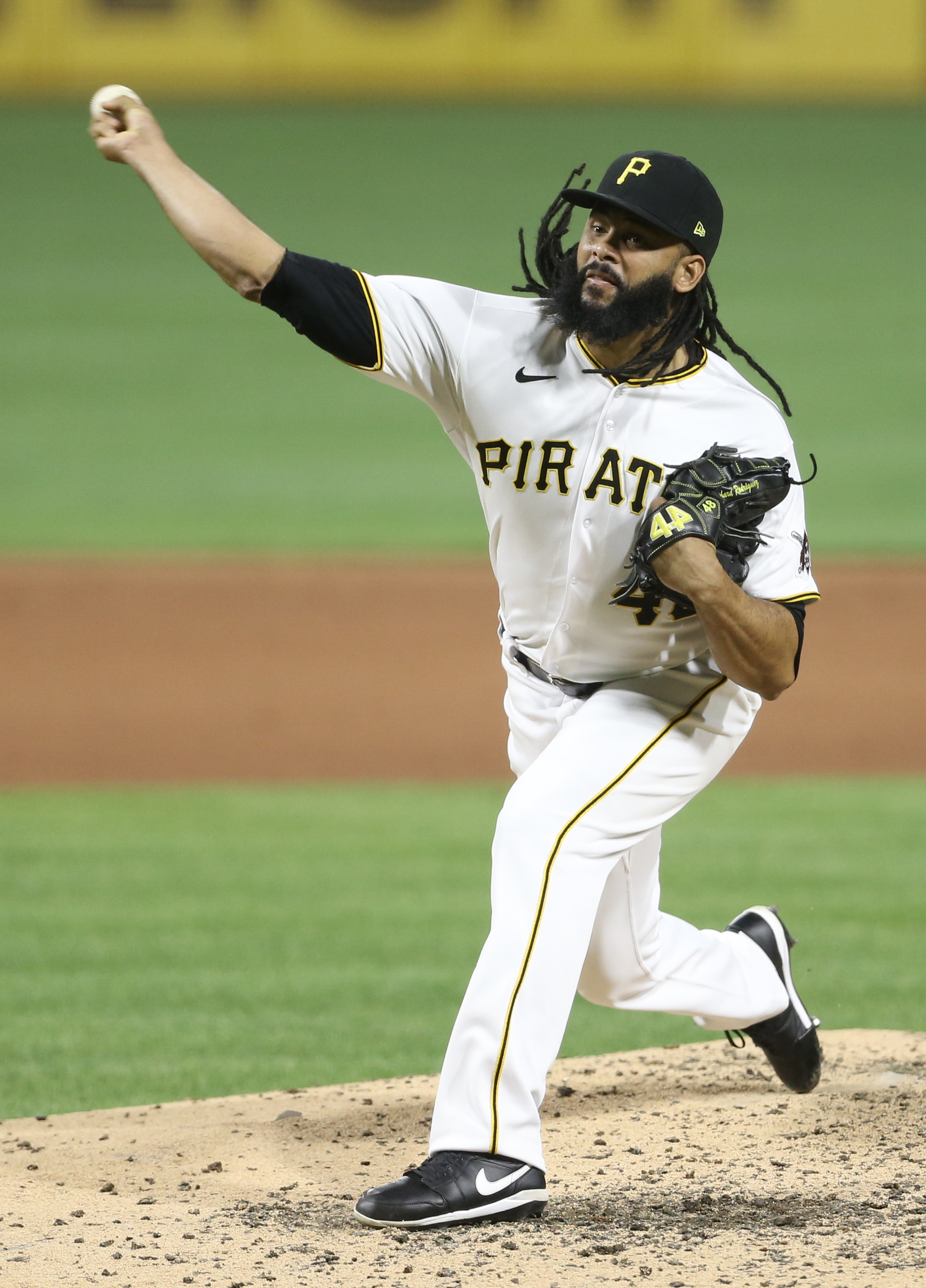 Braves To Acquire Richard Rodriguez
The Braves and Pirates completed a last-minute deal sending closer Richard Rodriguez from Pittsburgh to Atlanta, reports ESPN's Jeff Passan (via Twitter). Ken Rosenthal of The Athletic adds that righties Bryse Wilson and Ricky DeVito are headed to Pittsburgh in return for Rodriguez. Rodriguez, 31, is under team control through 2023.  He currently sports a…


Twins Claim Edgar Garcia From Reds
The Twins announced that they've claimed right-handed reliever Edgar Garcia off waivers from the Reds and optioned him to Triple-A St. Paul. Cincinnati designated Garcia for assignment earlier in the week. The 24-year-old Garcia has seen MLB time with the Phillies, Rays and Reds but limped to a 7.14 ERA in 46 1/3 innings. His…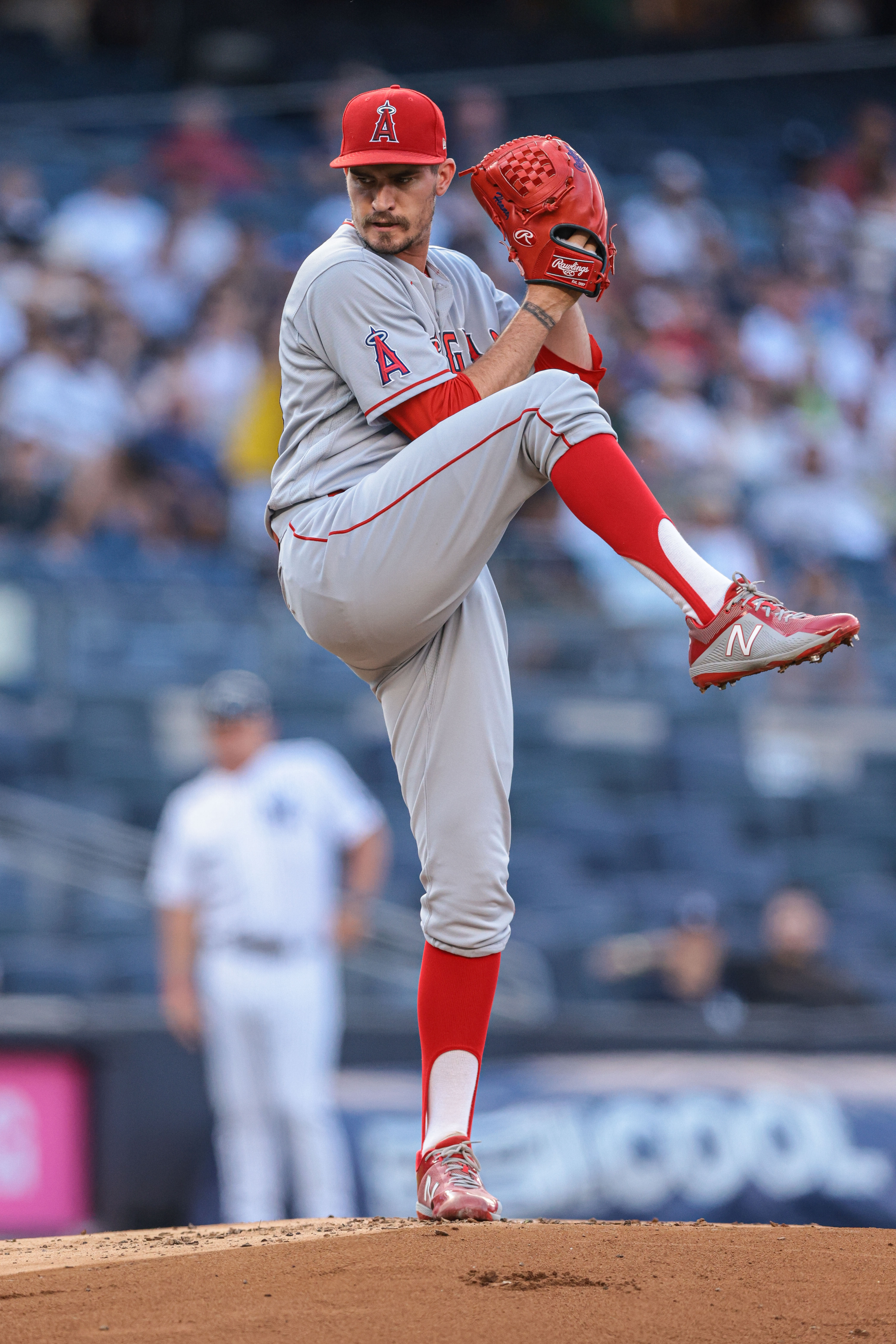 The Yankees made a late deal to bolster the back of their rotation prior to Friday's trade deadline, announcing the acquisition of Angels left-hander Andrew Heaney. New York is sending minor league righties Janson Junk and Elvis Peguero back to the Halos in the deal. Heaney, 28, will be a rental option for the Yankees,…


Jacob deGrom Shut Down Another Two Weeks Following Setback
Mets ace Jacob deGrom has suffered a setback in his rehab from a forearm issue, as recent testing revealed additional inflammation, MLB.com's Anthony DiComo reports (Twitter link). He'll be shut down from throwing entirely for another two weeks. It's already been more than three weeks since deGrom pitched in a game, so he'll need some…


The Braves have picked up slugger Adam Duvall in a trade with the Marlins, as originally reported by Craig Mish of The Miami Herald (Twitter links).  Catcher Alex Jackson is heading to the Marlins. It is the second outfield trade in a matter of minutes for the Braves, who also just acquired Eddie Rosario from…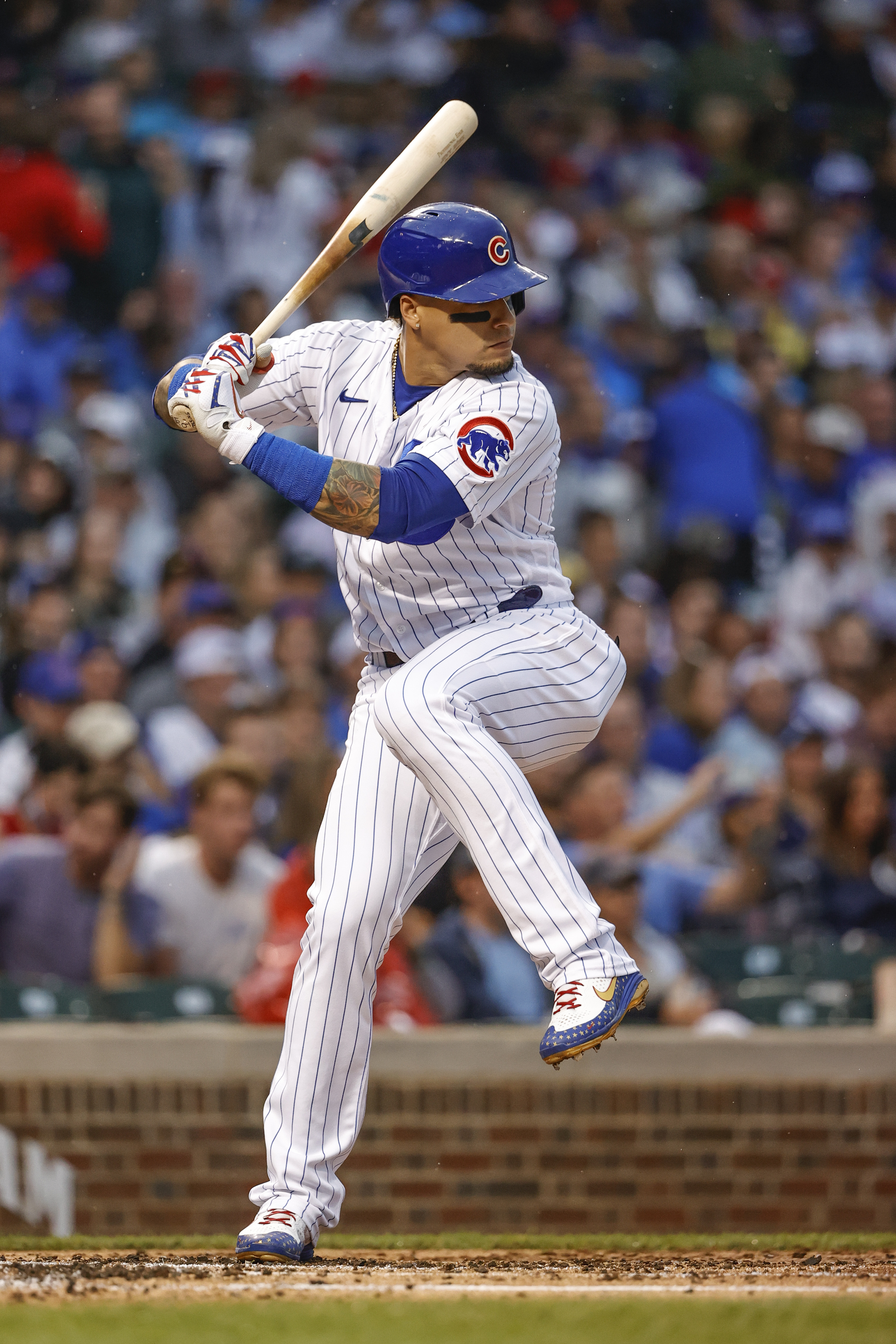 Mets Acquire Javier Baez, Trevor Williams
The Mets and Cubs announced agreement on a deal sending star shortstop Javier Baez to Queens. He'll be accompanied by right-hander Trevor Williams, with outfield prospect Pete Crow-Armstrong sent back to Chicago in return. Between landing Francisco Lindor during the offseason and now trading for Baez, the Mets have obtained two of the sport's best shortstops (who are…


After what was arguably the wildest trade deadline in years with dozens of deals around the league, multiple teams made follow-up roster moves. Trades end up squeezing some players off of rosters, or creating holes that need to be filled. This post will itemize the many 40-man roster moves that teams made after a dizzying…


Today's most notable signings from last week's amateur draft.  As always, you can get more background on these players via the prospect rankings and scouting reports compiled by Baseball America, Fangraphs, MLB Pipeline, The Athletic's Keith Law, and ESPN's Kiley McDaniel.  As well, here is MLB Pipeline's breakdown of the slot values assigned to each pick in the first 10 rounds, as…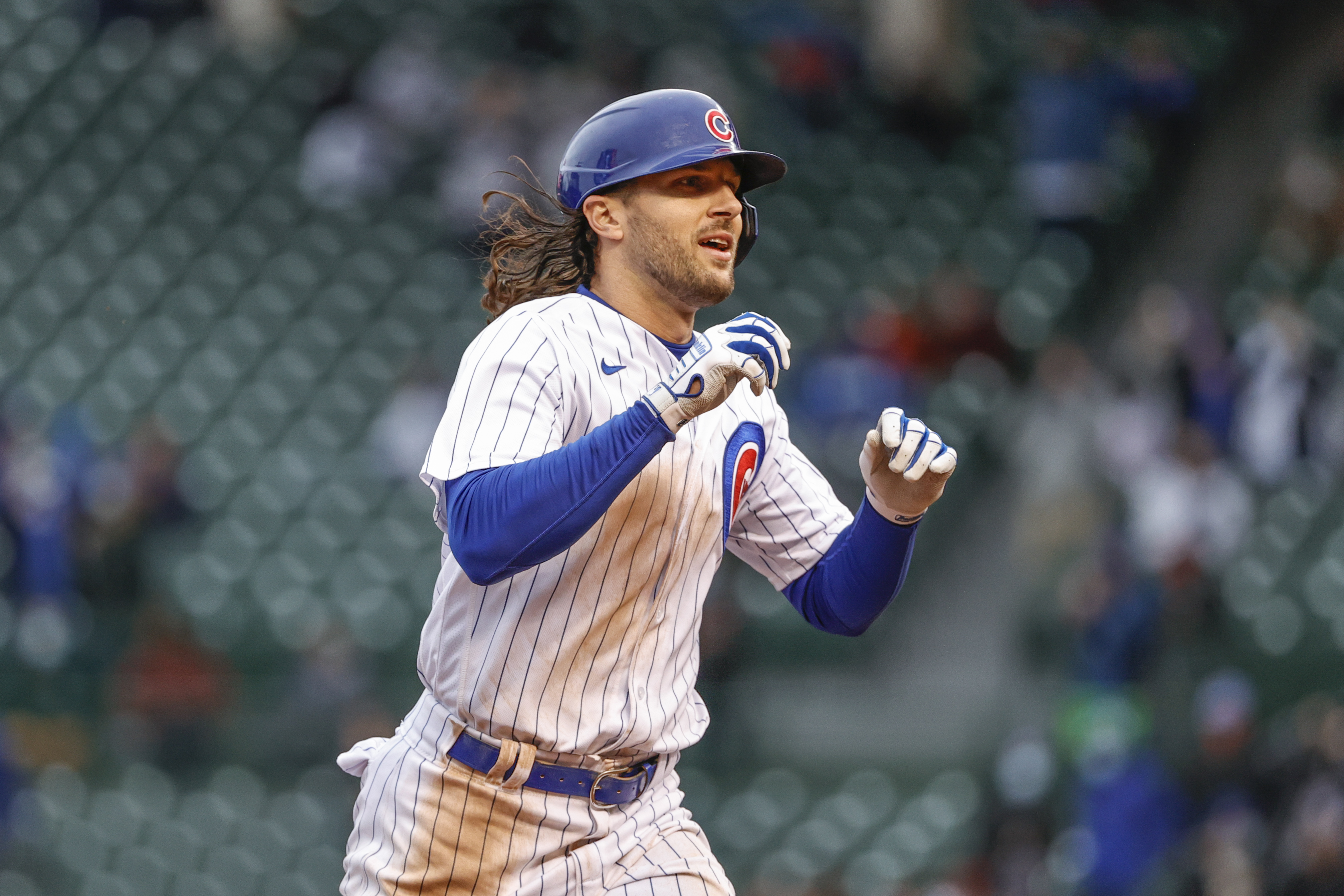 Padres Acquire Jake Marisnick From Cubs
The Padres have acquired outfielder Jake Marisnick from the Cubs, tweets ESPN's Jeff Passan.  Righty Anderson Espinoza heads to the Cubs in return, tweets Jeff Sanders of the San Diego Union-Tribune. Marisnick, 30, signed a $1.5MM free agent deal with the Cubs back in February.  He's got a 95 wRC+ in 144 plate appearances this…


Rockies Reportedly Lower Asking Price On Trevor Story
1:03 pm: With just under two hours before the deadline, the Rockies have lowered their asking price on Story, one executive tells Sherman. That person suggests it's now more likely than not that Story will be traded. 12:03 pm: There's little traction between the Rockies and either of Tampa Bay or Toronto on a Story…


Kris Bryant Rumors: Deadline Day
With free agency looming in November, Kris Bryant has likely already played his last game as a Cub.  The 29-year-old sports a 132 wRC+ in 374 plate appearances this year, and has shown versatility in playing at least 80 innings at both infield corners and all three outfield positions.  With a $19.5MM salary on the…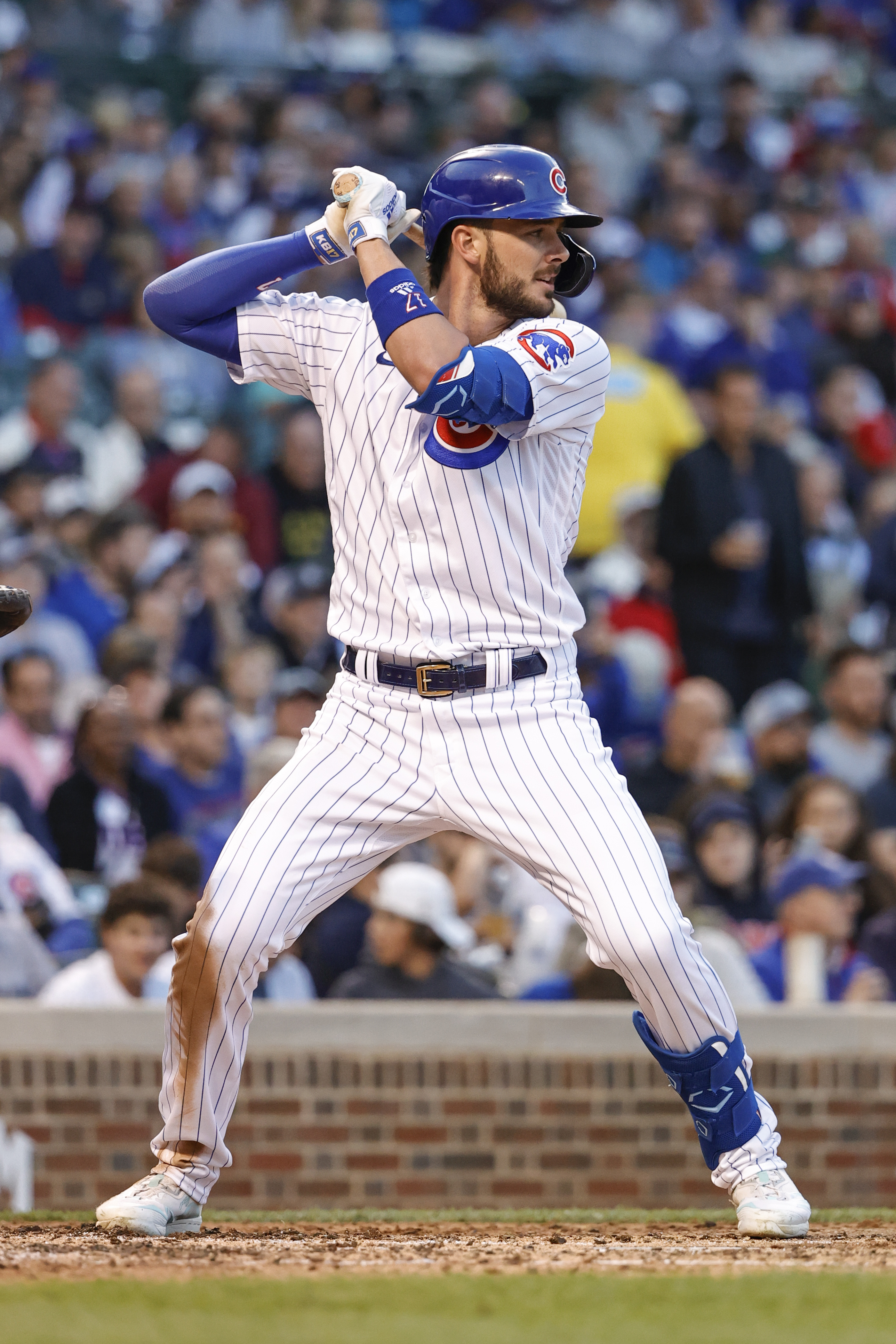 The Giants made a major splash at the trade deadline buzzer, acquiring slugger Kris Bryant from the Cubs for prospects Alexander Canario and Caleb Kilian.  ESPN's Jeff Passan broke news of the trade, while Francys Romero of LasMayores was first on Canario and journalist Marc Delucchi had Kilian. Drafted second overall in 2013 out of the University…


Jose Berrios Reportedly "Primary Target" For Padres
With the Padres having narrowly missed out in their efforts to land Max Scherzer, San Diego is turning their attention to the next-best starting pitcher believed to be on the trade market. Twins righty Jose Berríos is a "primary target" for the Friars in the coming hours, writes AJ Cassavell of MLB.com. It's not especially surprising to…


Blue Jays, Athletics Reportedly Interested In Yan Gomes
The Blue Jays and Athletics are among the teams interested in Nationals catcher Yan Gomes, reports Bob Nightengale of USA Today (Twitter link). The veteran backstop is widely expected to wind up on the move by Friday afternoon's deadline as the Nationals continue to move players off the big league roster. Gomes recently missed a couple…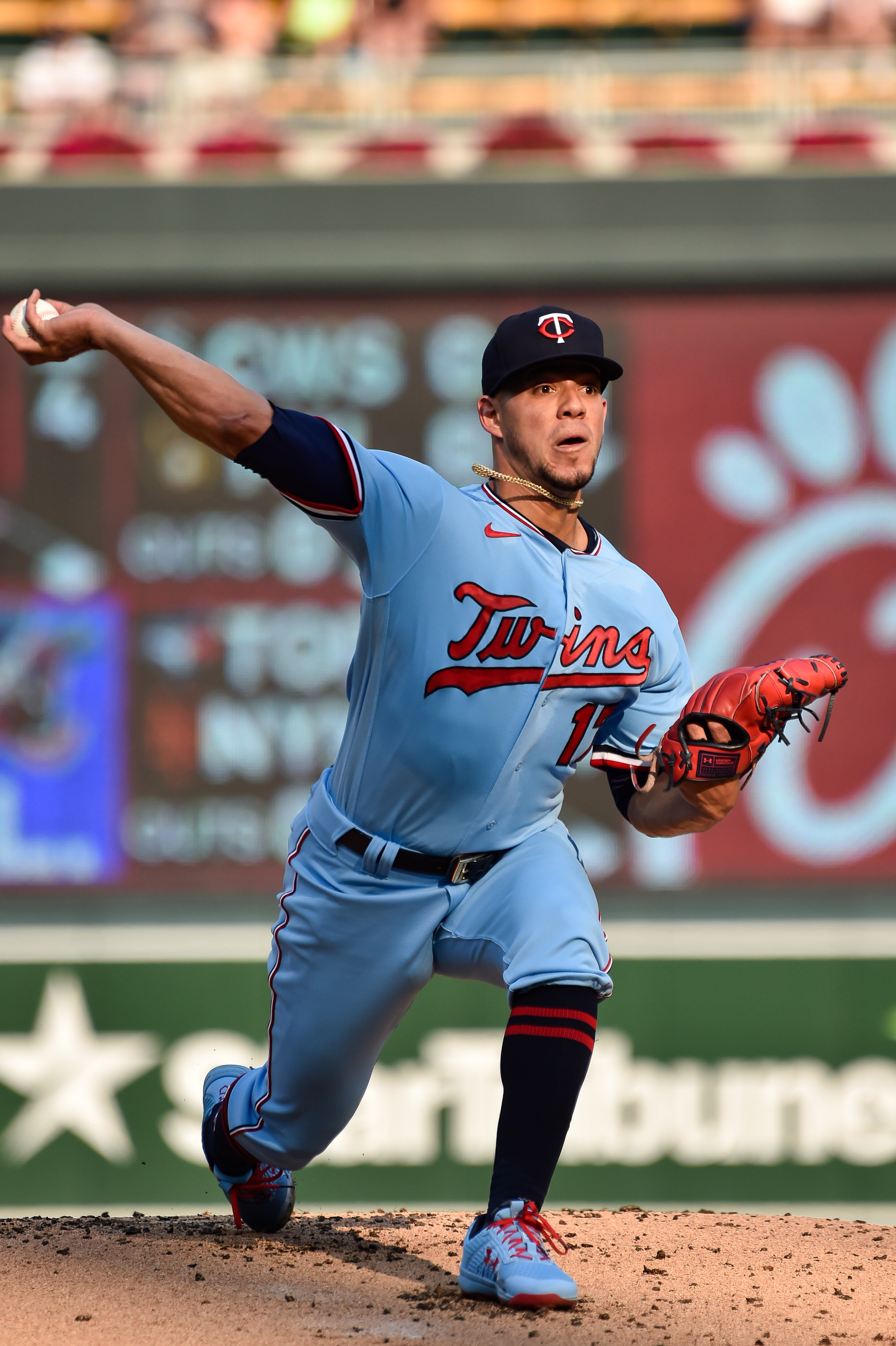 Blue Jays Acquire Jose Berrios
12:02pm: The Blue Jays have announced the trade. 11:31am: The Blue Jays and Twins have a deal in place sending right-hander Jose Berrios to Toronto, reports Ken Rosenthal of The Athletic (Twitter link). MLB.com's Jon Morosi reports that top pitching prospect Simeon Woods Richardson is part of the return. Infielder Austin Martin, the No. 5…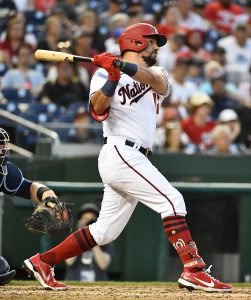 Red Sox Acquire Kyle Schwarber From Nationals
The Red Sox have made a significant addition to the lineup, announcing the acquisition of corner outfielder Kyle Schwarber from the Nationals. Pitching prospect Aldo Ramirez is headed back to Washington in return. To create 40-man roster space, Boston designated reliever Brandon Workman for assignment. It's the continuation of a rapid sell-off for the Nationals, who were straddling the line…


Angels Make Raisel Iglesias Available In Trade Talks
The Angels have added another entry to an already wild relief market, as MLB Network's Jon Heyman reports that Los Angeles has made closer Raisel Iglesias available in trade negotiations. It would be the second trade in eight months for Iglesias, who was somewhat surprisingly acquired by the Angels last December as Cincinnati was looking…


The Indians and Braves have announced a deal sending corner outfielder Eddie Rosario and cash considerations to Atlanta in exchange for corner infielder Pablo Sandoval. It's the first of two outfield pickups on deadline day for the Braves, who reacquired Adam Duvall from Miami as well. Atlanta also picked up Joc Pederson earlier this month as part of an effort to…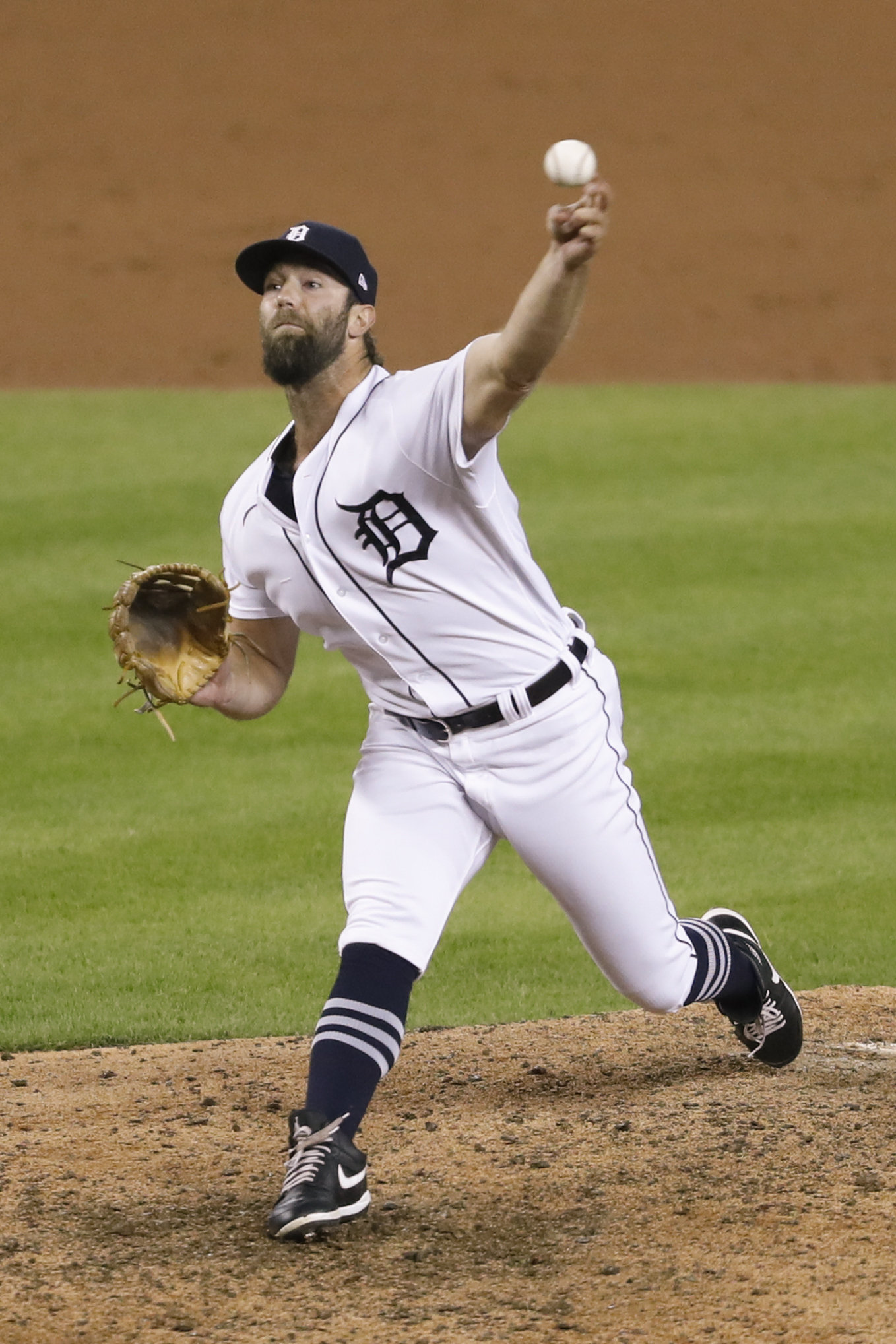 Brewers Acquire Daniel Norris From Tigers
The Brewers are finalizing a deal to acquire lefty reliever Daniel Norris from the Tigers, tweet Jeff Passan and Kiley McDaniel of ESPN.  MLB.com's Jason Beck first broke news of the trade discussions, and he hears that minor league starter Reese Olson is heading back to the Tigers.  The deal is done, according to Evan…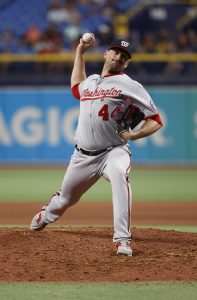 Padres Acquire Daniel Hudson From Nationals
The Padres have acquired one of the top relievers on the trade market. San Diego announced a deal with the Nationals to add Daniel Hudson to the late-inning mix. Two prospects — pitcher Mason Thompson and infielder Jordy Barley — are expected to head to Washington in return. Hudson becomes the latest player out the door as part of the Nationals broader…


Angels To Promote Reid Detmers
8:10PM: Cobb is indeed going on the IL, according to the team. But it's because of "right wrist inflammation" and not a blister. 7:19 PM: The Angels are going to promote top pitching prospect Reid Detmers to make his major league debut, according to Rhett Bollinger of MLB.com. Although Bollinger originally said the debut would…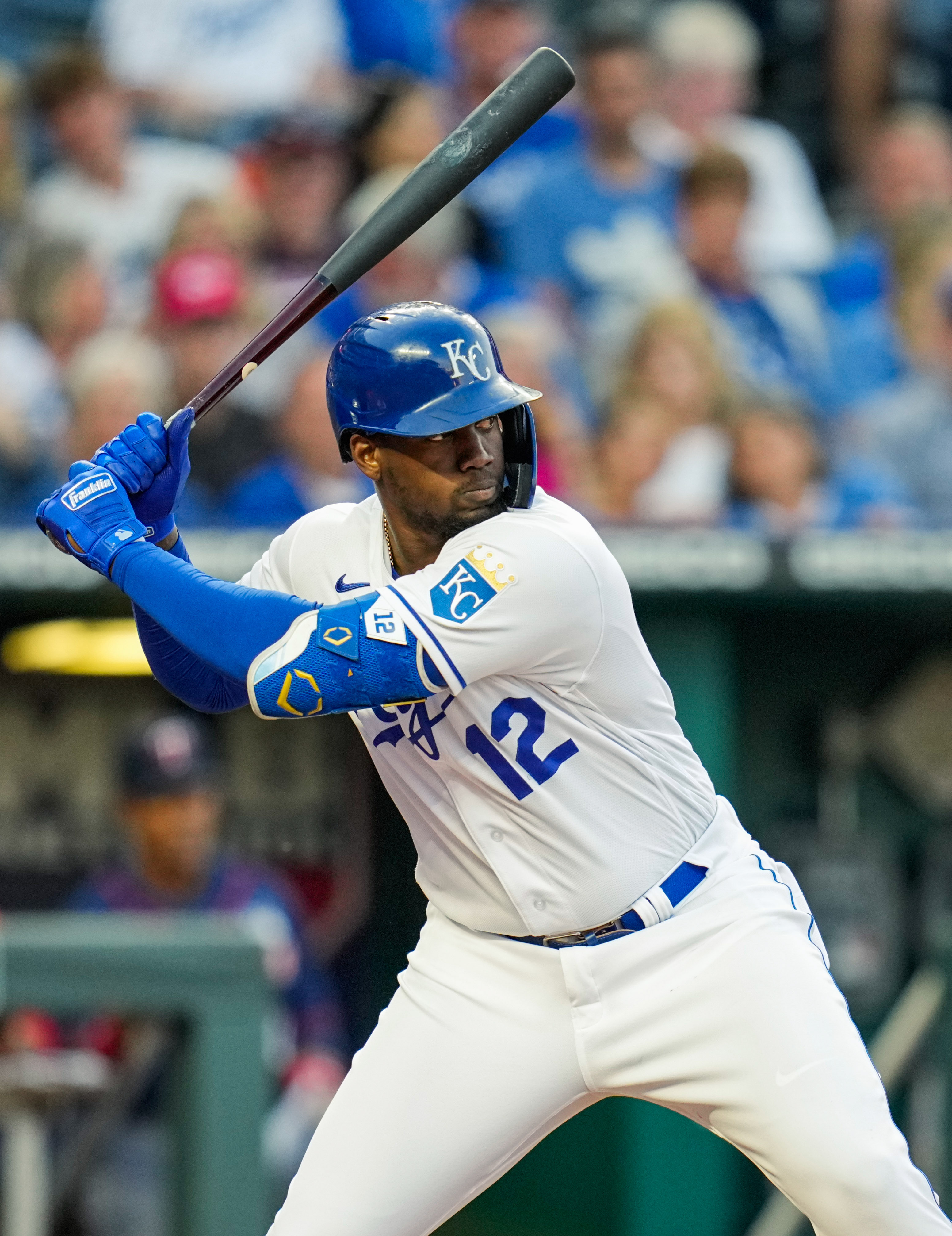 The Braves have acquired outfielder Jorge Soler from the Royals, reports MLB Network's Jon Heyman (via Twitter). ESPN's Jeff Passan tweets that Kansas City will receiver minor league right-hander Kasey Kalich in return. In the wake of Ronald Acuna's season-ending ACL tear and Marcell Ozuna's dislocated fingers and subsequent domestic violence arrest, Braves President, Baseball…


Craig Kimbrel Rumors: Deadline Day
The market is heating up for star reliever Craig Kimbrel, who looks likely to wind up traded before this afternoon's deadline. With the Cubs moving players off the big league roster, there's little reason to hold onto Kimbrel at a time when his value is almost certainly at its apex. The eight-time All-Star is having as…


Blue Jays Designate Tyler Chatwood For Assignment
The Blue Jays announced they've designated reliever Tyler Chatwood for assignment. The move creates roster space for Jose Berríos, who was acquired in a deadline blockbuster from the Twins this afternoon. Toronto can technically trade Chatwood within the next two hours, but it seems likelier he'll be waived and then cut loose — either via release or…


White Sox To Acquire Craig Kimbrel For Nick Madrigal, Codi Heuer
1:28 pm: The Cubs are picking up second baseman Nick Madrigal and fellow reliever Codi Heuer in return, reports Bob Nightengale of USA Today (on Twitter). 1:21 pm: The White Sox are acquiring star closer Craig Kimbrel from the Cubs, reports Michael Cerami of Bleacher Nation (Twitter link). He'll pair with Liam Hendriks to give the South Siders a lethal…


Mariners, Rays Finalizing Deal Involving Diego Castillo And JT Chargois
The Mariners are finalizing an agreement to acquire reliever Diego Castillo from the Rays, reports Jeff Passan of ESPN (Twitter link). In return, Seattle is sending fellow bullpen arm JT Chargois and third base prospect Austin Shenton to Tampa Bay, reports Ryan Divish of the Seattle Times (Twitter link). Castillo steps in, presumably, as the piece that Seattle…


Dodgers Expected To Acquire Max Scherzer, Trea Turner
9:01 pm: The Dodgers are assuming the entirety of Turner's remaining salary, as well as the money owed to Scherzer for the remainder of the 2021 season, reports Chelsea Janes of the Washington Post (on Twitter). 8:25 pm: Gerardo Carrillo is the final player involved, reports Jim Bowden of the Athletic (Twitter link). 8:06 pm: Outfield…


Padres Close To Acquiring Max Scherzer, But Other Teams Still In The Mix
6:19 pm: The Angels are also still in the mix for Scherzer, according to Heyman. 4:40 pm: Other teams are indeed still trying to top the Padres' offer for Scherzer, says Rosenthal. While Washington and San Diego have "essentially" agreed on the framework of a trade, the various obstacles involved with Scherzer's situation (particularly his…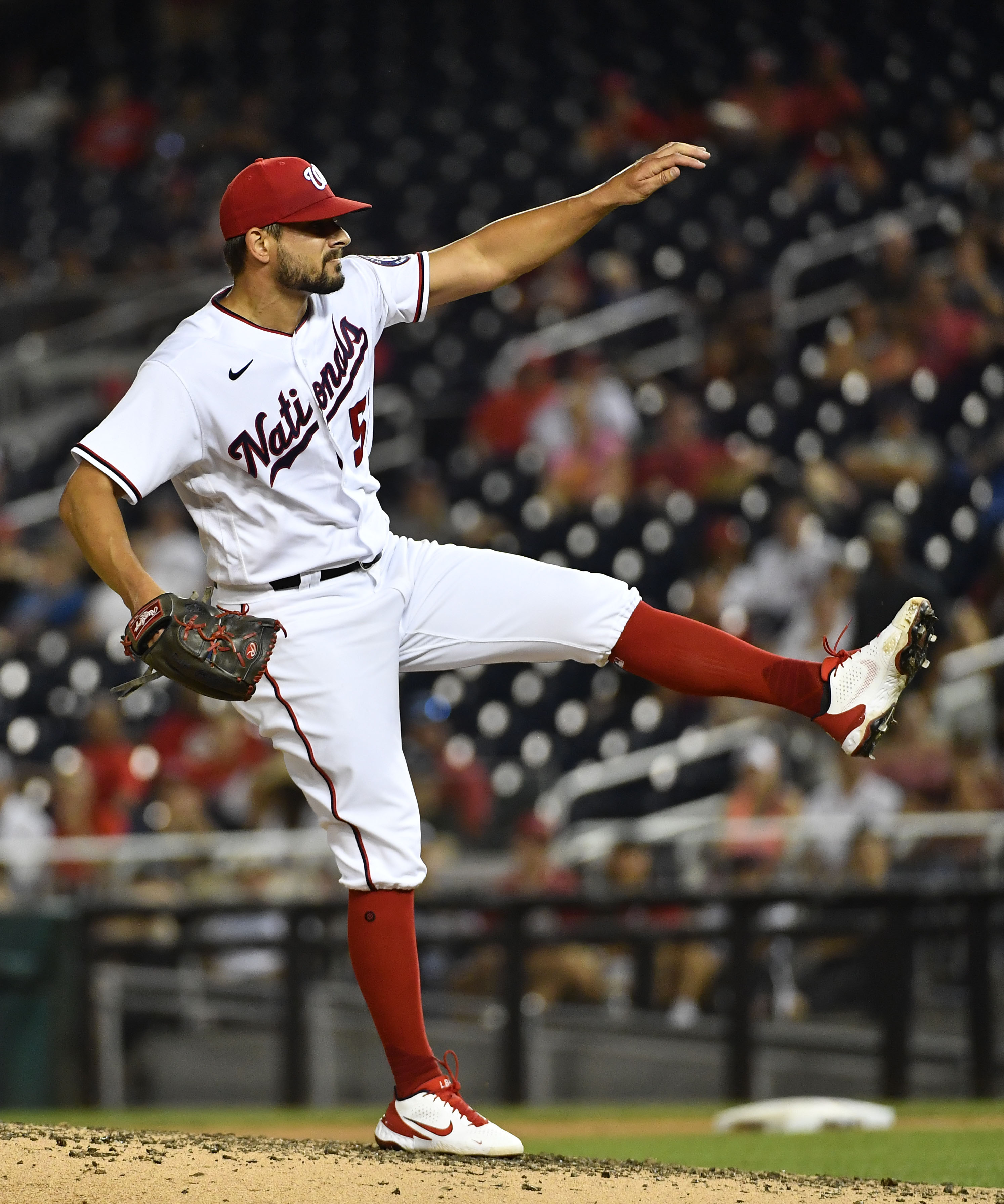 Nationals Trade Brad Hand To Blue Jays
The Blue Jays have added another arm to their bullpen mix, announcing the acquisition of veteran lefty Brad Hand from the Nationals in exchange for catcher Riley Adams. Hand, who signed a one-year, $10.5MM deal with the Nats this past offseason, will be a free agent at season's end. Hand, 31, has been one of the game's…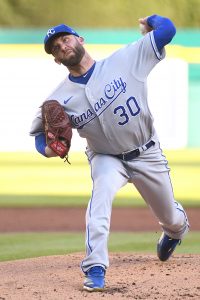 Dodgers Acquire Danny Duffy From Royals
The Royals parted ways with one of the faces of their franchise this evening, announcing a trade to send Danny Duffy to the Dodgers in exchange for a player to be named later. Kansas City will include an undisclosed amount of cash to offset some or all of his remaining salary. To create 40-man roster space, the…


Mariners Among Teams Pursuing Jose Berrios
The Twins have already traded away Nelson Cruz, and with an off-day Thursday, today's focus figures to be entirely on their deadline efforts to reload the club for 2022 and beyond. Jose Berrios is Minnesota's most coveted trade candidate, and Phil Miller of the Minneapolis Star-Tribune writes that offers for Berrios "have spiked" with the…


The Braves announced Thursday that they've released outfielder Ender Inciarte. He'd been designated for assignment earlier in the week. Inciarte, 30, came to the Braves alongside Dansby Swanson in the deal that sent Shelby Miller to Arizona, and he quickly solidified himself as a quality top-of-the-order presence with standout defense. His first pair of seasons…


Rockies Acquire Ashton Goudeau
The Rockies announced Thursday that they've acquired right-hander Ashton Goudeau from the Reds in exchange for cash. Cincinnati had designated Goudeau for assignment earlier in the week. The 29-year-old Goudeau's transaction log reads like something from a video game. Originally a Royals draft selection, Goudeau went to the Mariners in exchange for cash in 2018.…


Red Sox Among Teams In Mix For Max Scherzer
11:44am: The Red Sox are indeed in the mix for Scherzer, tweets MLB Network's Jon Heyman, who adds that Scherzer is open to a trade to Boston. ESPN's Jesse Rogers, meanwhile, hears that Scherzer would not approve a trade to the Astros or Phillies. 9:54am: Max Scherzer remains the most intriguing trade candidate on the…


Yankees Have Discussed Luke Voit In Trades
Luke Voit's name has come up in trade discussions the Yankees are having with various teams, reports the YES Network's Jack Curry (via Twitter). Voit is currently on the injured list with a bone bruise in his knee, but he's nearing a return to the active roster. It's been an injury-marred season for 30-year-old Voit,…


Nationals Place Daniel Hudson, Trea Turner On Covid IL
The Nationals announced this morning that they've placed shortstop Trea Turner, right-hander Daniel Hudson, righty Austin Voth and catcher Alex Avila on the Covid-19-related injured list prior to today's doubleheader. They've also reinstated catcher Yan Gomes and righty Tanner Rainey from the 10-day injured list in a pair of corresponding moves. Additionally, right-hander Andres Machado…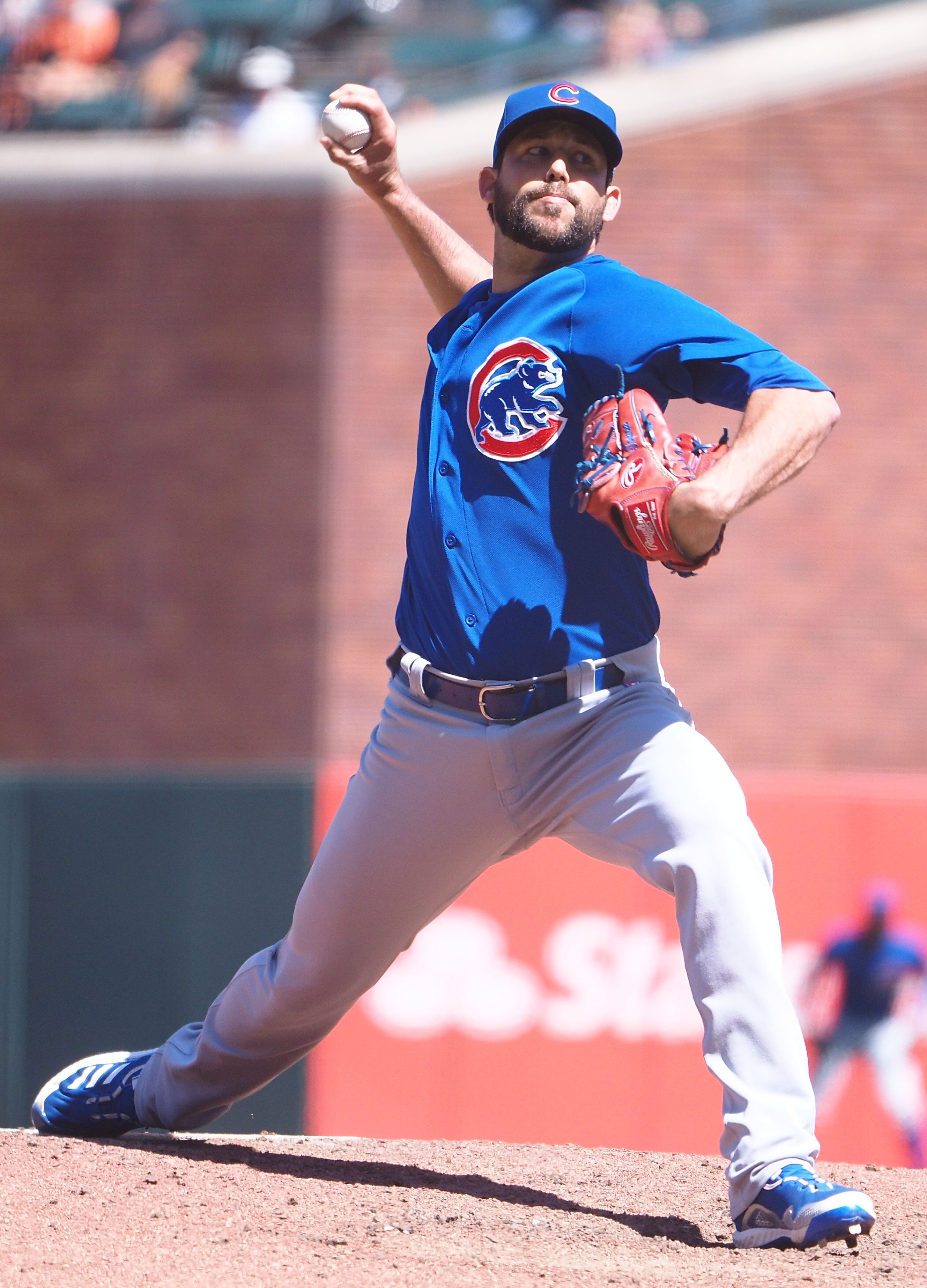 Cubs Trade Ryan Tepera To White Sox
The Cubs announced Thursday that they've traded right-handed reliever Ryan Tepera to the White Sox in exchange for minor league left-hander Bailey Horn. The White Sox announced that righty Evan Marshall has been transferred to the 60-day IL to open a 40-man roster spot for Tepera. ESPN's Jesse Rogers reported (via Twitter) that the two…


Brusdar Graterol Drawing Trade Interest
Bullpen-needy teams are in contact with the Dodgers about reliever Brusdar Graterol, reports Jeff Passan of ESPN (Twitter link). Passan suggests Los Angeles could move Graterol in order to address deficiencies elsewhere on the roster. It has been a difficult season for Graterol, who spent most of the first two months on the injured list and…


Yankees To Acquire Anthony Rizzo
5:47 pm: In exchange, Chicago will pick up two prospects — outfielder Kevin Alcantara and right-hander Alexander Vizcaino –– Curry reports. He adds that the Cubs will retain the entirety of Rizzo's remaining salary. 5:29 pm: The Yankees are nearing a deal to acquire Anthony Rizzo from the Cubs, reports Jack Curry of the YES Network (Twitter link). The trade appears…


Giants Designate Mike Tauchman For Assignment
The Giants announced that they've designated outfielder Mike Tauchman for assignment as part of a series of roster moves. San Francisco has also reinstated Brandon Crawford from the 10-day injured list, reinstated Aaron Sanchez from the 60-day injured list (hence the 40-man move) and optioned righty John Brebbia to Triple-A. Tauchman, 30, came to the…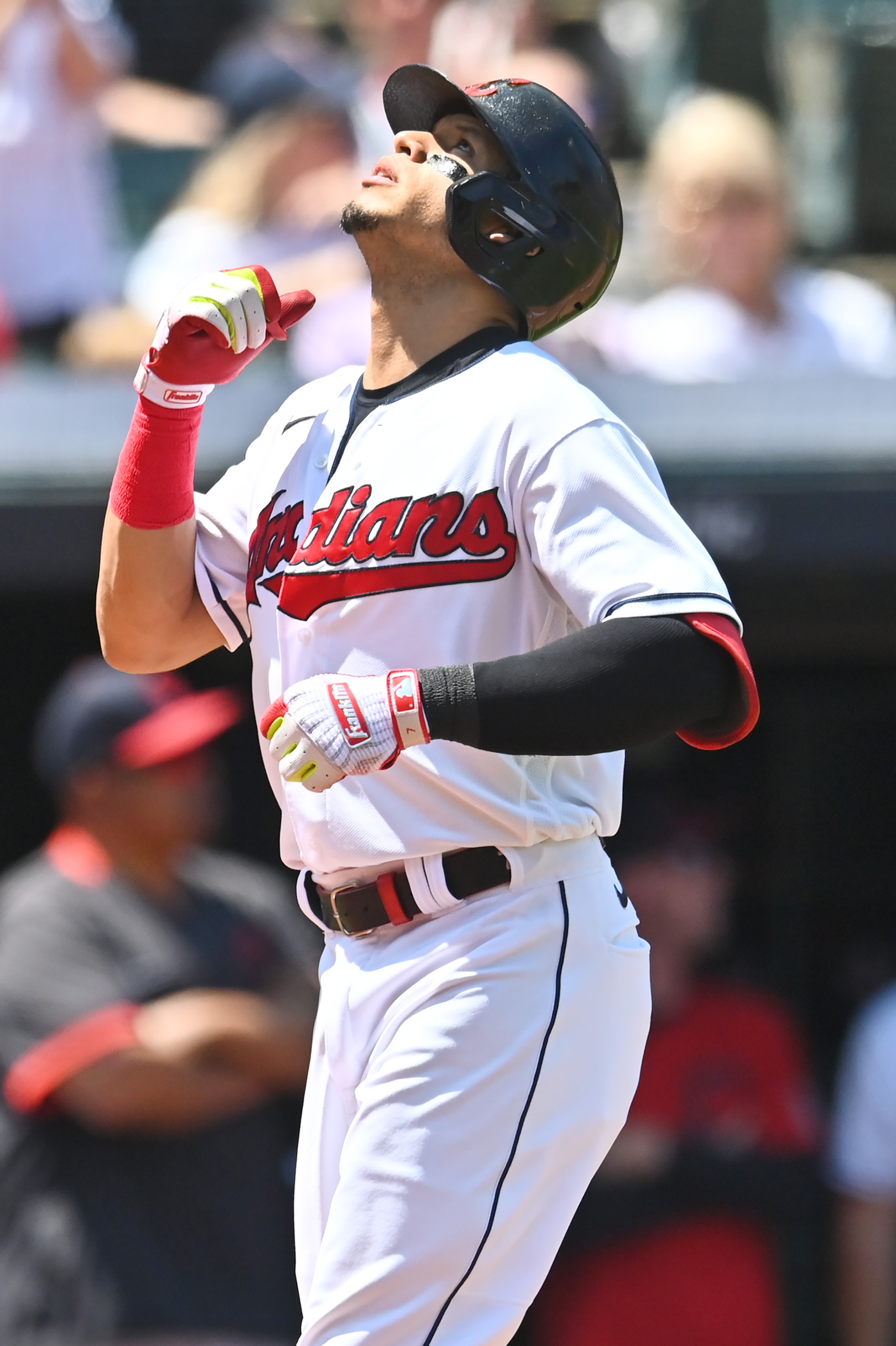 White Sox Acquire Cesar Hernandez
After searching the infield market for second base upgrades over the past few weeks, the White Sox announced Thursday that they've acquired veteran Cesar Hernandez from the division-rival Indians in exchange for minor league left-hander Konnor Pilkington. Chicago released right-hander Tyler Johnson in order to open a spot on the 40-man roster. Second base has…


Mariners' Hector Santiago Receives 80-Game Suspension
Mariners left-hander Hector Santiago has been served an 80-game suspension from the league office for violating MLB's Joint Drug Prevention and Treatment Program. Per a press release from the league, Santiago tested positive for exogenous Testosterone. Santiago will be suspended without pay, and the suspension will begin immediately. This marks the second suspension of note for…


Mets' J.D. Davis Available In Trades
The Mets have made slugging corner infielder/outfielder J.D. Davis available in trades, reports ESPN's Kiley McDaniel. As was rumored throughout the offseason, McDaniel notes that some execs have speculated the Mets could be hoping to include Davis as part of a package to acquire a prominent name such as Kris Bryant or Trevor Story. Nothing…


Diamondbacks Release Jon Duplantier
The Diamondbacks have released right-hander Jon Duplantier, writes Nick Piecoro of the Arizona Republic. The move clears a spot on the D-Backs 40-man roster. Arizona is hoping to bring Duplantier back on a minor league deal, according to Piecoro. The righty recently suffered a season-ending lat strain while pitching in the minors. Injured players cannot be…


Terry Francona Steps Away From Indians For Remainder Of 2021 Season
The Indians announced this evening that manager Terry Francona will take a leave of absence from the team to address health concerns. Bench coach DeMarlo Hale will assume interim managerial duties for the remainder of the season. Hale was named Cleveland's bench coach last November and has managed four games at the major league level…


Kyle Schwarber Drawing Trade Interest
Despite being on the injured list with a hamstring strain, Nationals slugger Kyle Schwarber is generating trade interest and could be moved sometime today, tweets Joel Sherman of the New York Post. Sherman lists the Yankees, Red Sox and Blue Jays as possible trade partners for the Nats. Schwarber, 28, was the hottest hitter on…


Mariners Sign Asher Wojciechowski
The Mariners have signed right-hander Asher Wojciechowski to a minor league deal, reports Ryan Divish of the Seattle Times (Twitter link). He'll be assigned to Triple-A Tacoma. Seattle will be Wojciechowski's second organization of the 2021 season. He signed a minor league deal with the Yankees over the winter but spent much of the year on…


Yankees Finalizing Deal To Acquire Joey Gallo
7:38 pm: The Rangers are acquiring a group of prospects in return. Trevor Hauver, Glenn Otto, Ezequiel Duran, Everson Pereira and Randy Vasquez all seem likely to wind up as part of the return, report Adler, Weaver and Ken Rosenthal of the Athletic (Twitter link). Jeff Passan of ESPN (Twitter link) reports that Josh Smith is also part of the return.…


Padres Reportedly Hoping To Include Eric Hosmer In Potential Joey Gallo Trade
It's no secret the Padres have been interested in Rangers star Joey Gallo for at least the past few weeks. Evan Grant of the Dallas Morning News sheds some light on the teams' conversations, reporting that San Diego has inquired about Texas' willingness to acquire Eric Hosmer as part of the deal. If Texas were willing to take…


Astros Designate Austin Pruitt For Assignment
The Astros have designated right-hander Austin Pruitt for assignment, tweets Jake Kaplan of The Athletic. Last night's trade of Abraham Toro and Joe Smith to the Mariners in exchange for Kendall Graveman and Rafael Montero led to some roster shuffling, with infielder Robel Garcia being called up in Toro's place and Graveman formally being activated…


The Rockies announced they've placed right-hander Chi Chi Gonzalez on the COVID-19 injured list. To take his spot on the active and 40-man rosters, Colorado selected righty Jesús Tinoco. Colorado also reinstated Jhoulys Chacín from the COVID list and optioned Justin Lawrence. Tinoco tossed 44 2/3 innings of relief from 2019-20 between Colorado and Miami. Over that time, he…


Garrett Cooper To Undergo Season-Ending Surgery
The Marlins are selecting the contracts of outfielder Corey Bird and reliever Preston Guilmet, relays Christina de Nicola of MLB.com (Twitter link). David Wilson of the Miami Herald was first to report Bird's likely call-up. To create space on the 40-man roster, first baseman/corner outfielder Garrett Cooper was transferred from the 10-day to the 60-day injured list. Cooper…


Angels Place Jared Walsh On Injured List
The Angels announced they've placed first baseman Jared Walsh on the 10-day injured list, retroactive to July 27, with a right intercostal strain. Right-hander Austin Warren has been selected to the roster in his place. Additionally, Los Angeles recalled infielder Matt Thaiss and optioned righty Andrew Wantz to Triple-A Salt Lake. There's no timetable for Walsh's return, although any…


Phillies – Nationals Game Postponed Due To COVID Issues
5:05 pm: There are twelve total positive cases, manager Dave Martinez told reporters (including Jesse Dougherty of the Washington Post). Those are four players (including Turner) and eight staff members. Eleven of the twelve have been vaccinated, according to Martinez. Fortunately, no one involved feels seriously ill, which the skipper attributed to the high vaccination…


The Rangers announced Wednesday that they've signed No. 2 overall draft pick Jack Leiter. He'll join the club on a bonus worth a bit more than $7.9MM, ESPN's Jeff Passan reports (via Twitter). The team will hold a press conference at 12:30pm CT. Leiter, 21, has been touted as one of the likely top picks…


As of last night, there were at least eight clubs interested in Nationals ace Max Scherzer, who is open to waiving his no-trade rights but said to have a preference for a West Coast club that has the ability to keep him longer-term. Scherzer figures to be one of the most talked-about trade candidates in…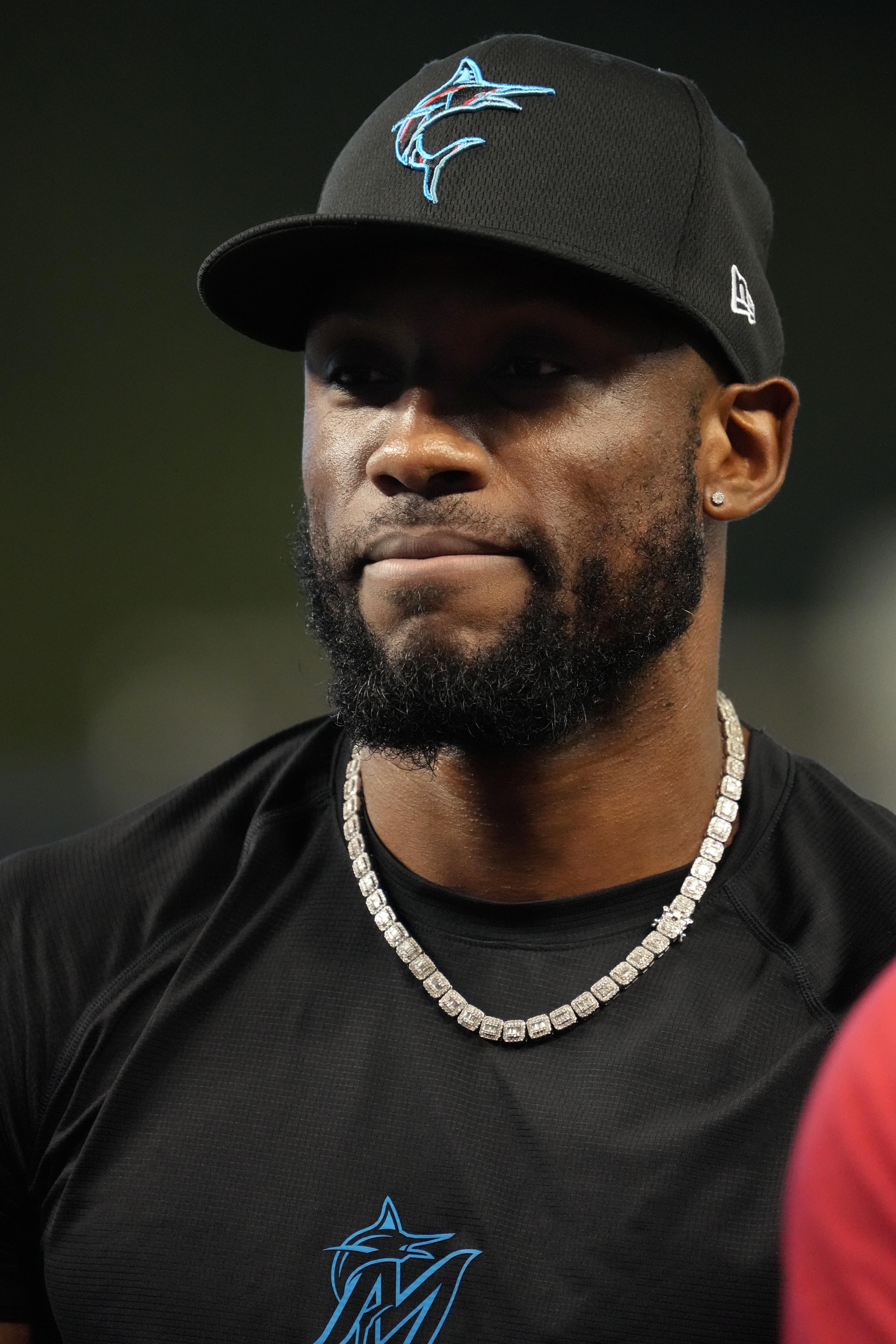 Marlins Trade Starling Marte To Athletics For Jesus Luzardo
In a deadline-season stunner, the Athletics and Marlins have agreed to a straight-up, one-for-one swap sending outfielder Starling Marte to Oakland in exchange for left-hander Jesus Luzardo. The teams have announced the move. The Marlins are reportedly paying the entirety of the $4.57MM remaining on Marte's $12.5MM salary for the 2021 season. Marte will be…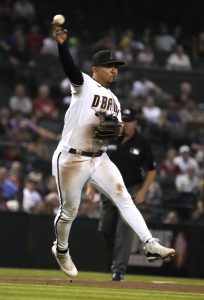 Brewers Acquire Eduardo Escobar
After picking up shortstop Willy Adames and first baseman Rowdy Tellez in earlier trades, the Brewers have made another addition to the infield. Milwaukee announced the acquisition of All-Star Eduardo Escobar from the Diamondbacks this evening. Catcher Cooper Hummel and infielder Alberto Ciprian are going to the D-Backs in return. Escobar has been one of the game's most obvious trade candidates for months…


Rockies Rumors: Cron, Givens, Marquez
Rockies first baseman C.J. Cron left last night's game with a groin strain and will be further evaluated today. Manager Bud Black said after the game that the Rockies have their "fingers crossed" that Cron won't require a trip to the 10-day injured list (Twitter link via The Athletic's Nick Groke), though that very comment…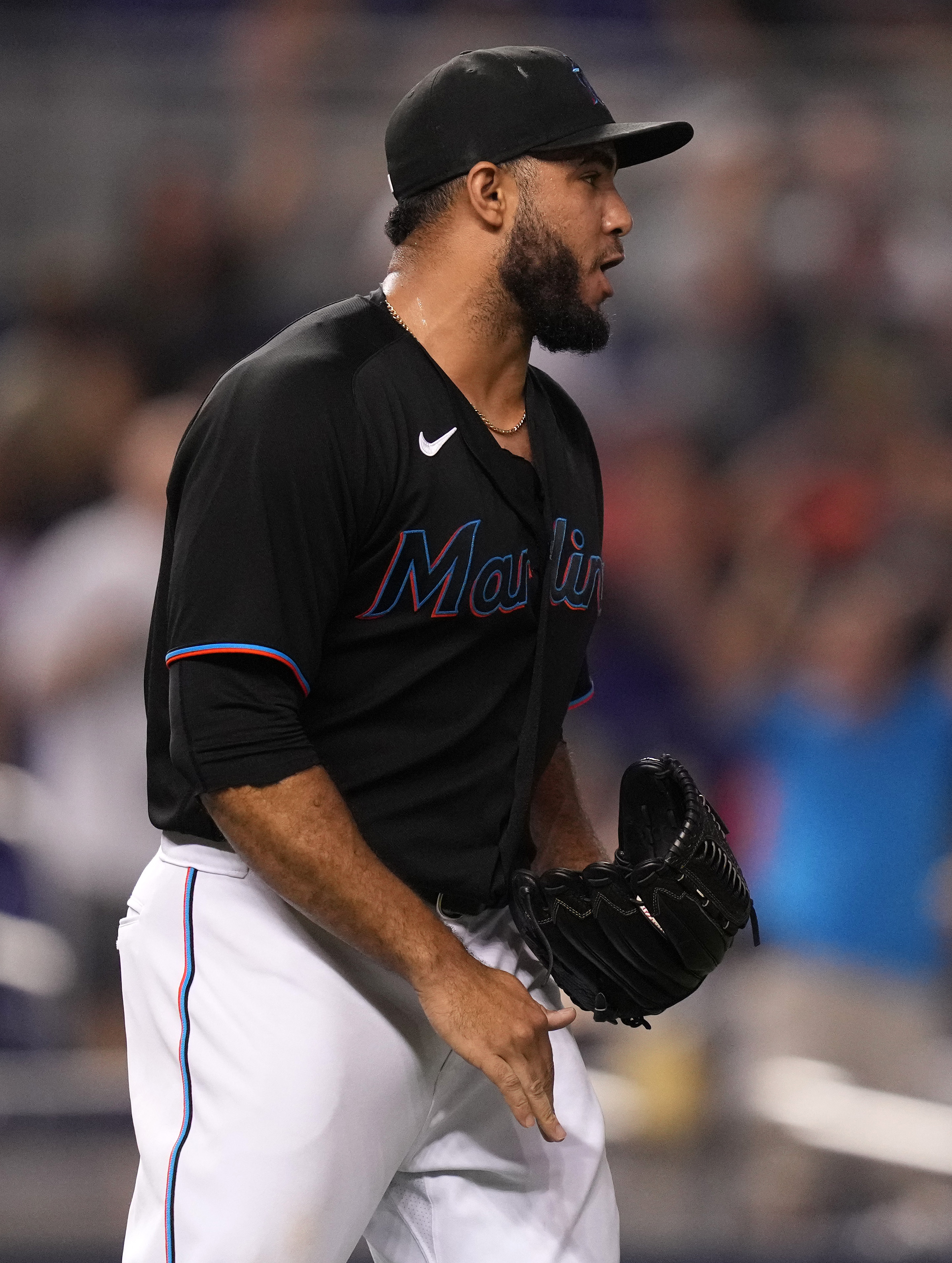 Astros Acquire Yimi Garcia From Marlins For Austin Pruitt, Bryan De La Cruz
The Astros have bolstered their bullpen, acquiring right-hander Yimi Garcia from the Marlins. In exchange, Houston is sending outfield prospect Bryan De La Cruz and swingman Austin Pruitt to Miami. The Astros had designated Pruitt for assignment earlier today, so he'll step right onto the Miami 40-man roster. Garcia, 32 next month, was non-tendered by the Dodgers after the 2019…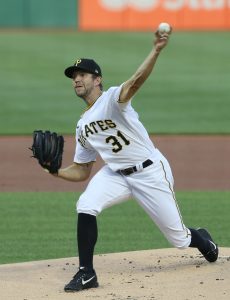 Mariners Acquire Tyler Anderson From Pirates
The Mariners have picked up one of the more notable starting pitchers on the trade market, announcing they've acquired left-hander Tyler Anderson from the Pirates. Two prospects — catcher Carter Bins and right-hander Joaquin Tejada — are headed back to Pittsburgh. To create 40-man roster space for Anderson, Seattle designated infielder Jake Hager for assignment. It's a surprising turn of events after the Phillies…


Reds Designate Josh Osich For Assignment
The Reds announced that they've designated lefty Josh Osich for assignment in order to open a spot on the roster for right-hander Mychal Givens, whose previously reported acquisition from the Rockies has now been formally announced by the club. More to come.


Two Orioles Lefties Commanding Trade Interest
Baltimore left-handers Paul Fry and Tanner Scott aren't household names, but both are drawing ample trade interest as Friday afternoon's deadline approaches, per both Dan Connolly of The Athletic and Roch Kubatko of MASNsports.com. Right-handers Cole Sulser and Dillon Tate have also drawn some interest, but they're both controlled four more years after the current…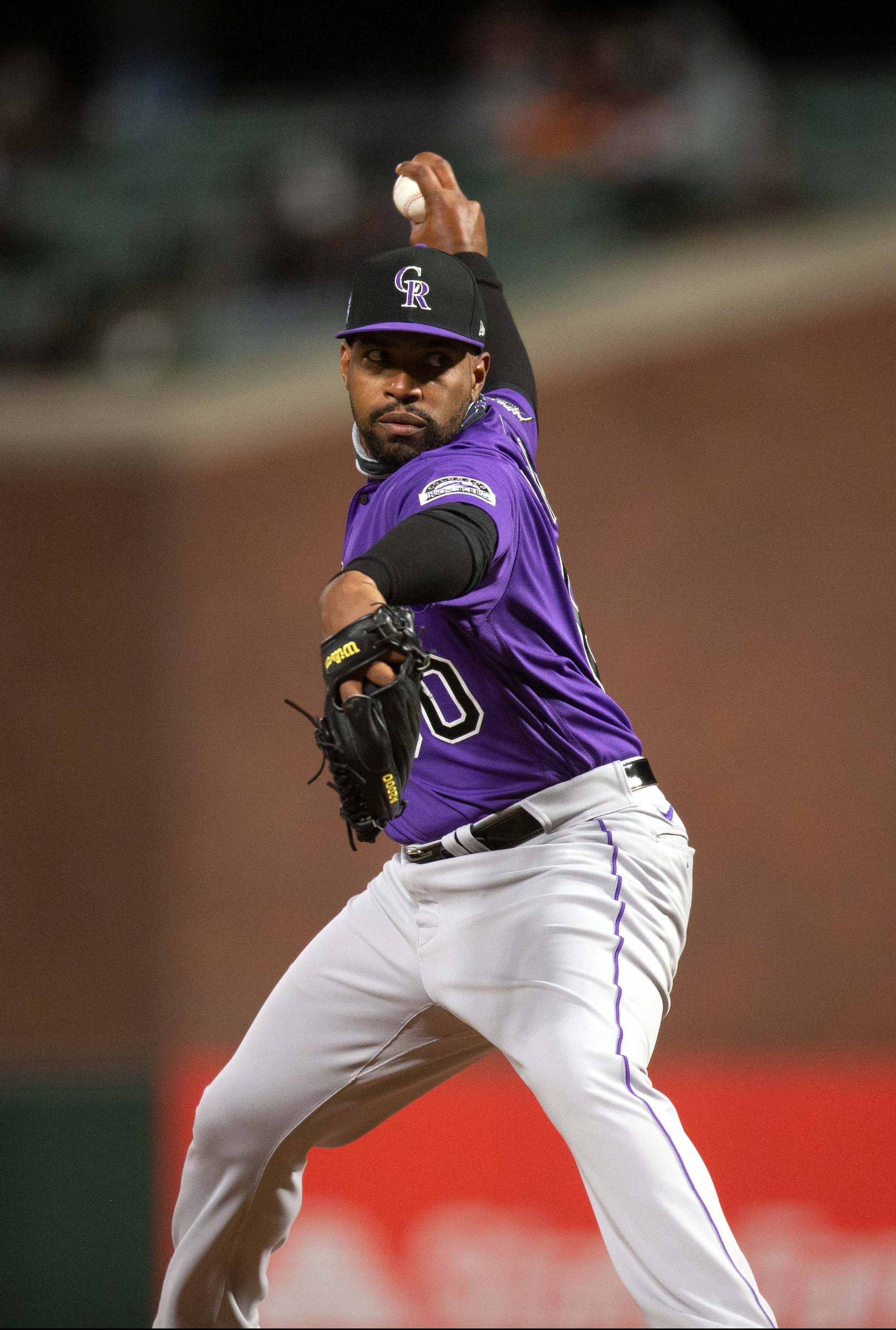 The Reds have added their third bullpen arm in the past 12 hours, announcing the acquisition of right-hander Mychal Givens from the Rockies. Colorado will receive minor league right-handers Case Williams and Noah Davis in return. Cincinnati also picked up Luis Cessa and Justin Wilson from the Yankees in a late trade last night. Givens,…


4:42 pm: New York has officially selected Bostick and designated Eickhoff for assignment to open active and 40-man roster space. 3:39 pm: The Mets are planning to select the contract of right-hander Akeem Bostick prior to this evening's game against the Braves, reports Anthony DiComo of MLB.com (Twitter link). The 26-year-old will be making his major league…


Reds Acquire Luis Cessa, Justin Wilson From Yankees
In a surprise transaction, the Yankees announced they've traded relievers Luis Cessa and Justin Wilson to the Reds in exchange for a player to be named later. Cincinnati designated Ashton Goudeau and Edgar García for assignment to open 40-man roster space. The appeal for the Reds is in the addition of Cessa, who was a dependable bullpen arm throughout…


Cubs, Giants Have Reportedly Discussed Kris Bryant Trade
The Giants and Cubs have had discussions about a possible Kris Bryant trade, reports Jon Morosi of MLB.com (Twitter link). Chicago is evaluating San Francisco catcher Joey Bart as a possible part of those conversations, according to Morosi, although he unsurprisingly adds the Giants aren't likely to give up Bart for Bryant alone. Bryant has plenty of…


Mets Select Jerad Eickhoff, Designate Roel Ramirez
The Mets announced Tuesday that they've re-signed Jerad Eickhoff and selected him to the Major League roster. Right-hander Roel Ramirez has been designated for assignment in order to open a spot on the roster. Eickhoff is in line to start tonight's game against the Braves. It's been a tumultuous year for Eickhoff with the Mets.…


Stephen Strasburg To Undergo Thoracic Outlet Surgery
Nationals righty Stephen Strasburg will undergo surgery to alleviate neurogenic thoracic outlet syndrome, manager Dave Martinez announced to reporters Tuesday (Twitter link via MASNsports.com's Mark Zuckerman). The procedure will end his season, and the Nationals' hope is that he can be ready for the start of the 2022 campaign. Martinez's announcement was a bit more…


Trea Turner Tests Positive For COVID-19
Nationals star shortstop Trea Turner has tested positive for COVID-19, the team announced. Turner was removed from this evening's game against the Phillies in the first inning after the result came in. Fellow infielder Luis Garcia is likely to be recalled from Triple-A Rochester to replace Turner on the active roster, reports Jesse Dougherty of the Washington…


The week of the 2021 MLB Trade Deadline is upon us! We've seen a handful of deals thus far — Nelson Cruz to the Rays, Rich Hill to the Mets, Adam Frazier to the Padres, Joc Pederson to the Braves — but most of the market's top names are still waiting to learn their fate.…


Reds Sign First-Rounder Matt McLain
The Reds have agreed to a deal with first-round draft pick Matt McLain, the team announced.  MLB Pipeline's Jim Callis (via Twitter) reports that the UCLA shortstop will receive a bonus of $4.625MM, well above the $3,609,700 assigned slot price for the 17th overall pick. This marks the second time that McLain (who turns 22…


Mariners Designate Vinny Nittoli For Assignment
The Mariners announced they've designated right-hander Vinny Nittoli for assignment. The move is apparently made with a trade in mind, as MLB Network's Jon Morosi reported (Twitter link) shortly before the team announcement that Nittoli was likely to be designated to buy time before he's officially traded. Seattle general manager Jerry Dipoto acknowledged that another deal(s)…