PurseBlog Asks: Do You Wear Suede During the Summer?
I'm a recent convert to wearing suede. For years I avoided the luxurious material, but this past January I had a change of heart when I got my first suede bag, a beautiful Chloe Faye. My Faye has a suede flap, and despite being nervous about the delicate nature of it, that bag needed to be mine. I happily carried my Faye all winter long with no issues, but when spring rolled around I put her in her dust bag with the intention of patiently waiting out the April shower season. Unfortunately for...


Celebs Step Into the Sun with Bags from Fendi and Chanel
Summer is in full effect and the sundresses are out en masse. Jessica Alba has tantalized us with a new mystery bag, and many celebs are digging out throwbacks from years past from the depths of their closets. Do you have a favorite vintage bag that you like to bust out on occasion, sheerly for nostalgia's sake? These celebrities probably have several trunks worth of sentimental favorites. But let's see what they're carrying right now. The post Celebs Step Into the Sun with B


Convos with Claire Miami 2019 Sponsored by Urban Skin RX, Clem Swimwear, Isoken Ofe, and Deleon Tequila Featuring Amara la Negra, Trina, Rico Love, Venita McCollum, Rachel Roff, and J'Lysa Wilso...
Convos with Claire sizzled onto South Beach with a scintillating Silver & Gold theme for the first Miami edition of our networking franchise! Guests sashayed down to the swanky Betsy Hotel's metallic trimmed B Bar for yummy hors d'oeuvres, Deleon Tequila Cocktails, music by DJ JFK, and fashion. We had a star studded line up, so we got our conversations underway quickly, kicking off with J'Lysa Wilson of Clem Swimwear. Wilson shared an inspirin


The 10 Best Bag Deals for the Weekend of July 19
It's getting hot in here and if you have to take off all your clothes at least accessorize with a brand new bag! Apologies if you didn't get that Nelly reference and if you did I love you! Sale season, along with the temps here in NYC, is heating up and we've got some pretty sweet deals for you on this Friday morning. My personal favorite, naturally, is the Saint Laurent Sac de Jour in embossed croc. It's an insane deal, and though the color and hardware differs from my n


CC 40: The Magpie in Wonderland
Today's Kiwi Confessional may claim to be boring as hell, but we beg to differ! This Police Officer from the land of the All Blacks offers an interesting look at the life, desires and challenges of a public servant whose geographical location and income level prohibit her from lavish luxury spending. We salute her service and her fabulous collection from half way across the world! If you'd like to submit your own story, hit the link below and fill out our questionnaire. Enjoy today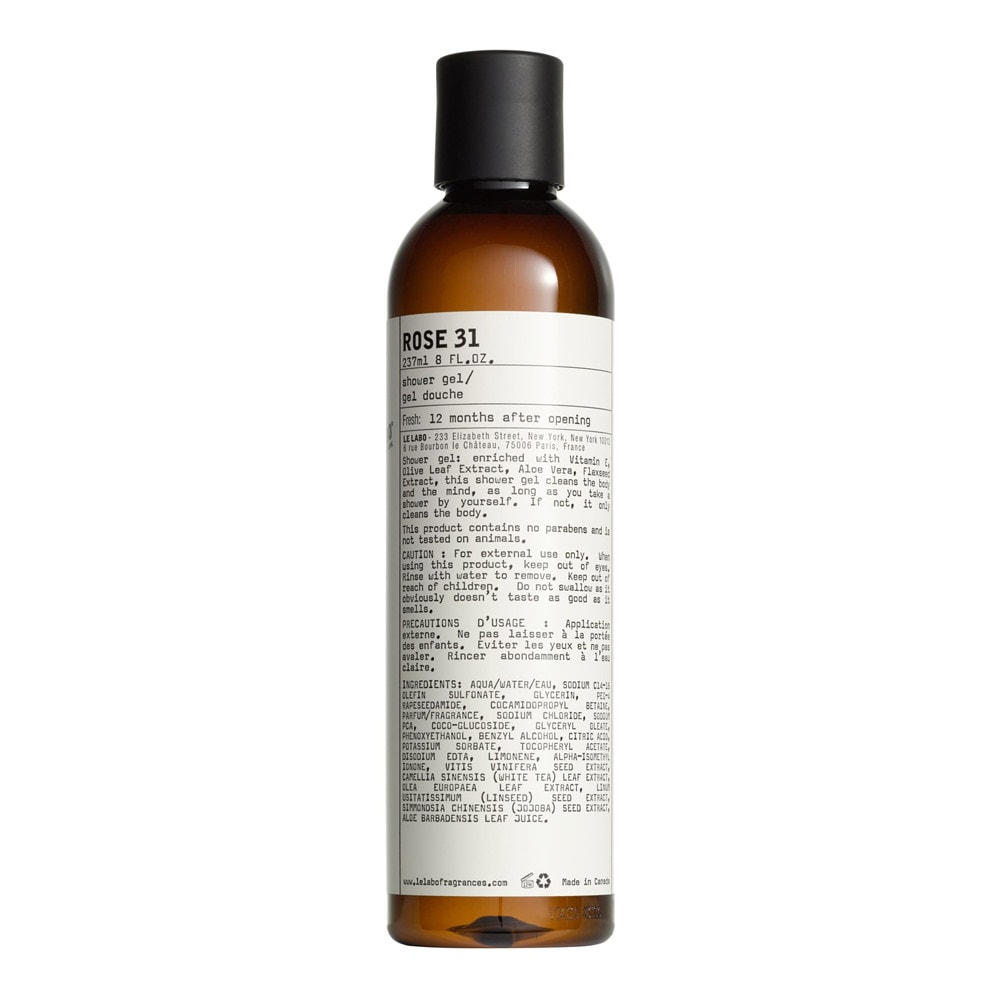 PurseBlog Beauty: 5 New Finds I Can't Get Enough of This Summer
Hey beauty lovers, it's been a little while, but we're back and bringing you our must-have beauty picks for summer! Summer can wreck havoc on our hair, skin and beauty routines, and for me personally it takes a slew of products to get me through the dog days of summer. The five products below have been my saviors the last few months, and I've weeded out a few others that haven't been of service so that you can get the best bang for your beauty buck. Have you tried any of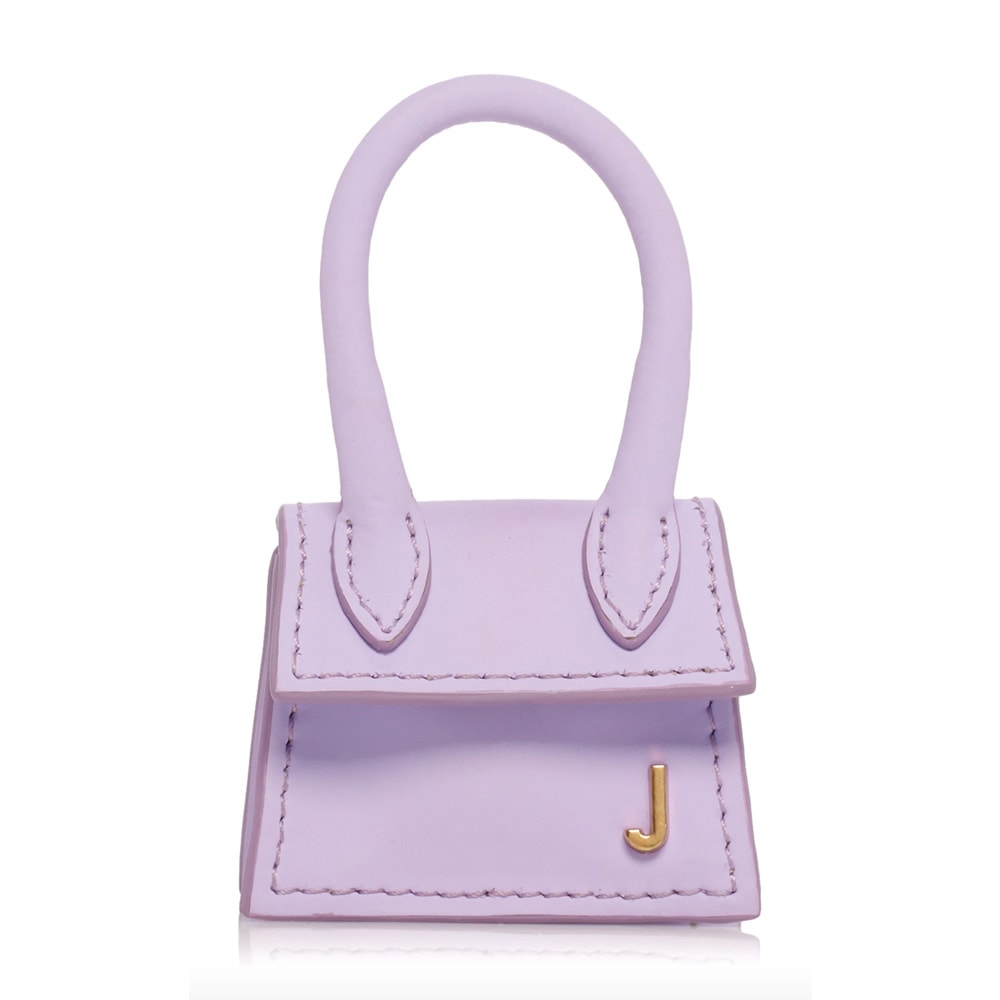 The Jacquemus Mini Chiquito Bag is Proof Millennials Will Buy Whatever You Tell Them to Buy
Real talk, can we stop buying things just because the internet tells us we should? I'm not here to rag on millennials, I am a millennial, but I have had enough with the totally impractical, ridiculously over-the-top insta-worthy trends. This not so outrageous rant comes on the heels of the latest instagram click bait from experimental French label Jacquemus. Jacquemus is not shy about creating thought provoking and outrageous designs. In fact, late last year the label garnered worldwide


Love It or Leave It: Saint Laurent's All Over Monogram Canvas
Hedi Slimane departed Saint Laurent over 3 years ago, and until recently, Saint Laurent still looked nearly identically to the Slimane-era Saint Laurent. Creative Director Anthony Vaccarello has worked to put his own spin on the brand, and little by little Vaccarello's touches have trickled out. For the last decade or more, Saint Laurent's bags have been easily identifiable due to the brand's iconic YSL logo. This season Vaccarello has take the logo love to new heights with the


I'm Smitten Over These Stunning Jeweled Bags
Here at PurseBlog, we fully embrace and encourage obsessing over our accessories. I'm willing to bet that you may have developed your love for accessorizing and handbags at a young age, and perhaps you even had an influential family member that inspired your obsession. I know I certainly did, and that person happens to be my late grandmother. I have such special memories of playing dress up in her closet, always fawning over all of the special pieces in her collection. Did anyone else spend a ...


Celebs Make Their International Rounds with Versace, Prada and Shrimps
With Miami Swim Week in full force, and Wimbledon just wrapping up, it's a great time for bag-spotting. This has made our transition from Paris Couture Week extra smooth, and for that, I thank the fashion gods. Kate Beckinsale, Kendall Jenner and Olivia Culpo are popping up all over, and not necessarily where you'd expect them to. Is Kendall Jenner a tennis fan? Does Olivia Culpo have a renewed interest in swimsuit modeling? I demand answers! But for now, I will just have to be sated


It's Time to Stop Making Bags Gender Specific
Late last month, we covered two collections from Paris Fashion Week Men's. Louis Vuitton and Fendi both presented collections that were so bag heavy they were impossible to ignore. Not to mention, the bags were good, they were really good. Following the release of these collections, the many comments that came along with our coverage, and the closing of Pride Month, I found myself thinking about the concept of gender fluidity in fashion. It's 2019, and to say that people, and our wo


Gucci's Fall 2019 Ad Campaign Explores the Role of Muses in Fashion
Gucci just released images of its fall 2019 ad campaign and we're giving you a look at what to expect from Gucci come fall. In this latest installment for Gucci, photographer Glen Luchford worked alongside Alessandro Michele and Art Director Christopher Simmonds to explore the relationship between creative directors and their muses. The campaign depicts many industry cliches such as fashion show sittings, runway escapades, editorial shoots and the frenzied atmosphere of fashion week. The...


Taina Stunts in Fashion Nova's Red 'Nora' Set!
I don't know about you other Bombshells, but for me, Summertime calls for affordable and figure flattering fits! As hot as the weather is, no one wants to spend a great amount of time finding something to wear. The idea is to stay cool, and look good while doing it. Like Taina Williams on vacay in Fashion Nova's 'Nora' Skirt Set, she's comfortable yet stylish. Such a simple and flaunting set not only has a stretchy material, it comes in grey as well. Find here for a steal of $...


Draya Michele Brought the Heat In This Snakeskin Fashion Nova Dress!
We can always count on Fashion Nova to provide Fashionistas with the hottest styles for the most affordable prices! Whether flashy, simple or sophisticated in styling, they have the perfect dresses to compliment any body type. Bombshell Draya Michele slayed in one of Fashion Nova's steamy dresses known as the 'Wildly Colorful' One Shoulder Mini Dress. Not only does the styling of it give off a fresh feel, Draya makes the dress look exquisitely expensive that it's a shocker how g...


Beyoncé Was a Golden Goddess In A Cong Tri Gown At The UK Premiere of The Lion King
With the Lion King release inching closer and closer, we have been seeing a lot of Beyonce as she has been making her rounds at the big city premieres for the movie! This past weekend, Beyonce visited London alongside husband Jay-Z for the premiere of the upcoming live-action Lion King film. Getty Beyonce was giving us some golden hour vibes in a Cong Tri custom gown. The gown consisted of elegant Mediterranean goddess drape detailing in a popping gold, making the Queen literally look...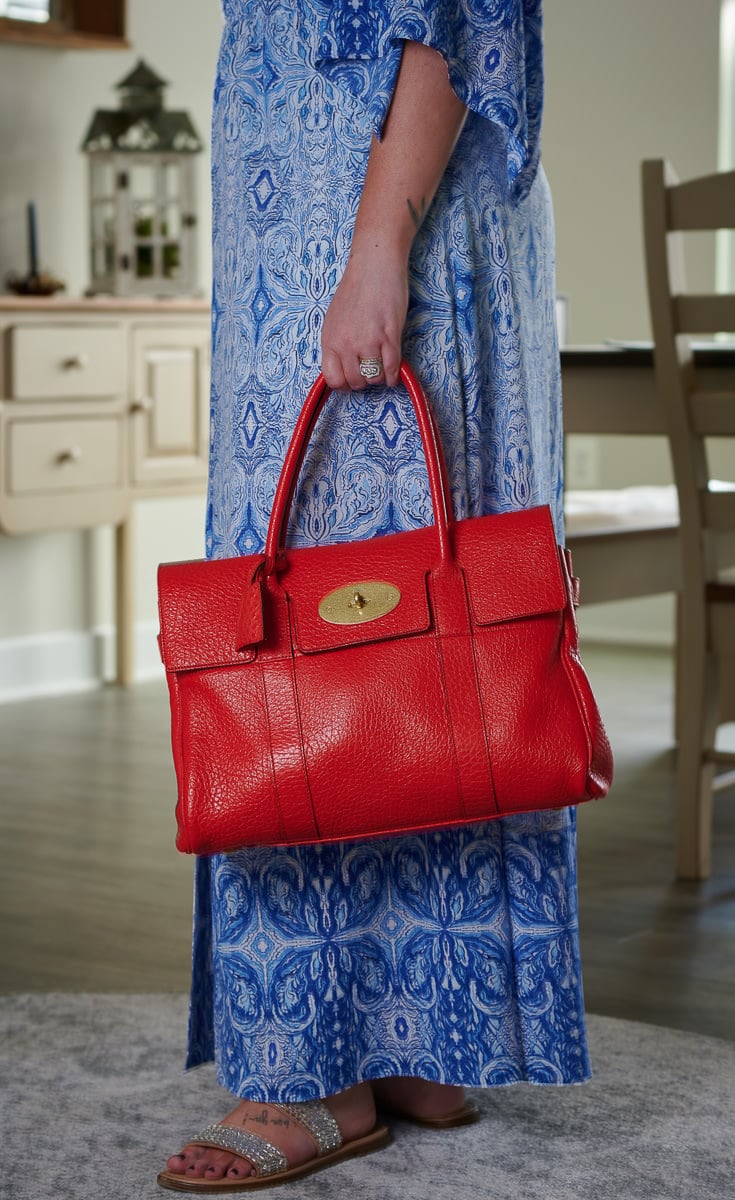 I've Been Wearing My Mulberry Bayswater on Repeat All Summer
Do you have a bag in your closet that you absolutely love and adore, yet you don't take it out of its dust bag for a spin around town very often? I definitely do, and that bag happens to be my Mulberry Bayswater Bag, now called the Heritage Bayswater. That's changed this summer, and I have found myself using this bag on repeat over the last few weeks. I own this classic handbag in a perfect color for these red, white, and blue July days. Mulberry is a quintessential British luxury brand, kno...


PurseBlog Asks: To Dust Bag or Not to Dust Bag?
Unboxing a brand-new bag is one of the most exciting feelings - especially if you're purse-obsessed like me. Bags typically come meticulously wrapped, packed away inside a sturdy and protective dust bag. Speaking of, dust bags are meant to be used to store your bag when not in use, though I've seen people use them for all sorts of other things, like packing shoes for travel or grocery shopping. (Weird, I know.) If you asks the specialists at Christie's, they'll tell ...


Wimbledon and Miami Swim Week Bring Us the Bags
Last weekend, British celebs paraded through Wimbledon during the tennis championship's waning days, and supermodels and aspiring swimsuit models alike partied down side-by-side during Miami Swim Week. This is an interesting mix of celebrities, but a thoroughly consistent mix of designer bags. Have a look. The post Wimbledon and Miami Swim Week Bring Us the Bags appeared first on PurseBlog.


Convos With Claire Is Coming To Miami's Luxurious Betsy Hotel On July 17th!
Uh oh…back again! Convos With Claire is happening yet again and this time, we are coming to the 305 with more fashion, fun, and thought-provoking discussions! Convos With Claire always has special celebrity guests and you will be able to mix and mingle with Miami's finest including J'Lysa Wilson of Clem Swimwear, mother of Lil Yatchy and Fashionista Venita McCollum, Rapper Trina, and Singer/TV Personality Amara La Negra. All of this epic fun will be going down at the luxury re


You Should Know: Luxury Design House Ophelia Crossland's "In Love With Summer" Collection Has Been Unveiled
Summer always brings out the most rich color combinations, vibrant textures and patterns, and intricate details in fashion. In Ophelia Crossland's latest collection dubbed as "In Love With Summer", it speaks to the beauty of summer through delicate, yet luxurious pieces. Founded in 2014, Ophelia Crossland is a Pan-African luxury design house based in Ghana and operated by award-winning designer Ophelia Okyere-Darko. The design house's African roots are perfectly


Tap Into Your Inner Queen Status with Isoken Enofe's Glamorous Afrocentric Pieces
Isoken Enofe is an online boutique that offers Afrocentric and Middle Eastern-inspired pieces for glamorous Queens. The brand was created by Youtube Beauty Influencer and Celebrity MUA, Isoken Enofe-Asemota who has a professional background in African styling and retail services and makeup artistry. With those assets backing her, she curated a brand that supplies women with glammed out looks with the lifestyle to match! Saintury Wrap Crop Top, $50.00 Isoken Enofe is known for its ready-to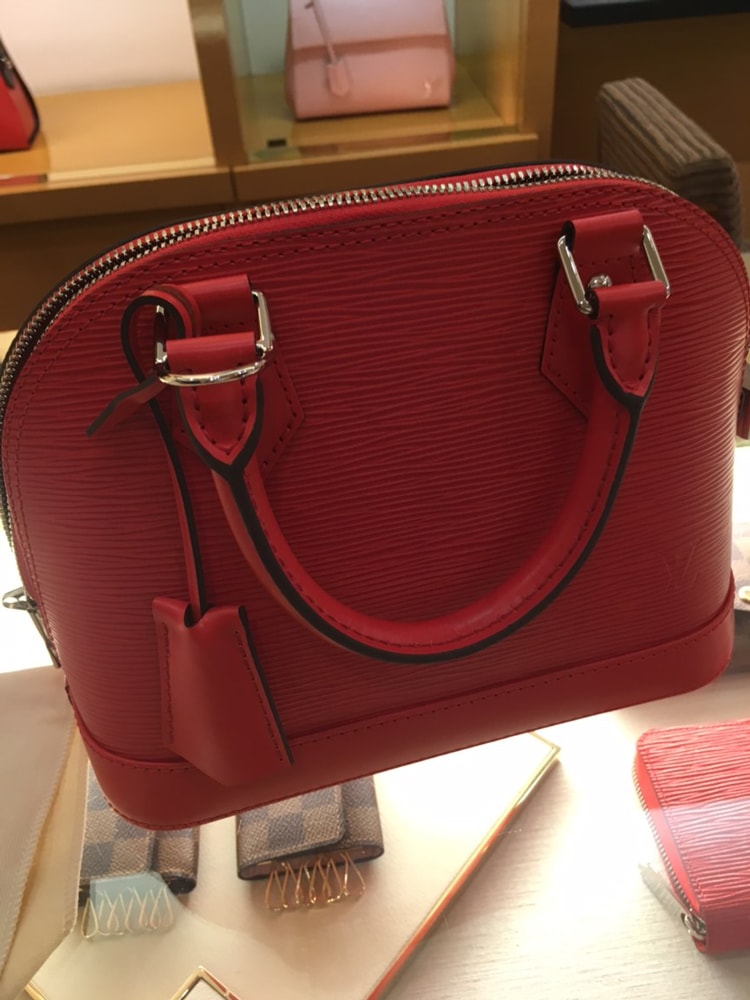 Revisiting the Classic and Chic Louis Vuitton Alma
Last month I started thinking about my next bag buy. Two options came to mind, two options that I've been thinking about for a few months, which to me means they're good options. Through all the noise the Chanel Camera Bag and the Celine Nano Luggage Tote have stayed at the forefront of my bag-loving mind. I'm not yet ready to pull the trigger on either one of those bags, or any bag for that matter, but now I've added another option to the mix: the Louis Vuitton Alma BB i


Celebs Are Forever Glam with Bags from Celine, Chanel and Louis Vuitton
In a single post, we have new snaps of Lady Gaga, Beyonce and Angelina Jolie. Those last two are the rare unicorns of paparazzi photography, and it's never an accident when they step into the public eye. Beyonce may be more visible in the coming days or weeks because of the various worldwide The Lion King premieres, but Angelina Jolie makes appearances on an even less predictable schedule. In any case, it's even more bewildering to stumble across such rare and evasive A-listers in ...


Healthy Beauty Habits Your Skin Will Love
Taking care of your skin is the key to reducing the early signs of aging. With the abundance of products and solutions flooding the internet and market, though, it can feel overwhelming to find the right regimen. Here are six ways to start a healthier beauty routine your skin will love. 1. Kick Bad Habits First things first: if you have bad health habits, it's time to stop. Instead of smoking cigarettes, for instance, you should make the switch to e-cigarettes, which


An Exclusive Look Into Sorella's "Drop 4" Collection Releasing Today
The past two weeks at Sorella have been quite exciting with the announcement of a nationwide Ambassador program and the release of their highly-anticipated "Melrose Ave" collection. Now, Sorella plans to heat up the summer even more with their "Drop 4" collection which will be releasing today and going live at 11am PST (2pm EST)! The "Drop 4" collection features a dress, bodysuit, and jumpsuit in grey and camel with neon orange stitch detailing alo


The 12 Best Bag Deals for the Weekend of July 12
It's Friday and you know what that means, don't you? Yup, you guessed it, we've got a fresh new crop of bag deals for your viewing—and shopping!—pleasure. We might've missed last weekend getting a little r and r in for the long weekend, but we're back and the deals are better than ever. Do you ever scroll through the sale section only to realize that the bags are mostly off colors, patterns or have weird embellishments? It's rare to see good neutrals like ...


Heather Sanders of Sorella Boutique Is Calling All Girl Bosses For Their Girls Tour Entrepreneurship and Mentoring Program!
Heather Sanders founded Sorella Boutique in 2012 along with her partner, Brittney Turner, with the mindset of being a girl boss and providing other female hustlers with stylish pieces to feel fierce in. The two used their personal Instagram accounts to promote the brand and even went on to open a physical store on Melrose Avenue in Los Angeles. With much hard work and determination, Sorella has grown to be on the most popular online boutiques with over 800,000 followers on Instagram. Sorella ca


Today's submission comes at you from a fellow South Floridian, namely a mid-30s Real Estate Project Manager from Miami with a serious affinity for Louis Vuitton. Most of his collection is comprised of Keepalls, with the crown jewel being the mega desirable Supreme Camo Keepall. We recall shooting this bag for the '17 Holiday gift guide and at the time the Supreme Camo Keepall was selling on the resale market for close to $10,000. The hype is real. Don't forget to tell your own


Fendi's Fall 2019 Couture Bags Are Everything Couture Bags Should Be
A beautiful and elaborate ode to the late Karl Lagerfeld, Fendi showed its Fall 2019 Couture collection late last week in Rome. The show was set on Palatine Hill, and the location was an obvious choice for the brand as it both celebrated and strengthened the historical bond that Fendi has had with Rome since 1925. The quintessentially Italian city thrives on art and culture, and it's these values, coupled with Lagerfeld's influence, that inspired creative director Silvia Venturini Fe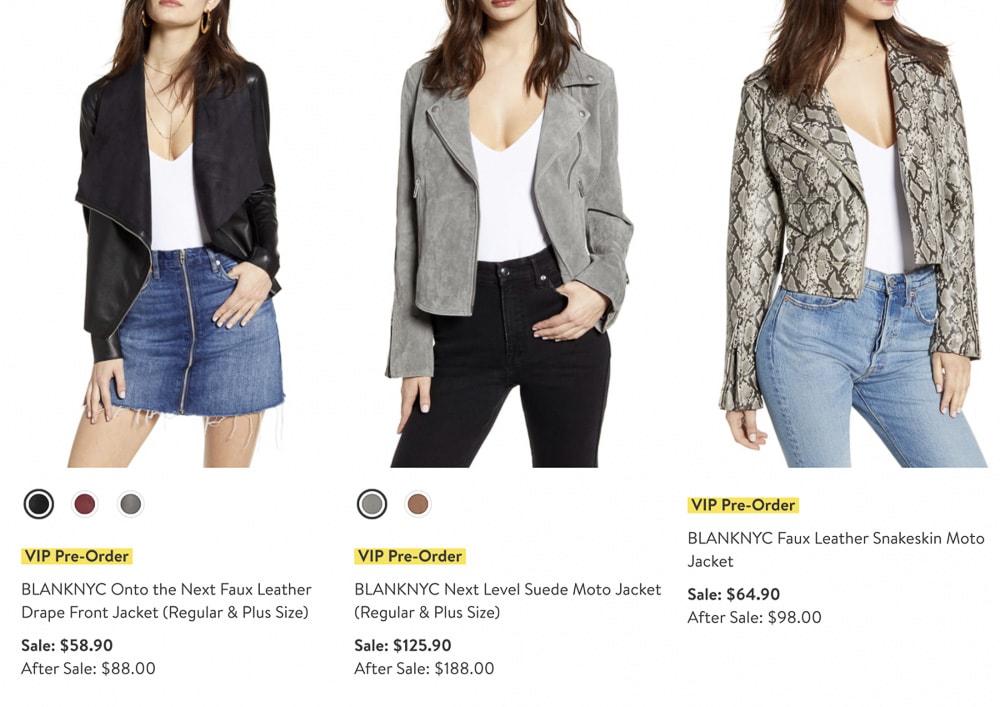 Nordstrom Anniversary Sale 2019 Lookbook Catalog Leaks
If you are an avid shopper (ok we probably all are, that's why you're here) then you know all about the Nordstrom Anniversary Sale. This sale happens once a year and it's practically a holiday! This year Nordstrom allowed store and online access early for Nordies Club Icons & Ambassadors starting today, and tomorrow the sale opens to Nordstrom card members. A full lookbook for the Anniversary Sale wasn't released this year, but thanks to the best members on our foru


An Ode to the Gucci Soho Disco Bag
Gucci has evolved into one of my favorite handbag brands over the last few years. I recently purchased my first Gucci bag, a small camera bag from the Marmont collection. I'm over the moon with my purchase, but I will admit I was seriously tempted by another bag at the boutique, the Gucci Soho Disco Bag. I've been eyeing this pretty little number for years, and the Soho Disco bag just so happens to be the handbag that really put Gucci on my shopping radar. I have admired Gucci bags for years...


15 Trendy (and Pool-Friendly) Bags for Summer
With the Fourth of July behind us, the official countdown to Labor Day is on. I don't know about you, but I'm doing everything in my power to soak in every minute of summer. (Seriously, how is it already July?) With more than two months left of the best time of the year, you've got just enough time to add a seasonal bag to your collection. In this case, I'm talking anything made of wicker, rope, or straw. Speaking of, these bags are the perfect companion to a day spent


Which Designer Bag Brand is the Most Underrated?
While there are a handful of premium designer bags that are always on the radar of handbag aficionados (think Louis Vuitton, Prada, Chanel, Chloe ect.), there are always a couple of brands that are most talked about each season. Currently Gucci and Fendi are having a major moment, and whether you agree or not, there's no denying that both brands have been incredibly successful the last few seasons or so. And while the most popular brands among consumers tend to rotate, I've been doi...


Paris Couture Week Attendees Carry New Valentino, Fendi and More
The crowd outside of the Maison Valentino Fall 2019 runway show alone probably could've populated this entire post, but we can't neglect our celebrities in West Hollywood and the Pacific Palisades too long, or they start to wilt away. If you were flabbergasted at the lack of star power at Paris Fashion Week Men's (as I was), you were probably not disappointed by Paris Couture Week turn-out. Paris Couture Week is also known as Paris Fashion Week: Haute Couture, and I don't


Claire's Life: Highlights from EssenceFest as an AT&T Humanity of Connection Social Media Ambassador– Cicely Tyson, Monica Brown, and More!
Happy Tuesday, folks! I just returned from Essence Fest, and let me tell you: it was a busy but blessed time! As an AT&T Social Media Ambassador, I was charged with capturing great content, conducting interviews, and covering events, all while staying connected via their @HumanityofConnection page. Check out a few standout moments: On Saturday, I was honored to receive an AT&T Humanity of Connection Ceiling Crashers award from Tonya Lombard, alongside Designer Aisha McShaw, Maude


Tuesday Shoesday: 6 Pairs That Are Trending Right Now
Trends change like the wind, and despite the fact that I studied the cyclical nature of trends in college and currently work in the fashion industry, I sometimes find it hard to keep up myself. Handbag trends are of course the easiest thing for me to keep track of, as I work with them everyday. If someone were to ask me what's currently trending in the handbag world it's very likely that I would have a solid answer at any given moment. Shoes are another story. While I'm relativ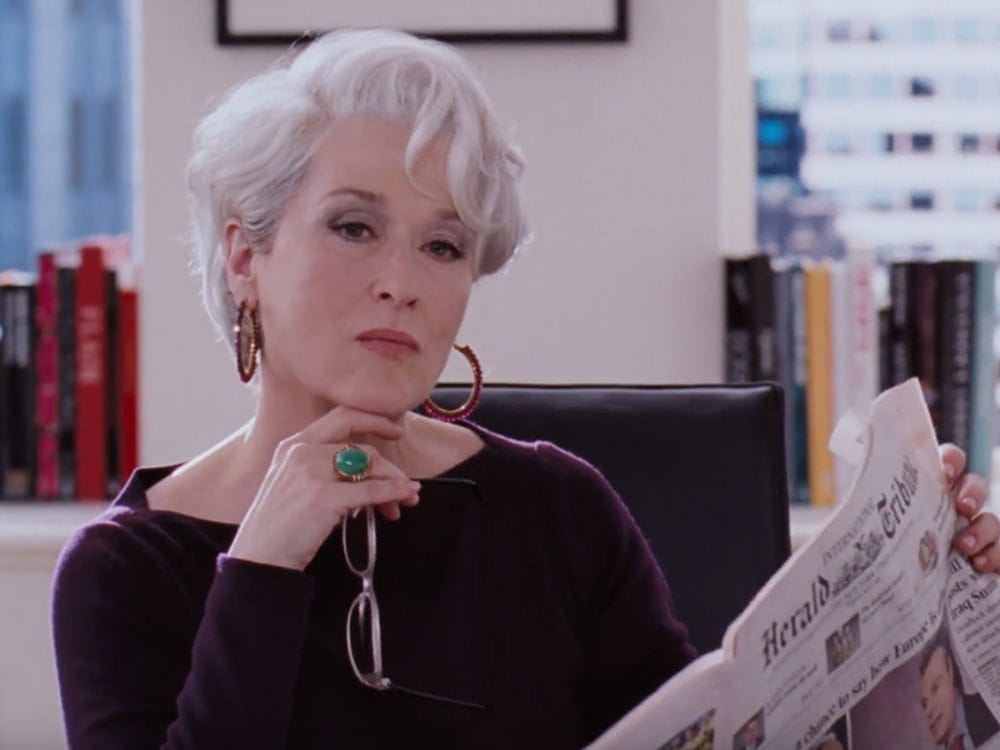 The Bag Eye Candy We'd Get if The Devil Wears Prada Had Been Filmed in 2019
Bonjour from Paris! I'm in the City of Lights this week and have been soaking up all of the magical things this whimsical city has to offer (and I may even have a few new acquisitions to share soon-stay tuned!). While I haven't thrown my phone into the fountain à la Andy Sachs just yet, no matter how tempted I have been, I took the opportunity to watch Miranda Priestly in action before jet setting off to Paris (I haven't seen any freesias since I've been here, btw). The Devil Wears Pr...


Should You Snag An Animal Print Bag For Fall?
Animal print. Love it or hate it, there's no denying that animal print is sticking around in a big way for fall 2019. Animal print is sort of always a thing, often popping up here or there every season, but last fall leopard popped up in a pretty big way, on everything from dresses and jeans to handbags and shoes. This fall the animal print trend doesn't seem to be slowing down, rather it seems to be picking up steam and fast. The best part of this trend is that you can pick up an in


Does Fendi's Kan I Collection Have the Power to Become a Classic?
We all know I've been vocal about my appreciation for Fendi. Not so much the ready to wear (don't get me wrong… it's stylish, but I'm not the type to spend $1,000 on a T-shirt). But when it comes to Fendi's leather goods, I'm very much a supporter. In fact, since 1925, the Italian fashion house has produced some of the biggest bag trends the world has ever seen. With Karl Lagerfeld responsible for conceiving the brand's now-famed logo, the "dou...


I realized I was different from my peers during my freshman year of college when I made my laptop background a photo of a Marc Jacobs Stam bag, a total it-bag at the time. My suitemates saw it and mocked me endlessly, and I knew then that my purse obsession was not the norm. It was around that time that I joined the PurseForum, and thank goodness I did, because I really needed my purse tribe to validate my obsessive behavior (which has been validated in spades, in case you were wondering). Altho


Get The Look: Claire's 2019 Essence Festival Looks
Fashion Bomb Daily's EIC Claire Sulmers was on the scene at the 2019 Essence Festival as she was one of the many special guests to host a fashion show, teach an Instagram master class, speak as a panelist, and more! She also got to enjoy the musical entertainment and get in on the epic fashion fun. As the EIC of Fashion Bomb Daily, Claire definitely put the "bomb" in her looks for her weekend at Essence Festivals. Let's take a moment to recap on some of her best looks


Paris Couture Week is Overrun with Celebs Carrying Valentino and Chanel
Paris Fashion Week: Haute Couture truly delivered the goods this year, and I never want the Fall 2019 previews to end. Technically, the event itself concluded on July 4th, but I'm hopeful that our photo service can help us keep the party going just a little longer. There was a surplus of A-list celebs loitering outside of the runway shows, as well as a few new faces that might surprise you. No one was surprised, of course, that Celine Dion kept popping up all over town. Fashion weeks are e


Meg "Thee Stallion" is Tres' Magnifique in a Black & White Stripped Fashion Nova Short Suit Set in Paris
2019 is an exceptional year for women in so many ways. It is exciting to see the overdo recognition female boss ladies deserve. Hip hop has also birthed some amazing female MC's that are on the rise this year. Meg "Thee Stallion" is among the list, taking rap by storm with her catchy, brave, bold lyrics and of course stylish looks. Fashion Bomb Daily noticed the Radial Rap Queen in black and white stripped shorts, with a matching chic blazer to compliment her look. Shop the outfit now on...


Bomb Product of the Day: Reconstructed and Patchwork Pieces by Kyle James!
Only a bomb product can provide swag and the right kind of cool to both men and women styles. Designer Kyle James, with his clothing, has the special touch that you Bombers and Bombshells have got to check out! Reconstructed pieces of mainly bandana patterns are patched together to provide a colorful jacket, so edgy and modishly done, you definitely won't be playing it safe. Even better, the style of jackets are unisex. Some of his other reconstructed products are jeans, with his ...


The Bomb Life: Claire Brought the Heat To New Orleans For Essence Fest! Read the Details On Her Looks!
Captured w/ June Ambrose and Bevy Smith Held from Thursday July 4th to Sunday July 8th, Essence has kicked off their Annual Essence Festival in sizzling hot New Orleans, LA for 2019! So of course our very own Editor-In-Chief Claire Sulmers had to strut through with proper representation. Let's talk about the looks served! Captured w/ Antoine Phillips and Kimberly Blackwell For the start of festivities, Claire attended Essence Fest @HumanityofConnection kick off party sponsored by


CC 38: This NYC Lawyer Offers Interesting Insights On Fake Bag Manufacturing
We hope our readers had a safe and relaxing July 4th celebration. Today we selected the confessional of a young NYC lawyer whose relative in her homeland offers insights into conditions of a factory that produces counterfeit bags. One obviously needs to tread carefully not to be dismissive of the troubling implications of many such factories, but her relative's testimonial may just offer an alternative narrative to consider. If you'd like to tell your own story and experience, hit th


Celine Dion's Best Style Moments From Paris Fall 2019 Couture Fashion Week
This past week, Paris hosted its Couture Fashion Week for Fall 2019 where all of the biggest editors, publications, fashionistas, and even celebrities were front row soaking in the newest couture pieces. Celine Dion was the talk of this Paris Fashion as she graced the biggest designer shows in absolutely fabulous looks. Styled effortlessly by Sydney Lopez and Pepe Muñoz, Celine Dion was the perfect muse for their glamorous fashion looks. Let's take a look at the Celine Dion's...


Don't Get Denied: The Top Tips to Get Your Payday Loan Request Approved
What if you lost your home thanks to slow paperwork? When people need emergency money, many turn to solutions such as traditional loans. But these loans may have slow approval times and slower paperwork that delay you getting your much-needed money. The best solution for you may be a payday loan. Keep reading to learn more about these loans and how to get approved! What Is a Payday Loan? Below, we've got our top tips for getting your payday loan approved. Before we go further,


Contemporary-Style Lehengas for Any Occasion
Lehengas are everyone's favorite. Whether it's a festival or a much-awaited wedding of the year, lehenga is usually the go-to attire for women. They know that there is no other outfit that can make them look as graceful and charming as a typical lehenga. However, it's time to make some changes. Modern Indian girls want something are constantly looking for something new that will allow them to look glamorous even in this humble and traditional ensemble. If you are one of those girls wh...


The 10 Sale Items I'm Lusting for This Holiday Weekend
It might just be me, but as much as I'm looking forward to the long holiday weekend I am actually sort of dreading it a little bit. Let me explain. I've always felt like summer is downhill once 4th of July comes. In the blink of an eye it will be September, and the older I get the quicker the blink. However the good things that comes with the 4th of July are sales, sales and more sales! Many of the sales I'll be shopping this weekend have been around for a few weeks already, wh


Louis Vuitton Just Introduced a Brand New Camera Bag
About a year ago Louis Vuitton introduced a new camera style bag called the Saintogne Bag and it was an instant hit for the brand. The bag's success is truly not that big of a surprise, as putting a fresh and modern Louis Vuitton take on classic bag structures has worked very well for the brand in the past. Not to mention, camera bags have been wildly popular the last few seasons, popping up amongst almost every contemporary and premier designer's assortments. For summer 2019 Loui


Celebs Pivot to Paris Couture Week with Bags from Dior
We've shifted from Paris Fashion Week Men's to Paris Couture Week, and there have been at least two huge celebrity weddings (that we know of) somewhere in between. Paris is buzzing, and a fresh influx of celebs is headed in for the couture de jour. Also, Priyanka Chopra is probably just never leaving. And while the fashion week bag pics are Dior and more Dior, wedding-bound celebs also favored Prada, and resident NYC celebs favored book totes (but not the Dior variety). The post Ce


13 Multicolored Fabric Bags We Can't Stop Staring At
If you're anything like me, you likely gravitate toward bags made of leather. But that's not to say other materials (suede, beads, wicker, nylon, and fabric) don't catch our eye every now and then. Does that mean we'd spend a small fortune adding a cloth bag to our collection? I vote no, but no judgement either way. For me, leather is a lot more practical. It wears better and is easier to take care of. Just think: one accidental spill of wine on a fabric or tweed bag, an


You Should Know: Shop Luxury For Less At Luxury Snob
We know how much you guys enjoy our luxury accessories we post daily, and now we have a bomb new place where you can get your luxury fix with brands like Louis Vuitton, Chanel, Fendi, and more at discounted prices! Luxury Snob is an online luxury consignment shop that offers 100% authentic luxury finds at great prices. Lynda O. founded the brand in 2013 with the goal of creating a "one stop shop for fashion lovers who love to enjoy shopping from the comfort of their home". Ly


Fashion Bomb Daily Shop Products That'll Give You A Stylish Fourth Of July Look
Happy July, Bombers and Bombshells! In just two days, we will be celebrating a national holiday: the Fourth of July. You may be going out with friends, BBQ'ing with family, or participating in other festive activities. But, the real question is…do you know what you are wearing? No need to panic. Fashion Bomb Daily's very own online shop has some stylish fashions that'll surely have you looking bomb for whatever plans you have. Go Bold or Go Home Prefer to step


Meet Me at Essence Fest!! Claire Sulmers Events July 4th-7th
Hey there Bombers and Bombshells! So you heard it here: I will be at Essence Fest for the festivities down in New Orleans this year! I'm gearing up for fashion, food, and fun, all with that special N'Awlins twist. I would tell you all that I have on my roster, but I don't even know everything that's on my plate! All I can say is that I will be super busy and booked!! Below are a few events that I'd love you to come to! Only Friday, July 5th, I will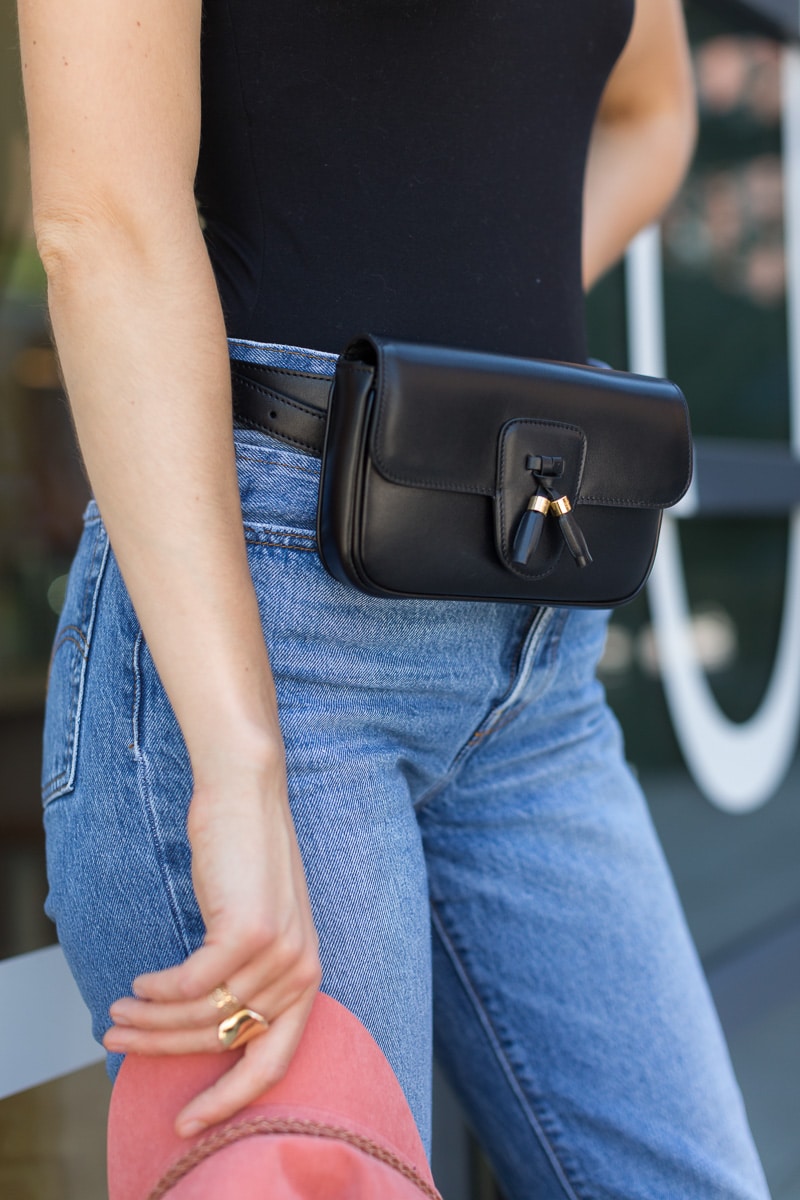 Introducing the Celine by Hedi Slimane Tassels Collection
It's been almost a year since we got a first look at Hedi Slimane's debut bag for Celine. Slimane introduced his first design for the brand on the arm of longtime supporter Lady Gaga. Instantly, C(e)line fans knew that the brand's aesthetic was about to experience a major makeover. Little by little, Celine released new collections under Slimane's creative direction, and today we have a look at one of Celine's newest collections. Introducing: the Celine by Hedi Slim...


THE BROKE MAN'S GUIDE TO A MORE STYLISH WARDROBE
Plenty of men believe that fashion is for the wealthy and as such miss out on the wonderful world of style. In fact, just wearing the right piece of clothing can boost your self-confidence and brighten your day. Like the old adage goes, "When you look good, you feel good." This is precisely why fashion is so important. When everything seems to be outside of your control, throwing a good outfit on and looking your best might give you that much-needed confidence to face the world. ...


The Tory Burch Rowan Tote Costs $1,500
Spending a large sum of money on a handbag can be downright scary, especially if it's your first time. The first time I bought a premier designer handbag, my Louis Vuitton Neverfull in monogram with pivoine lining, I was quite literally sweating. I'm pretty sure my hand may have been shaking slightly when I handed my debit card over on that fateful day, crystalizing my destiny as someone who spends a lot of money on handbags. Fortunately, (or unfortunately, if you happen to be my wallet), it...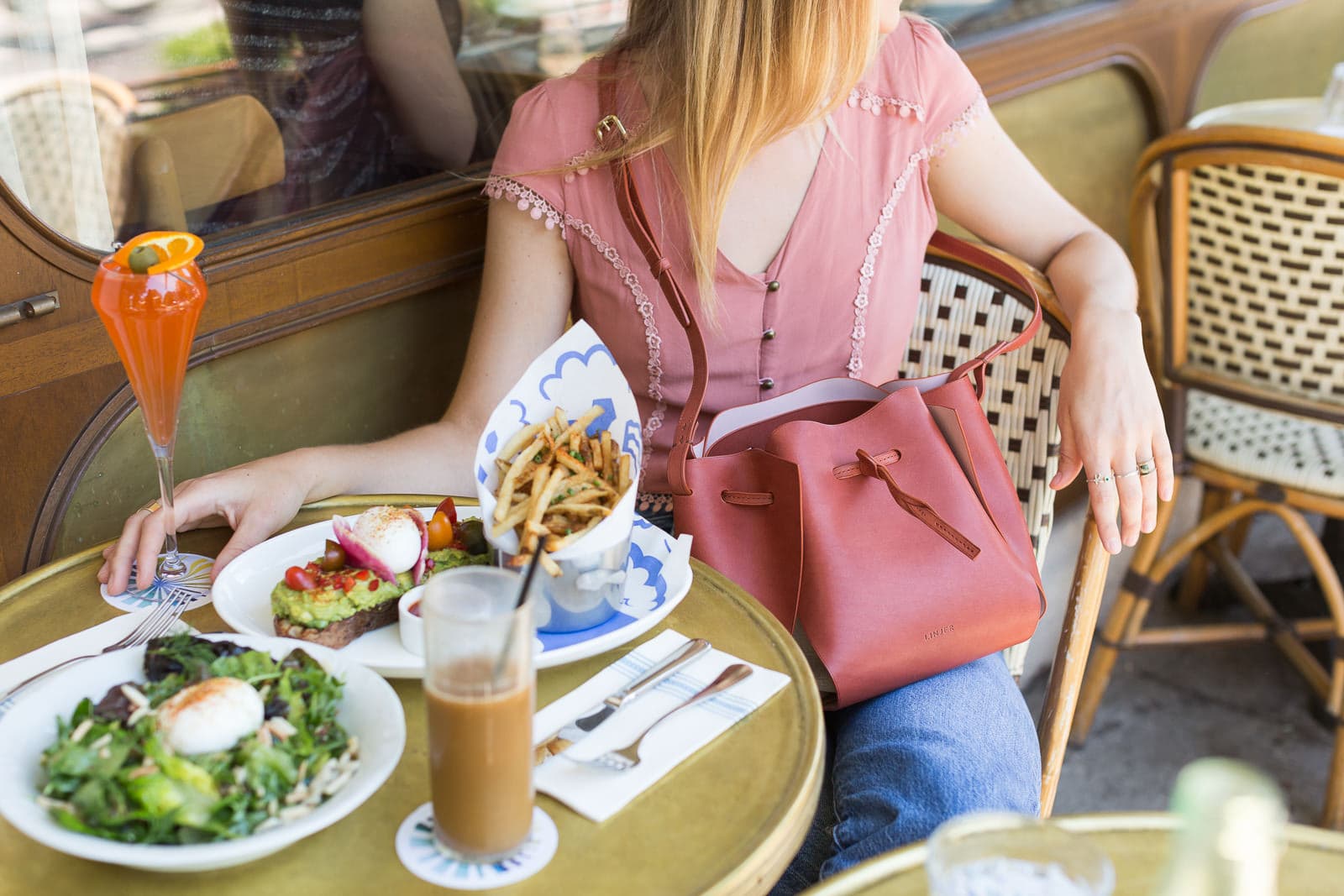 This Linjer Bag with Over 1,000-Person Waitlist Is Being Restocked Tomorrow
Last fall we gave you a closer look at some of the bags the brand Linjer has to offer. The Norwegian design studio prides itself in making high-quality products that are both beautiful and durable without the luxury markup. There are only a handful of bags Linjer offers right now, with each bag aiming to fill a specific void in your handbag wardrobe. When I first discovered Linjer, my favorite bag of theirs was the Tulip bag – and it remains my favorite. I was drawn to its interesting


New Arrivals On The Fashion Bomb Daily Shop From Oyemwen, LTD Creations, Tosha, and More!
New month, new arrivals! The Fashion Bomb Daily Shop is always supplying new fashion finds from your favorite brands. This week, we would like to welcome in new goodies from Oyemwen, LTD Creations, Tosha, and Dominique Renee! Kimberly Goldson Tosha is curing your handbag fix with three new bomb bags in three different colors and styles. Bombshell designer Kimberly Goldson was spotted rocking the Tosha Pink Fringed Waist Bag. Which one would you cop? You guys loved the LTD Creations


15 Patriotic Handbags Perfect for the Fourth of July
Happy (almost) Independence Day! Here at PurseBlog, we're using the Fourth of July (along with every other major holiday) as an excuse to buy a new bag. Hey, can you blame us? This time around, we have our eyes on anything red, white, and blue (or denim). Lucky for you, we actually found quite a few options. From totes to crossbodies and shoulder bags, these picks are perfect for any and all July 4th events you may have committed to (Barbecues! Beach days! Rooftop fireworks!), and even be


Lira Mercer Shows Off Her Curves Body In A Fashion Nova Set!
Lira Mercer slayed her pregnancy with the birth of her beautiful baby girl and now, she is showing us her post-pregnancy body in a Fashion Nova set! While living it up in Greece, Lira Galore was flaunting her snapback body in the Fashion Nova "Crochet To Look A Skirt Set". The "Crochet To Look A Skirt Set" is available in a black/white pattern and on sale for the price of $34.98! The set features a bikini top and fringe midi skirt in a crochet knit. The tropi


Celebs Go to the Races and Summer Fêtes with Fendi, Chanel and More
High-stakes horse-racing and wearing leather in the summertime: These are both things you probably shouldn't bet on. But celebs are blatantly ignoring my advice this week. The outfits are truly wild, but the bags are so, so good. It's officially July in the celebiverse (and the regular 'verse) and I cannot wait to see what this month holds. (Spoiler: Midriffs. Lots of them.) Also, Celine Dion makes a long overdue appearance! The post Celebs Go to the Races and Summer Fêtes w...


Apryl Jones Shows Us Her Wild Side In Her Animal Print Fashion Nova Dress!
Apryl Jones balances the life of a mom and entrepreneur all the while looking stylish at all times! She showed us her wild side in her latest Fashion Nova fit: the "Wild Escape Leopard Mini Dress" in a leopard print! The "Wild Escape Leopard Mini Dress" is very much in sync with the on-going animal print trend and is available for a steal of $19.99. Perfect for a night out, this mini dress is complete with a leopard print and cutout detailing for a sassy look. Th


Jenny Lin Slays In A Denim Fashion Nova Romper!
Style influencer, Jenny Lin, knows how to heat up the 'gram with her daily dose of street style! She gave us yet another effortless slay in a denim Fashion Nova romper paired with blue heels and chic shades. Want to keep your summer street style popping like Jenny Lin? We've got deets on her Fashion Nova look, so you can stunt all summer long. "The Whole Package Denim Romper" is available on the Fashion Nova site for the price of $49.99! This light wash denim romp


Draya Michele is a Tempting Tigress in her Fashion Nova Animal Print, One Piece, Cut Out Swim Suit
Summer is here and it's already a scorcher around the globe. Temperatures in Europe were recently in the plus 100 degree range. Fashion Bomb Daily has the right styles just for our devoted readers to stay cool and fashionable for the season. Take style heed from the swim suit guru/designer and chic "IT" girl, Draya Michele. We caught a glimpse of her sitting pretty, soaking up the sun, and relaxing in a pool sporting a Fashion Nova tiger print, cut out, one piece swimsuit by the oh so...


Emily B. is a Beautiful Babe in Cobalt Blue Fashion Nova Matching Mesh Top and Skirt Set
Fashion, how do we love thee?? Let all the Fashion Bomber and Bombshells count the ways! What are some of your favorite style looks and trends this season?! Let Fashion Bomb Daily know! We love your input divas and divos! Follow us on Instagram at Fashion Bomb Daily and comment on the looks you love! Fashion Nova always has some of our favorite popular pieces for your wardrobe for all shapes and sizes! Check out diva and fashionista Emily B., also wife of rapper Fabolous. She defini


Cyn Santana Rocks her Neon Green Fitted Fashion Nova Long Sleeve Dress with Style & Ease for Summer
Happy Saturday loves! Fashion Bomb Daily is here to give you the best in fashion 24/7! Neon has become a style craze for the past few seasons! We love the look and all the chic styles we saw in this trendy color as our recent theme for in Atlanta! Miami is up next! Wear silver or gold for this theme, get your tickets and RSVP now! Also check out bae Cyn Santana. We spotted her recently rocking a long sleeve, neon green, fitted, short dress to perfection by ou


Dream Doll Looks Delightful in her Tube Top Black and White Stripped Fashion Nova Fitted Dress
Hooray it's Friday Fashion Bombshells and Bombers! We are all excited about summer and the anticipated Convos With Claire for Miami on July 17th! Rsvp and get your tickets now at With the warm weather comes the perfect summer dress. Fashion Bomb Daily spotted the lovely Dream Doll in an adorable sleeveless, black and white, slightly fitted, striped dress by Dream Doll completed her stylish look with cute in season white Balenc...


CC 37: This Bridal Shop Owner Has A Strong Opinion On Those Wearing Fakes
Today's submission hails from the capital of Utah, where this late-20s bridal shop owners finds great joy in each bag in her collection. She only shops in boutique stores while traveling for work, and should she finds herself snubbed by a sales associate in a boutique, she proudly takes her business next door in best Pretty Woman fashion. Enjoy today's read and don't forget to submit a confessional of your own. The more detailed, the merrier! Take the Closet Confessionals


Fendi or Louis Vuitton are the Self-Promoting Celeb's Bag of Choice
Everyone is busting out their whitest whites (or off-whitest whites) for their summer promo tours or getaways. While we can't all jet away to Venice on a whim, we can emulate Amal Clooney by donning our wide-brimmed hats and sunglasses, and pretending our patio chaise lounge is actually a gondola. (It's easier to do if you are several cocktails into your afternoon.) Also, Olivia Munn is in the middle of an extremely fashionable press tour, and she certainly has our attention. The


The 12 Best Bag Deals for the Weekend of June 28
Despite the fact that we've barely just begun to enjoy (I use this term loosely because who really enjoys sweating buckets just walking to the corner?) true summer weather, in retail world if you haven't shopped yet for summer you're too late. Or maybe, you're right on time, because everything that was new in and fresh just a few months ago has now been sitting on the retail floor, or your computer screen, for quite sometime. This means that our favorite retailers are off


Taina Williams Made Her Fashion Nova Look So Sophisticated For Much Admiring!
For your closet, it's good to have pieces you not only can rock anywhere, but pair with the most simplest accessories. A bombshell knows for any occasion fitting you can do so much with less. Much like Taina for her day out, she sported Fashion Nova's 'Straight To The Point' Light Blue Blazer, perfectly! Settling for a Blue color palette, with silver accents in her accessories, it's very clean and gives the outfit a fresh feel because of the unique styling of the blazer. It'...


Reginae Carter Proves Just Why Neon Is So In for the Summer in this Fashion Nova Set
Bright like the sun, it's true that you can't go wrong with neon to match the beaming bright weather this summer. With it being so nice out, there's so many functions to look forward to, and you want to keep it simple but trendy when attending. Well I reckon any fashion Nova neon set, particularly their 'What You See' Biker Short Set is a perfect fit for any activity on your leisure.  With options provided of keeping it sporty much like Reginae, or elevating things just a ...


LaLa Is The Ultimate Bombshell in this Pink Latex Fashion Nova Dress for her Birthday!
The beautiful bombshell Lala just proved how because it was her birthday, she had no choice but to slay as much as she wanted to! One thing we can thank Fashion Nova for, aside from their steal prices for amazing looks for less, are their styles that flatter the body something serious. For her celebration, Lala decided to rock one of Fashion Nova's latex dresses that come in multiple colors if you can't decide on just one! Considered it the 'Stick With Me' Dress, it provides...


A Look at Bags From Prada's Spring/Summer 2020 Menswear Show
Prada's Menswear SS 2020 show took place earlier this month and we've got a look at what's to come from Prada next year. A press release from the brand explains that this latest collection explores a spirit of confidence, enjoyment, and plays on boundless positivity and possibility. The collection is a little bit modern, a little bit retro and overall playful and unique. Bags and accessories give off a futuristic feel, with bright colors and neons taking center stage. PradaR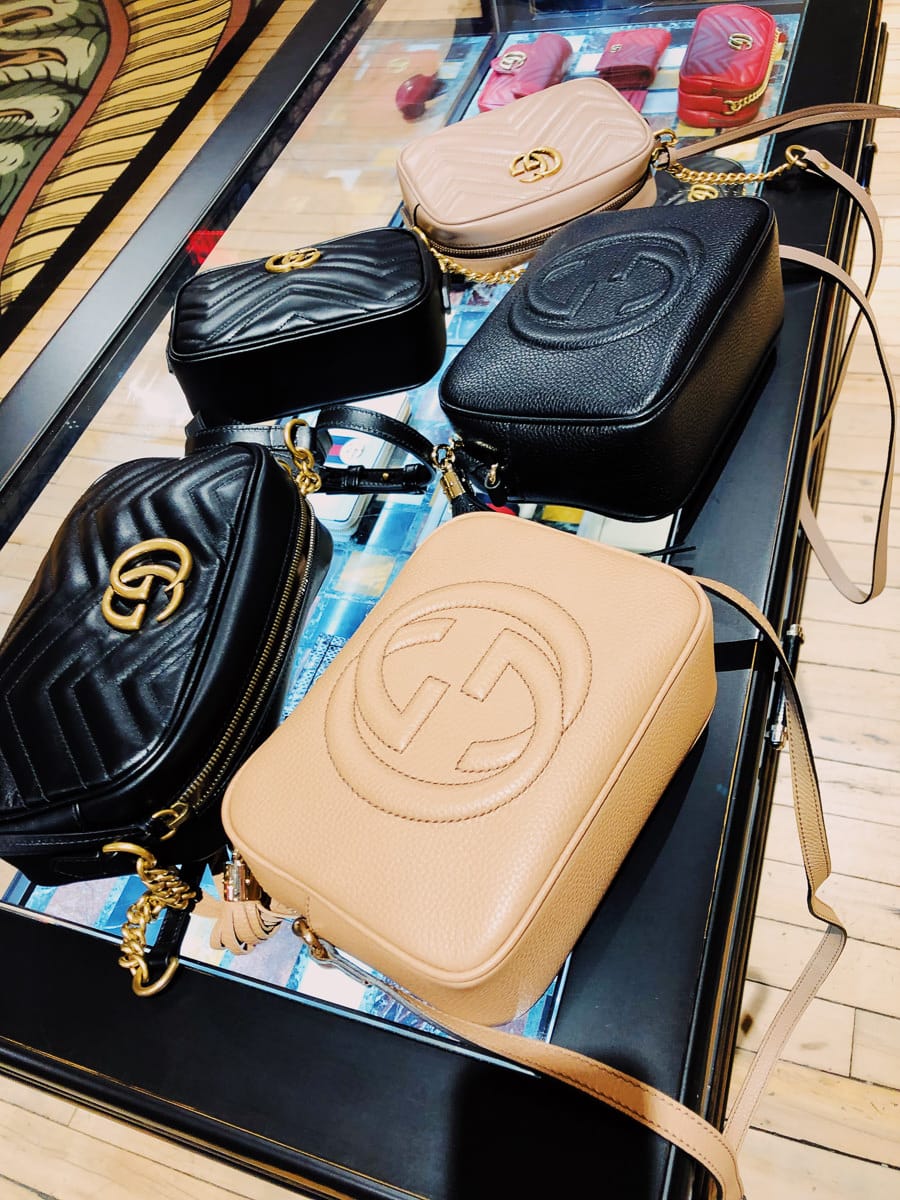 I Finally Purchased the Gucci Bag of My Dreams
A Gucci matelasse bag has been sitting pretty on my wish list for months. It took me forever to pull the trigger, but I finally purchased the Gucci Marmont Small Matelasse Shoulder Bag. My husband and I were in New York City visiting friends a few weeks ago when the urge to buy the Gucci bag hit me out of left field. I didn't go to NYC with the intention of dropping four figures on a bag, but I'm nothing if not impulsive. Something about the streets of Manhattan make me want to live my mos...


Claire's Life: Revlon's Step Out of Line Event feat Mette Towley and ASAP Ferg
I dusted off my summer shorts last night, and headed Uptown for a Revlon event, announcing a collaboration with dancer and artist Mette Towley, followed by a performance by ASAP Ferg. Mette Towley is an amazing dancer and creative, who was told she was 'too bold' as a young girl. Now she lives her life fearlessly, and celebrated with Revlon to "Step Out of Line." She blessed the campaign with a video. After the crowd enjoyed the video, we were treated to a


This Resort 2020 Bag Has Me Re-Thinking Off-White
Virgil Abloh is a busy man. When he's not creating buzz around his designs for Louis Vuitton Menswear, he's overseeing the creative direction of his own line, Off-White, which he founded in 2013. Virgil Abloh, but particularly Off-White the label's success is impossible to ignore. The brand has reached a sort of cult status, and it is a favorite of streetwear fans, celebrities, social media stars and stylish everyday people. While I've certainly lusted after a few Off-Whi


More Celebs Descend on Paris with Dior and Celine
Though Sophie Turner and Joe Jonas legally tied the knot some time ago, they have gathered all their friends and loved ones in Paris for giant wedding celebration this week. At the time, their elopement seemed like a reaction to Nick Jonas and Priyanka Chopra's extravagant nuptials, but maybe Sophie just wanted to avoid stepping on Priyanka's extremely lengthy wedding train. We expect more photos of Sophie, Joe, Priyanka, Nick and various Game of Thrones stars will continue to filter


On the Scene: The Official BET Awards After Party Presented by CÎROC Summer Watermelon!
With Black Entertainment and the celebration of such a rich culture, you can expect of course, the glitz, glamour and the who's-who at the hottest functions. So it's only right that the BET Awards, presented by CÎROC Summer Watermelon, went into full swing this BET Weekend! Following the amazing show hosted by the incredible actress and comedian Regina Hall on the 23rd of June, it was quite the after party. See some of your favorite celebrities captured below who came out for such ...


Bombshell of the Day: Jessica Pettway from Cali
Afternoon Bombshells and Bombers! Today's #FashionBombshelloftheDay is @jessicapettway! Jessica Pettway, a Cali girl that considers herself 'The Compton Bohemian', has a chic style out of this world with her cute mini-me @Kaileecurls to dot over! While balancing her life as a mommy and wife, she's also a blogger that provide countless of other bombshells with hair and style advice on her YouTube channel. Jessica darling, you're oh so bomb! Want to be a ...


You Should Know: Dapper Dan's Memoir 'Made in Harlem' Is Set To Release July 9th!
When we think of Hip-Hop, a culture that gave a voice to the voiceless, a cause to the rebels, and a harmonious fight within a community that was poverty stricken, it would be an insult to not mention the impact of one it's pioneers Dapper Dan. In just short of two weeks on July 9th, Dapper Dan's memoir Made In Harlem: A Memoir will hit the shelves and we're ecstatic about it! If most aren't aware as they should be, the culture that is Hip-Hop, became a movement derived from the...


All the Bags From Louis Vuitton's Men's Spring 2020 Show
Late last week Louis Vuitton presented its Men's Spring Summer 2020 show in Paris. Menswear creative director Virgil Abloh is now a year into his reign at Louis Vuitton, and each new collection is more anticipated than the next. The bags in this collection paid homage to the light and airy nature of all that comes with spring and summer in Paris. There were pastel colors, floral accents, and of course plenty of monogram. Notable bags included Abloh's super popular soft trunk bag in a


If Disney Characters Donned Designer Bags…
My love of Disney began when I was a toddler and is still going strong today. I grew up watching the animated films on repeat, and even though I'm now old enough to have figured out that the "D" in the Disney logo is not a backwards G, I still make it a point to see just about every movie Disney makes. I may be in my early thirties, but that doesn't stop me from seeing them in theaters (I just saw the live action Aladdin last Saturday!) or visiting Disney World. No one creates age defyin...


Vogue Italia Posts (Then Deletes) Image of Black Man Wearing Ku Klux Klan Hood, Conceived by Artist Mous Lamrabat
Vogue Italia came under fire this morning for posting the below image, conceived by artist Mous Lamrabat, which shows a black man wearing a reinterpretation of a Ku Klux Klan hood, equipped with a Nike swoosh. View this post on Instagram A post shared by Mous Lamrabat (@mouslamrabat) on Jun 25, 2019 at 2:03am PDT The Ku Klux Klan also known as the KKK is a white supremacist hate group that terrorized African-Americans and minorities beginning in the late 1860̵


Claire's Life: Girl + Hair's Meet N Greet at Target!
Happy Monday, Bombers and Bombshells! This past Saturday, I made my way down to Target at Brooklyn Junction to introduce shoppers to Girl + Hair, a new dermatologist designed hair care system designed to take care of natural hair, particularly under protective styles like wigs, weaves, or braids. The product was created by Physician and Dermatologist resident Camille Verovic, Founder A lot of times, we can just slap a wig on our head and figure o...


Celebs Take Louis Vuitton and Salvatore Ferragamo Out to Lunch
Something old and something new from Louis Vuitton round out this week's selection of celebrity bag picks, plus a new Salvatore Ferragamo style makes a splash. Gigi Hadid is still in Paris, taking in Paris Fashion Week Men's with numerous other celebs, but Kendall Jenner and co. are still stateside, running laps around NYC and Beverly Hills. Plus, if you think it's high time we caught up with Eva Longoria and assessed her most recent bag purchases, this is your lucky day. Let



Do the BET Awards Need a Style Intervention?
The BET Awards went down last night at the Staples Center in LA! And while there were many 'Bomb' looks that cascaded down the blue carpet… … it seemed that many of you felt the overall style was more Hmm…than Hot! @ChampagneStyyle wrote, "These BET Awards are looking like Fashion Nova," @.Anglin decreed, "All these red carpet looks have been extremely disappointing…", and @SadimsLady typed, "I'm disappointed in most ...


I Can't Stop Thinking About These 10 Pretty Pink Bags
Do you have a favorite color that you find yourself naturally gravitating towards? I know I do, because I have a strong affinity for all things pink. Pink has always been my favorite color, and I fully embrace my love of the beautiful hue. Bubblegum pink, blush pink, hot pink… I'm a devotee to every shade. Recently a good friend pointed out that she has rarely seen me not wearing something pink, and honestly? She's not wrong. Pink clothes, shoes, accessories…you name it, I probably own i...


On The Scene At The BET Awards: Top 10 Looks From Ciara in Jean Paul Gaultier, Rihanna in Fenty, Fantasia in Pajtim Raci, and More!
The annual BET Awards went down Sunday night where Black excellence in music, cinema, fashion, and more are recognized for their year's work. Tyler Perry, Mary J. Blige, and Nipsey Hussle were all placed in the night's spotlight as they were honored with Ultimate Icon Award, Lifetime Achievement Award, and the Humanitarian Award, respectively. T.I. presented Nipsey Hussle's Humanitarian Award which his family accepted on the late activist and rapper's behalf. Bad gal Rih


Celebs Take Prada and Fendi to Men's Fashion Weeks in Milan and Paris
Milan Fashion Week Men's and Paris Fashion Week Men's overlap this year, and they're both happening right now. That means there's been a serious uptick in both celeb bag quality and celeb-spotting, as A-listers and influencers go front-row hopping all over Europe. Fendi, Prada and new Bottega Veneta are the top Fashion Week picks so far, but my question, as ever: Where are the men? Are any male celebrities actually invited to men's fashion weeks? There aren't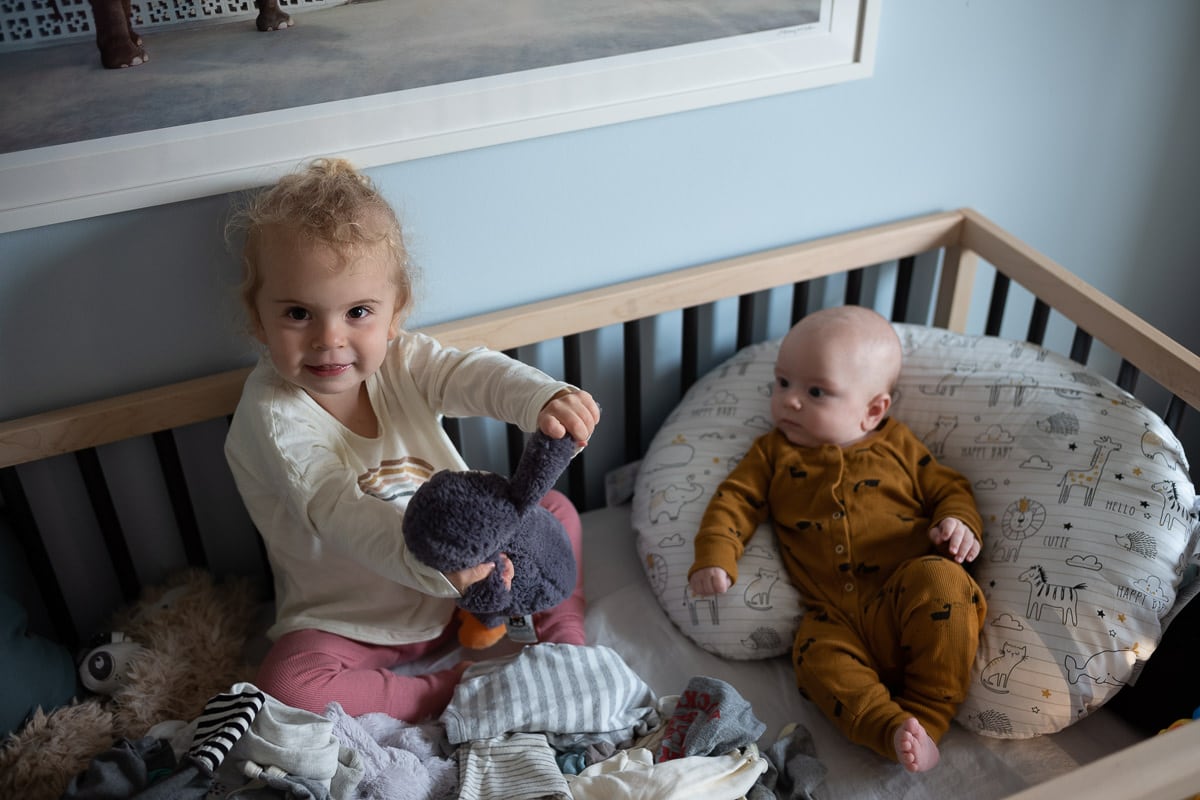 Dear Vaughn: Month Three, Four and Five
Dear Vaughn, When you look back at these letters and see that I didn't have to start combining your sister's monthly letters until she was past one, don't feel bad. In no way does it reflect on my love for you, mama is just busy (and tired). It's so different having you as my second baby, because while everything new is just as exciting as it was with your sister, everything new that used to worry me no longer does. My job of being your mom is my favorite and most demand


The 12 Best Bag Deals for the Weekend of June 21
HAPPY SUMMER! That's right, as of today, June 21st, it is officially summer. The weather has been so weird and I'm all like "HELLLOOOO mother nature, can you hear me?" This past week it rained at least once every day, and when it wasn't raining it was pretty gloomy. We barely saw the sun here in NYC, which also means that us New Yorkers are feeling a bit glum just like the weather. I want to enjoy rooftop season and park weather, not to mention I'm taking a li