Warming: Plants are also stressed out
What will a three-degree-warmer world look like? When experiencing stress or damage from various sources, plants use chloroplast-to-nucleus communication to regulate gene expression and help them cope. Now, researchers have found that GUN1 -- a gene that integrates numerous chloroplast-to-nucleus retrograde signaling pathways -- also plays an important role in how proteins are made in damaged chloroplasts, which provides a new insight into how plants respond to stress.


Early intervention programs for mood and anxiety disorders improve patient outcomes
Researchers examined the impact of Canada's only early intervention program for youth with mood and anxiety disorders. Results suggest that treatment at the First Episode Mood and Anxiety Program (FEMAP) at London Health Sciences Centre (LHSC) leads to improvements in patients' symptoms and functioning, access to psychiatric care in the most appropriate settings and fewer visits to the emergency department (ED).


In rare cases, immune system fails despite HIV suppression
Antiretroviral therapy (ART) is usually effective at suppressing HIV, allowing the immune system to recover by preventing the virus from destroying CD4+ T cells. Scientists have now identified a rare, paradoxical response to ART called extreme immune decline, or EXID. Five individuals evaluated at the NIAID experienced a significant decline in CD4+ T cell levels despite suppression of HIV below detectable levels for more than three years, according to a new report.


How do we make moral decisions?
Some people may rely on principles of both guilt and fairness and may switch their moral rule depending on the circumstances, according to a new study on moral decision-making and cooperation.


Astronomers capture first image of a black hole
Frankfurt, Germany (SPX) Apr 10, 2019 The Event Horizon Telescope (EHT) operates a planet-scale array of eight ground-based radio telescopes that are linked together. The Black Hole Cam (BHC) Team, led by astrophysicists from Goethe University in Frankfurt, the Max-Planck Institute for Radio Astronomy (MPIfR) in Bonn and the Radboud University in Nijmegen, the Netherlands, are part of this collaboration. "We are giving humanit


Coincidence helps with quantum measurements
Through randomly selected measurements, physicists can determine the quantum entanglement of many-particle systems. With the newly developed method, quantum simulations can be extended to a larger number of quantum particles. Researchers now report on the first successful demonstration of this method.


Jellyfish galaxy swims into view of NASA's upcoming Webb Telescope
Baltimore MD (SPX) Apr 18, 2019 If you look at the galaxy ESO 137-001 in visible light, you can see why it's considered an example of a "jellyfish" galaxy. Blue ribbons of young stars dangle from the galaxy's disk like cosmic tentacles. If you look at the galaxy in X-ray light, however, you will find a giant tail of hot gas streaming behind the galaxy. After launch, NASA's James Webb Space Telescope will study ESO 137-001 to l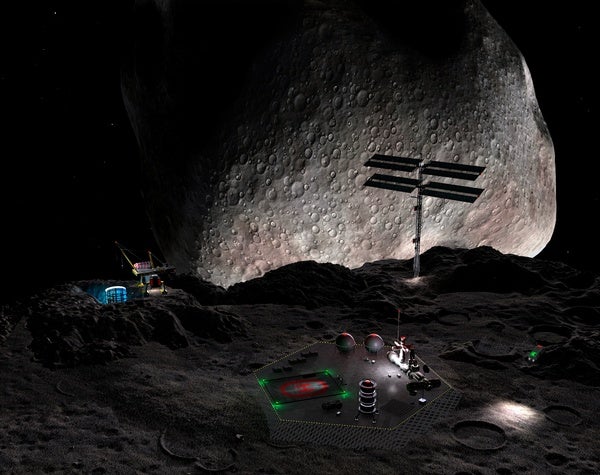 We Need a Space Resources Institute
The moon and other bodies will ultimately be exploited; it's crucial to do so in a thoughtful and organized way -- Read more on ScientificAmerican.com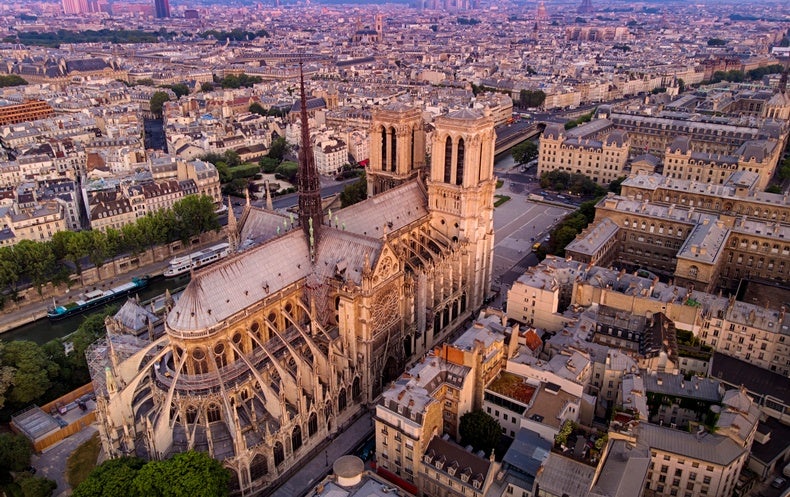 Notre Dame's Architectural Legacy
This religious center, cultural icon and UNESCO World Heritage Site is also an engineering marvel -- Read more on ScientificAmerican.com


More severe salmonella outbreaks ahead
Researchers have developed a model that can predict salmonella outbreaks several months in advance, and its results come as a warning ahead of the Easter long weekend.


Breakthrough for children with serious epileptic seizures
Emergency medicine doctors now have a better way to treat severe epileptic seizures in children, thanks to a new study. Prolonged epileptic seizures are the most common neurological emergency in children seen by hospitals. The seizures are potentially fatal: up to five percent of affected children die, and a third suffer long-term complications from brain damage. Crucially, the longer the seizure, the greater the chance of long-term complications.


Colonizing space means reproducing there. We still don't know if that's possible.


'Snowball chamber' helps researchers use supercooled water to search for dark matter
Washington DC (SPX) Apr 16, 2019 After watching YouTube videos of people supercooling water in a bottle and then triggering it to freeze by banging it, something about this concept solidified for Matthew M. Szydagis, an assistant professor of physics at the University at Albany, State University at New York, especially when he saw it again during the Disney movie "Frozen." During the 2019 American Physical Society April M


Preschoolers with chronic constipation tend to be picky eaters
In the first study of its kind in the US, researchers found that normally developing preschool children with chronic constipation have underlying sensory issues that contribute to their difficulties with toileting behaviors. These children are often picky eaters who might be overly sensitive to food textures, tastes, or odors. They also might have an exaggerated response to noises, bright lights, or other sensory stimuli.


Risk factors identified for patients undergoing knee replacements
In the largest study of its kind, researchers have identified the most important risk factors for developing severe infection after knee replacement. Patients who are under 60 years of age, males, those with chronic pulmonary disease, diabetes, liver disease, and a higher body mass index are at increased risk of having the joint replacement redone (known as revision) due to infection.


New concept for novel fire extinguisher in space
Researchers have developed a new concept of fire extinguishing, named Vacuum Extinguish Method. VEM is based on the 'reverse' operation of the conventional fire extinguishing procedure: It sucks the combustion products, even flame and the firing source itself, into a vacuum chamber to clean up the firing zone. This concept is advantageous for space use, as it prevents the spread of harmful combustible products throughout the enclosed cabin.


Experimental antiplatelet compound for acute stroke shows promise
An experimental compound inhibited clot formation without increased bleeding, a common side effect of current anticlotting therapies, in a phase I study. First-in-human study shows the anticlotting drug was well-tolerated without serious safety concerns in healthy volunteers. Next-phases will gauge effectiveness and safety in patients with acute ischemic strokes.


One Comet, 70,000 Images on the Internet
Gottingen, Germany (SPX) Apr 18, 2019 Between 2014 and 2016, the scientific camera system OSIRIS onboard ESA's Rosetta spacecraft captured almost 70,000 images of comet 67P/Churyumov-Gerasimenko. They not only document the most extensive and demanding comet mission to date, but also show the duck-shaped body in all its facets. In a joint project with the Department of Information and Communication at Flensburg University of Ap


Making digital tissue imaging better
A low-tech problem troubles the high-tech world of digital pathology imaging: There are no reliable standards for the quality of digitized tissue slides comprising the source material for computers reading and analyzing vast numbers of images. Poor-quality slides get mixed in with accurate slides, potentially confusing a computer program trying to learn what a cancerous cell looks like. Researchers are trying to fix this, sharing an open-source quality control standard.


Lithium in ancient star gives new clues for big bang nucleosynthesis
La Palma, Spain (SPX) Apr 18, 2019 Researchers from the Instituto de Astrofisica de Canarias (Spain) and the University of Cambridge (UK) have detected lithium (Li) in the ancient star J0023+0307, a main-sequence extremely iron-poor dwarf star about 9,450 light-years away in the galactic halo. The study of the most ancient stars in the Milky Way allows us to infer the early properties of the galaxy, its chemical composition


Universe's first type of molecule found at last
Moffett Field CA (SPX) Apr 18, 2019 The first type of molecule that ever formed in the universe has been detected in space for the first time, after decades of searching. Scientists discovered its signature in our own galaxy using the world's largest airborne observatory, NASA's Stratospheric Observatory for Infrared Astronomy, or SOFIA, as the aircraft flew high above the Earth's surface and pointed its sensitive instruments out


Preliminary study suggests mercury not a risk in dog foods
Researchers recently investigated levels of methylmercury in a small sampling of commercial dog foods and found good news for dog owners. Of the 24 diets tested, only three were positive for low concentrations of total mercury, and only one of those contained detectable methylmercury.


Researchers use 3D printer to print glass
For the first time, researchers have successfully 3D printed chalcogenide glass, a unique material used to make optical components that operate at mid-infrared wavelengths. The ability to 3D print this glass could make it possible to manufacture complex glass components and optical fibers for new types of low-cost sensors, telecommunications components and biomedical devices.


Bioengineers program cells as digital signal processors
Synthetic biologists have added high-precision analog-to-digital signal processing to the genetic circuitry of living cells. The research dramatically expands the chemical, physical and environmental cues engineers can use to prompt programmed responses from engineered organisms.


Antimicrobial paints have a blind spot
Researchers tested bacteria commonly found inside homes on samples of drywall coated with antimicrobial, synthetic latex paints. Within 24 hours, all bacteria died except for Bacillus timonensis, a spore-forming bacterium.


Growing a cerebral tract in a microscale brain model
An international research team modeled the growth of cerebral tracts. Using neurons derived from stem cells, they grew cortical-like spheroids. In a microdevice, the spheroids extended bundles of axons toward each other, forming a physical and electrical connection. Fascicles grew less efficiently when one spheroid was absent, and when a gene relevant to cerebral tract formation was knocked-down. The study further illuminates brain growth and developmental disorders.


Important insight on the brain-body connection
A study reveals that neurons in the motor cortex exhibit an unexpected division of labor, a finding that could help scientists understand how the brain controls the body and provide insight on certain neurological disorders.


How A 'Snowball Chamber' Might Help Scientists Finally Find Dark Matter
If you enjoy watching videos on the internet, you've likely already witnessed the phenomenon known as supercooling. Basically, the process involves taking ultra-pure water and putting it into a clean, smooth container that lacks any structural defects. If the conditions are right, when you attempt to freeze the water by dropping its temperature below 32 degrees Fahrenheit (0 degrees Celsius), it will surprisingly remain in a liquid state. This is because in order for ice crystals...


Hubble celebrates its 29th birthday with unrivaled view of the Southern Crab Nebula
This incredible image of the hourglass-shaped Southern Crab Nebula was taken to mark the NASA/ESA Hubble Space Telescope's 29th anniversary in space. The nebula, created by a binary star system, is one of the many objects that Hubble has demystified throughout its productive life. This new image adds to our understanding of the nebula and demonstrates the telescope's continued capabilities.


Why language technology can't handle Game of Thrones (yet)
Researchers have performed a thorough evaluation of four different name recognition tools on popular 40 novels, including A Game of Thrones. Their analyses highlight types of names and texts that are particularly challenging for these tools to identify as well as solutions for mitigating this.


Fossils found in museum drawer in Kenya belong to gigantic carnivore
Paleontologists have discovered a new species of meat-eating mammal larger than any big cat stalking the world today. Larger than a polar bear, with a skull as large as that of a rhinoceros and enormous piercing canine teeth, this massive carnivore would have been an intimidating part of the eastern African ecosystems occupied by early apes and monkeys.


A history of the Crusades, as told by crusaders' DNA
History can tell us a lot about the Crusades, the series of religious wars fought between 1095 and 1291, in which Christian invaders tried to claim the Near East. But the DNA of nine 13th century Crusaders buried in a pit in Lebanon shows that there's more to learn about who the Crusaders were and their interactions with the populations they encountered.


Study shows promise in repairing damaged myelin
A new study shows that a synthetic molecule stimulates repair of the protective sheath that covers nerve cells in the brain and spinal cord. The study demonstrates in mice that a synthetic molecule called sobetirome efficiently repairs damaged myelin without side effects.


Scientists Discover 1.8 Million Hidden Southern California Earthquakes
Southern California is famous for its sandy beaches, wine country, theme parks and Hollywood glitz. And also its earthquakes. Now, researchers have identified more than 1.8 million previously unknown earthquakes that hit Southern California between 2008 and 2017. The findings suggest these truly tiny earthquakes — as small as just 0.3 magnitude on the Richter scale — happen every 174 seconds, yet they're hardly felt on Earth's surface. "The goal was to produce a state of the art...


Investigators incorporate randomized trial within dialysis care delivery
The Time to Reduce Mortality in ESRD (TiME) trial was a large pragmatic trial demonstration project designed to determine the benefits of hemodialysis sessions that are longer than many patients currently receive. The trial was conducted through a partnership between academic investigators and 2 large dialysis provider organizations using a highly centralized implementation approach. Although the trial accomplished most of its demonstration project objectives, uptake of the intervention was insu


Simbakubwa: Mega Carnivore Hiding In A Museum Drawer
Take a polar bear. Take a lion. Mash them together and chuck them in a time machine, sending them back 22 million years to what's now Kenya and you've got the massive carnivore Simbakubwa kutokaafrika. The enormous bitey mammal was identified only after researchers rediscovered partial fossils of it, forgotten in the backroom of a museum. To be clear, Simbakubwa is neither a bear nor a member of the extended feline family, even though its name is Swahili for "big lion." Instead, the mas


Engineers tap DNA to create 'lifelike' machines
Ithaca NY (SPX) Apr 15, 2019 Tapping into the unique nature of DNA, Cornell engineers have created simple machines constructed of biomaterials with properties of living things. Using what they call DASH (DNA-based Assembly and Synthesis of Hierarchical) materials, engineers constructed a DNA material with capabilities of metabolism, in addition to self-assembly and organization - three key traits of life. "We ar


The Quest For the Roots of Autism — and What It Says About Us All
As alarm grew over autism prevalence at the turn of this century, there was much public talk of a growing "epidemic." That language has since softened, and it is now clear that many autistic people were there all along, their condition unrecognized until relatively recently. But what is the cause? The emerging narrative today is that there is no single cause — rather, multiple factors, roughly sorted into the categories of genetics and environment, work together in complex ways....


New immune pathway involved in resistance to parasite worms found in undercooked pork
Scientists have discovered that immune responses originally found to prevent fungal infections are also important in eliminating Trichinella spiralis, a round worm and the causative agent of Trichinosis. People acquire trichinellosis by consuming raw or undercooked meat infected with the Trichinella parasite, particularly wild game meat or pork.


Electric skyrmions charge ahead for next-generation data storage
A team of researchers has observed chirality for the first time in polar skyrmions, in a material with reversible electrical properties -- a combination that could lead to more powerful data storage devices that continue to hold information, even after they've been turned off.


Can science writing be automated?
A team of researchers has developed a neural network, a form of artificial intelligence, that can read scientific papers and render a plain-English summary in a sentence or two.


Explosion on Jupiter-sized star 10 times more powerful than ever seen on our sun
Warwick UK (SPX) Apr 18, 2019 A stellar flare ten times more powerful than anything seen on our sun has burst from an ultracool star almost the same size as Jupiter. The star is the coolest and smallest to give off a rare white-light superflare, and by some definitions could be too small be considered a star. The discovery, funded by the Science and Technology Facilities Council, is published in the Monthly Notic


Adding human touch to unchatty chatbots may lead to bigger letdown
Sorry, Siri, but just giving a chatbot a human name or adding humanlike features to its avatar might not be enough to win over a user if the device fails to maintain a conversational back-and-forth with that person, according to researchers. In fact, those humanlike features might create a backlash against less responsive humanlike chatbots.


Giant tortoises migrate unpredictably in the face of climate change
Researchers use GPS to track the timing and patterns of giant tortoise migration over multiple years. The tortoises often take the same migration routes over many years in order to find optimal food quality and temperatures. The timing of this migration is essential for keeping their energy levels high, and climate change could disrupt a tortoise's ability to migrate at the right time.


We Might All Have Synesthesia, New Study Suggests
Oh, to be a synesthete, those rare people with access to an extra layer of perception. Sounds have colors. Words have taste. Colors play music. The list goes on. The phenomenon isn't totally understood by scientists, but the general idea is that those with synesthesia experience sensory inputs differently than the rest of us. It's no wonder that synesthesia is common among artists. But for those of us that just see letters as letters and can't taste a song, synesthesia is more apt to ...


Superstitious beliefs may seem irrational, but they can nevertheless catch on in a society. Using an evolutionary approach to studying the emergence of coordinated behaviors, biologists showed how a jumble of individual beliefs, including superstitions, can coalesce into an accepted social norm.


Taming the genome's 'jumping' sequences
Scientists have discovered how a family of proteins that regulates the activity of transposable elements in the genome allows them to make inheritable changes to the growing fetus.


Does time of day affect the body's response to exercise?
New research confirms that the circadian clock is an important factor in how the body responds to physical exertion. Based on this work alone, it's too early to say when the best time is for you to go for a jog. But at least in the lab, exercise in the evening seems to be more productive, although human lifestyles are much more complicated.


The discrete-time physics hiding inside our continuous-time world
Santa Fe NM (SPX) Apr 16, 2019 Scientists believe that time is continuous, not discrete - roughly speaking, they believe that it does not progress in "chunks," but rather "flows," smoothly and continuously. So they often model the dynamics of physical systems as continuous-time "Markov processes," named after mathematician Andrey Markov. Indeed, scientists have used these processes to investigate a range of real-world process


Understanding the Sacrificial Puppies Found in Shang Dynasty Graves
During the last centuries of China's Shang dynasty, which lasted from 1600 B.C. to 1050 B.C., ritual sacrifice was a well-oiled cultural phenomenon, rich and varied in its manifestations. Rulers and elites sacrificed animals and humans to appease spirits or the ancestors. Just as humans met their ends, dogs were often right beside them. Now a study in Archaeological Research in Asia, published in March, shows that people from the Shang dynasty relied heavily on sacrificial puppies to ac...